Mahindra XUV700 the much awaited SUV has finally made its world debut in India and the SUV is expected to be launched later this year. It's Mahindra's new flagship model, and probably one of the most feature loaded too. As an official replacement for the current
Mahindra XUV500
, the new XUV700 will offer many of the best-in-class features, including the largest panoramic sunroof in the class. Additionally, Mahindra is introducing Adrenox's fully connected vehicle technology with the new three-row SUV, which will also be the first model to feature the company's new brand logo. Mahindra offers SUVs in the MX and Adrenox or AX series.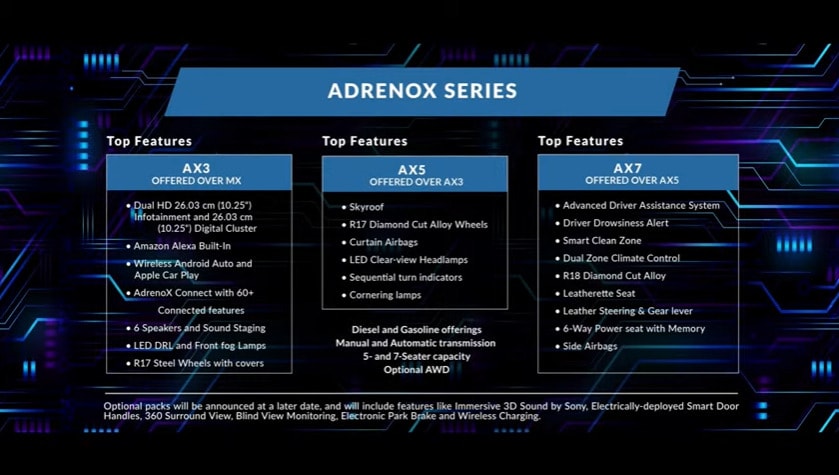 Mahindra XUV 700 AX series models
Mahindra XUV700-Dimensions
The new Mahindra XUV700 is based on the company's new global SUV platform: the W601. In terms of dimensions, the new SUV has a length of 4,695 mm, a width of 1,890 mm and a height of 1,755 mm. Compared to the XUV500, it is 110mm longer but 30mm shorter, while the width remains unchanged. The XUV700's wheelbase is also 50mm longer at 2,750mm. The higher variant will also come with a set of diamond-cut 18-inch aluminum alloy wheels, along with disc brakes on all four coers, but the ones at the front are ventilated discs, while the ones at the rear are solid.
Mahindra XUV700-Exterior
Visually, the SUV comes with a new black grille with long vertical chrome panels and the new Mahindra logo in the center. Flanking the grille are new LED headlights with dual C-shaped LED daytime running lights. The SUV will also come with new recessed door handles, power-operated ORVM hardware with integrated tu signals and widened wheel arches that give it a powerful stance. At the rear, the new XUV700 will come with stylish wraparound LED taillights, a sculpted tailgate, and leatherette bumpers with faux silver skid plates.
Mahindra XUV700-Interior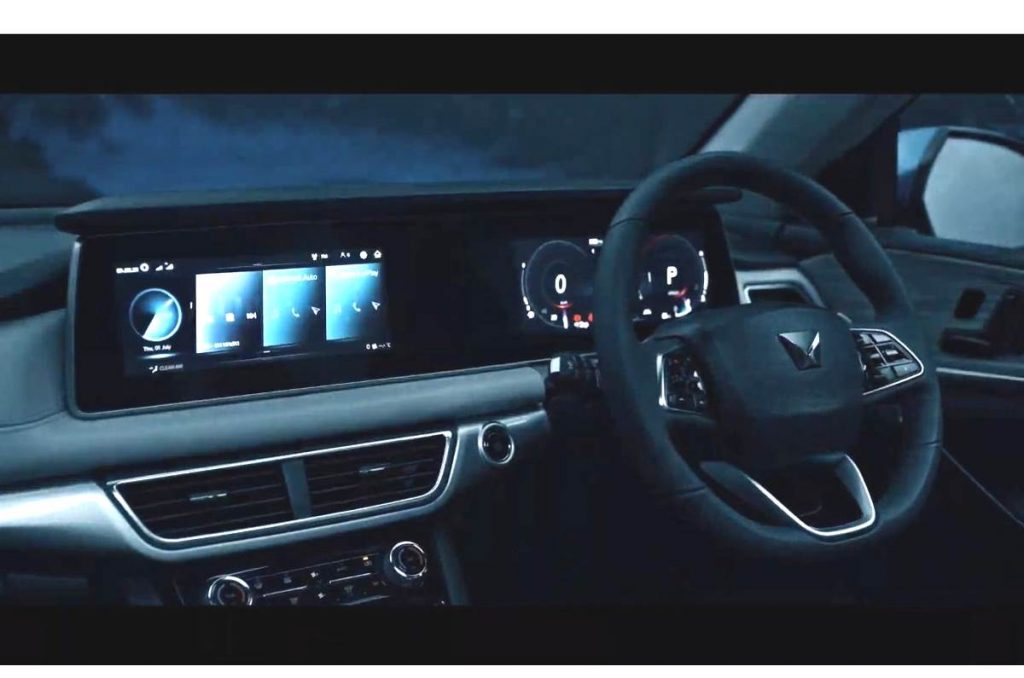 XUV 700 Interior
The new
Mahindra XUV
700 will come with a well-designed premium cabin with large, comfortable seats with premium upholstery and a host of smart features. The cabin will be available as a five or seven-seater option. The SUV comes with an extended cover for two fully digital screens for entertainment and instrumentation, similar to the new Mercedes-Benz vehicles. Both are 10-inch screens and the first is fully connected to the vehicle's Mahindra Adrenox technology, with support for Amazon Alexa, e-SIM, Apple CarPlay, Android Auto and more. The system also comes with a voice command function to control the 3D surround sound system, the panoramic sunroof, and more. The SUV also has a wireless charger.
Mahindra XUV700-Features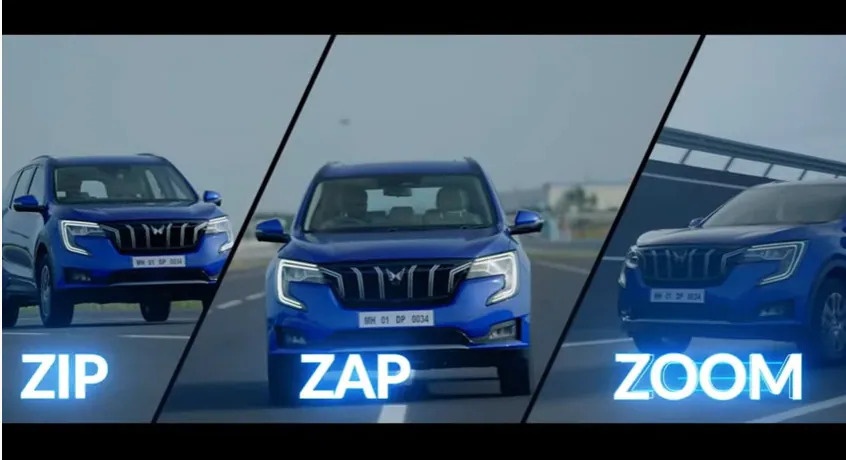 Available in three driving modes-Zip,Zap,Zoom
Mahindra also offers multiple driving modes including three preset options: Zip, Zap and Zoom, along with a custom setting. The high-end variant will also come with Advanced Driver Assistance System or ADAS technology, making it the first Mahindra product to receive Tier 1 technology. The camera and radar technology is tailored to India's road conditions. Other safety features include: 7 airbags, Dynamic Stability Program (DSP), 360-degree camera, ISOFIX seat mounts, and more.
Mahindra XUV700-Engine
Under the hood, the new Mahindra XUV700 will come with a 2.0-litre mStallion turbocharged petrol engine and a 2.2-litre mHawk diesel that will be offered in two tunes. The 2.0-litre TGDi petrol engine is tuned to produce 197 bhp at 5,000 rpm and a maximum torque of 380 Nm between 1,750 and 3,000 rpm. The engine is connected to either a 6-speed manual torque converter unit or a 6-speed automatic.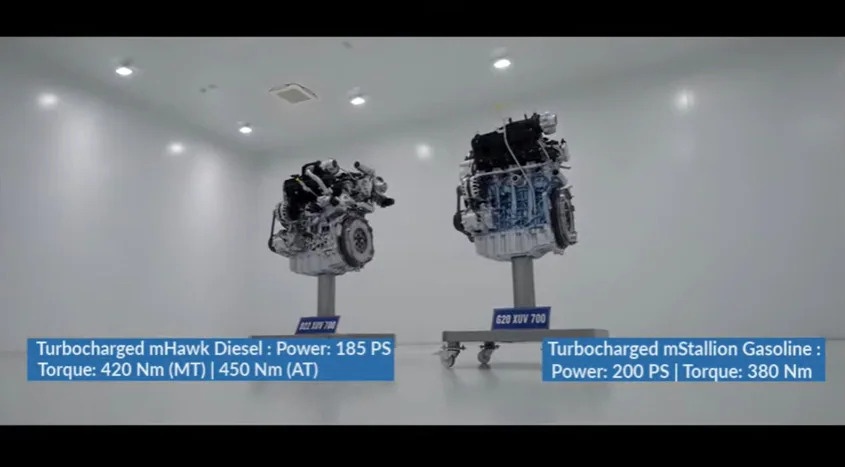 The new Mahindra XUV700 will come with a 2.0-litre mStallion turbocharged petrol engine and a 2.2-litre mHawk diesel engine
As for the diesel models, the First Choice is tuned to produce 153 horsepower at 3750 rpm and develop a maximum torque of 360 Nm between 1500 and 2800 rpm, while mated to a 6-speed manual gearbox as standard. There's also a more powerful option that puts out 182 horsepower at 3,500 rpm. This version is offered with a choice between: a 6-speed manual or a 6-speed automatic pair. While the former provides maximum torque of 420 Nm from 1,600 to 2,800 rpm, the automatic option, which also comes with all-wheel drive (AWD), develops 450 Nm from 1,750 to 2,800 rpm.
Mahindra XUV700-Price
Base variants of the MX Series for the new
XUV700
are surprisingly priced at Rs.11.99 lakh for MX Manual petrol and Rs.12.49 lakh for MS Manual diesel. The AX series are packed with features: the AX3 petrol model will start at Rs.13.99 lakh, the AX5 petrol manual will cost Rs.14.99. All revealed prices are for the five-seater versions. Mahindra will announce the full price of the XUV700 line sometime in October of this year.While the starting price of the entry-level XUV700 variants remains very competitive, it remains to be seen if Mahindra can continue its stringent pricing strategy with high-end variants equipped with features such as an automatic gearbox, ADAS security technology and Sony's 3D audio system.