The Hyundai Creta is one of India's favourite SUVs. If we are talking about a rugged car meant to roll smoothly on rough patches and endure all the inconveniences that different geographical terrains have to offer then we would be wrong. This car, although an SUV, is meant to glide on urban well-polished roads rather than rocks and stones. This is an ideal car to move around a city and can take on rough roads sometimes.

The automatic diesel version with 1.6 L motor engine is not very noisy once it gets aptly warmed up. It starts off with a smooth note and is noticeably impressive. The 1582cc CRDi VGT motor yields 128PS of power and 260Nm of torque. Just to make sure that all the components are properly functioning given the high amount of power that is being handled, an optional 6-speed automatic transmission along with a manual box is present in this model.

While driving in the city, one may be faced with many odds including dodging smaller vehicles and the "stop-go" condition would really test the car's mettle. The bigger displacement motor does not get in action and takes more time to kick in; however, once the lower range is crossed over a large number of torque comes to play. The car gets into the comfortable driving zone once it reaches on concrete grounds. The conventional torque converter automatic unit is made for highway drives rather than the various shift modes. There is a manual mode also which helps in sudden overtaking or manoeuvres.

While driving at a constant up speed the car might feel jittery and there is a continuous need for steering input. The overall ride quality at high speed is comfortable except while entering corners. The lack of any redundant noises seeping into the cabin even while rolling on uneven rocky surfaces can be attributed highly to the excellent compactness of the SUV. The suspension setup is made such that it offers a softer ride and the damper settings are made keeping in mind the Indian conditions.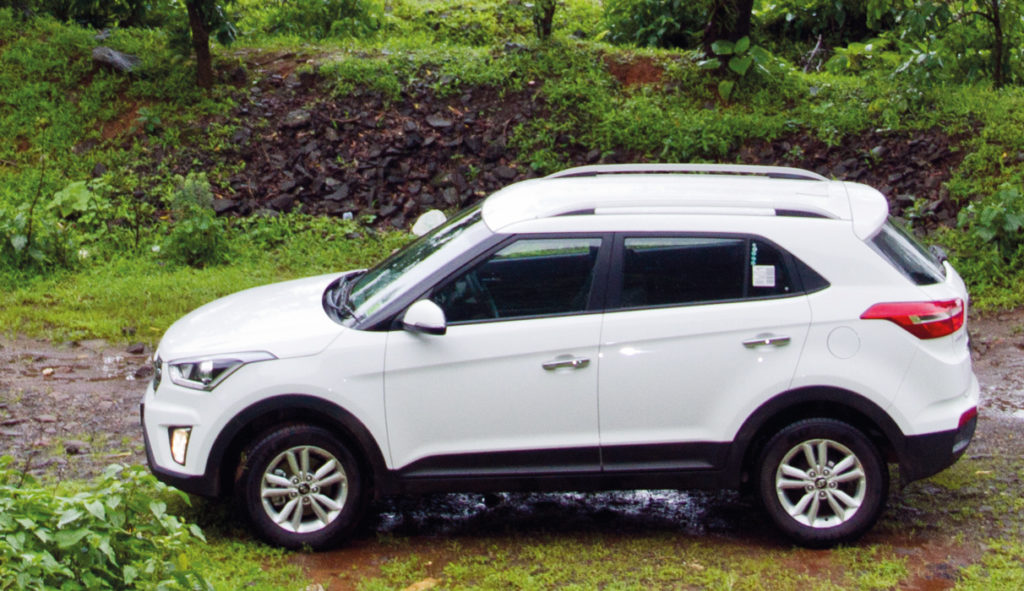 Another feature of this car loved by the users is the optimised boot space. The driver, as well as the passengers, can get ample room to stretch their legs which can be a boon for long drives. The seats are well cushioned- not too firm not too mushy. The leather coverings are hard-wearing and even after prolonged use, they will not get wrinkled. The air con also performs well and there are no real cooling issues associated with this SUV.

A few key features where there is room for improvement are- the reverse camera which would help if it came with a higher resolution, the auto-dimming function which could have been added to the rearview mirror etc. Surprisingly this feature is present in Elite i20 which is a much cheaper model. However, these minor issues can be easily overlooked as the Hyundai Creta has a lot more to offer and the compactness of this SUV is truly unique.