Ola S1 electric scooter has finally been launched in India with a starting price of Rs.99,999. The Ola Electric S1 scooter will be offered in two variants: the S1 (Rs.99,999) and S1 Pro (Rs.1,29,999, all prices include FAME-II subsidy), targeting the more budget-conscious buyer. The S1 Pro was aimed at those who want to improve performance and range. These are lower in states that offer incentives under their EV policies, and the Ola S1 and S1 Pro will be priced lower in Maharashtra, at Rs.74,999 and Rs.1,04,999 respectively, which is Maharashtra EV policy is ratified. Sales begin September 8th and deliveries will begin in October.
Ola Electric S1 and S1 Pro Battery Capacity and Charging Details

The Ola electric scooter has the same banana-like batteries in the Etergo Appscooter it's based on; Only here, they are fixed and not removable. The Ola S1 has a 2.98 kWh lithium-ion battery, while the Ola S1 Pro has a 3.97 kWh lithium-ion battery, the largest ever in a two-wheeled electric vehicle produced in India. This great battery makes the Ola S1 Pro eligible for the highest FAME-II subsidy among all electric two-wheelers on sale today.

The claimed range for the Ola S1 electric scooter is rated at 121 kilometres, and for the Ola S1 Pro the range is pegged at 181 kilometres, which is far higher than any two-wheeled electric bike for sale in India. This will give the Ola S1 Pro a real range of around 150km.

Ola Electric will offer a 750W portable charger with the S1 and S1 Pro, and the company says that a full charge of the S1 at home will take about four hours and 48 minutes, while a full charge of the S1 Pro at home takes six hours. , 30 minutes. Of course, Ola is also building its own 'Hypercharger' network across India where users will be able to reclaim around 75km of range in just 15 minutes.
Performance and top speed details of the Ola Electric S1 and S1 Pro scooters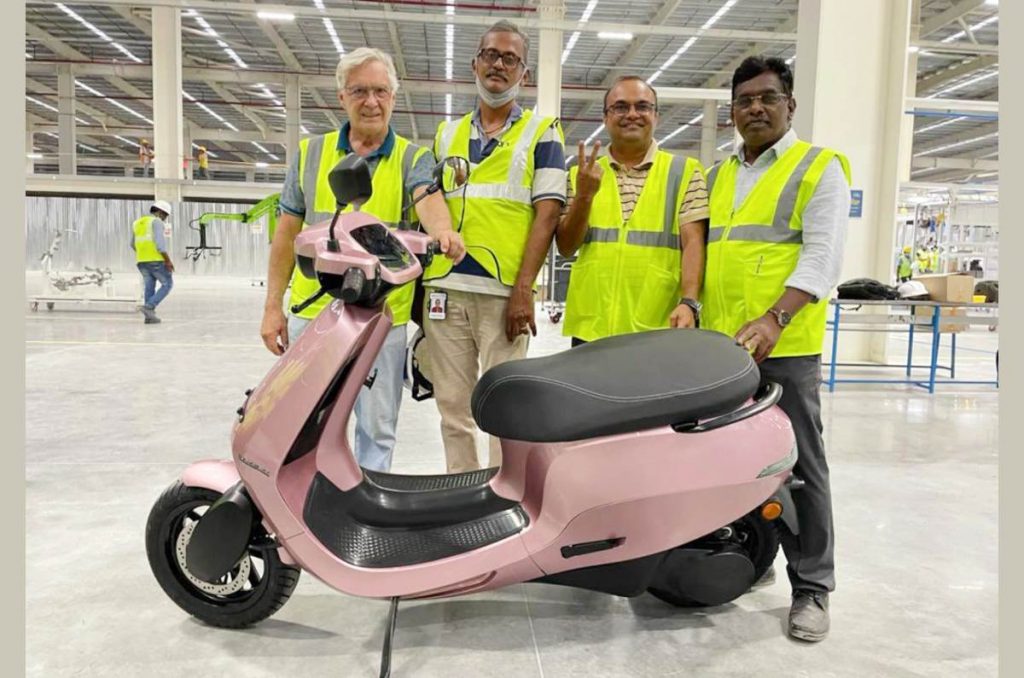 Ola Electric S1 Pro will have class-leading acceleration

Outlined with the optional performance enhancement accessory, the Ola Electric S1 Pro will have class-leading acceleration. With a base power of 5.5 kW (7.4 bhp), a maximum power of 8.5 kW (11.5 bhp) and a torque of 58 Nm (in the motor), the Ola S1 Pro will accelerate from 0 to 40 km/h in about three seconds claimed, And from 0 to 60 km/h in five seconds flat. In perspective, the Ather 450X, previously the fastest electric scooter for sale in India, goes from 0-40 km/h in 3.3 seconds and 0-60 km/h in 6.5 seconds. The Ola S1 Pro also has a top speed of 115 km/h and three driving modes: normal, sport and hyper.

On the other hand, the lower-spec Ola S1 electric scooter has the same power output as the S1 Pro, but will run from 0-40 km/h in 3.6 seconds and 0-60 km/h in seven seconds, which is also not exactly slow. The top speed of the Ola S1 is 90 km / h and it has two driving modes: normal and sport.
Features and color options for the Ola Electric S1 and S1 Pro scooters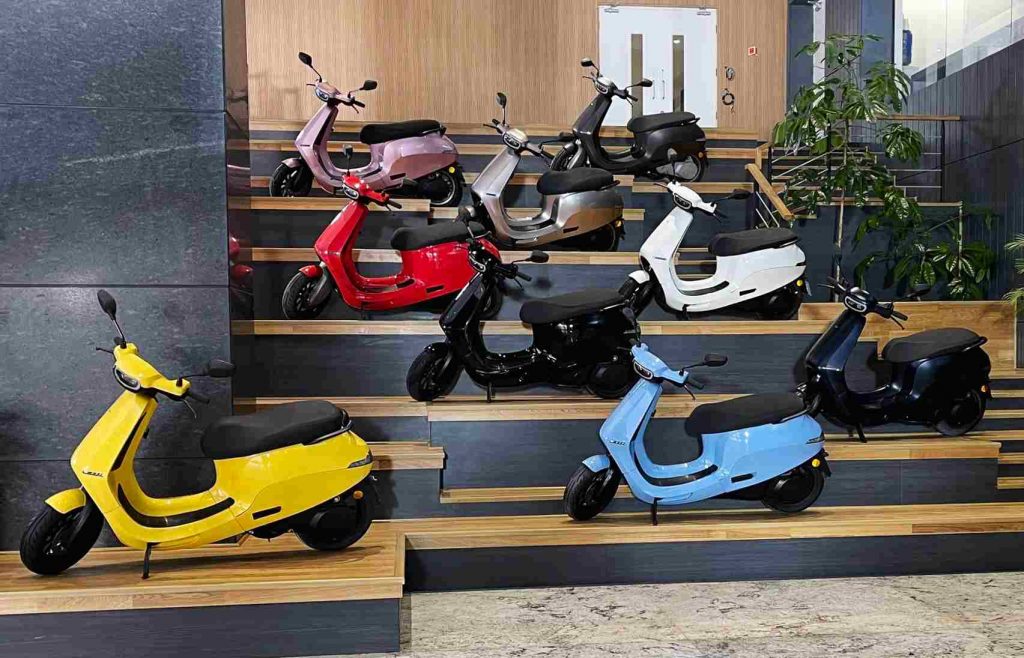 Ola S1 will be available in ten color options

The Ola Electric Series S e-scooter has 36 liters of under-seat storage space, nearly the largest in its class today, and can accommodate two half-face helmets. In terms of features, the Ola S1 has a side mount cut-out function, a 7.0-inch touch screen, cruise control, hill stabilization assistant, geo-fence, anti-theft alarm, Bluetooth, GPS and Wi-Fi connectivity, and four 'moods' (which changes the way the scooter sounds), reverse mode, built-in speakers, and onboard navigation. The S1 and S1 Pro both have most of these features, with the reasonably priced S1 losing only in row stabilization, cruise control, and voice assistant features. The scooter will be available in a total of ten color options.
Ola Electric Scooter S1, S1 Pro Specifications

The Ola S1 electric scooter has a single-sided telescopic front suspension and horizontal rear shock, as well as 220mm front disc brakes and 180mm rear disc brakes (with built-in brake system, not ABS). The passenger footrests fold into the scooter body, and at the rear, the Ola electric scooter has a thicker handle for the passenger seat and a rear light with a transparent lens.

Weight is rated at 121kg for the Ola S1 and 125kg for the Ola S1 Pro. It has 12-inch wheels front and rear (with 110/70 tires), and its wheelbase of 1,359mm is longer than that of the Aprilia SXR 160, one of the biggest scooters you can buy in India today. Ola S1 and S1 Pro seat height is rated at 738mm, and ground clearance is set at 165mm.
Ola Scooter and electric charging grid availability details

Ola Electric will have fixed charging stations (including slow and fast charging points) in 100 cities in India at the time of the launch of the S1 and S1 Pro, which will eventually cover more than 400 cities. Ola's decision to sell directly to online buyers also means that they can sell and repair your e-scooter in almost every city in India from day one.