Hero Lectro launched this specially designed Winn e-cycle in India to serve the last mile delivery needs of eCommerce entities across the country. Priced at Rs. 40,000, the Hero Lectro Winn is claimed to provide optimized cargo and storage capacity suitable for short and high-intensity delivery rides.The Hero Lectro Winn offers 180-liter cargo storage, trouble-free charging with a swappable battery, and a top speed of 25 km/h. It also provides a pedal assist function common in most cargo e-cycles.The company claims that delivery agents currently delivering an average of 40 shipments per day, and a specially designed freight vehicle can move that figure to around 70-75, resulting in higher productivity and higher revenue. At the same time, increased storage space improves both comfort and safety by eliminating the need for delivery agents to carry heavily loaded backpacks while driving.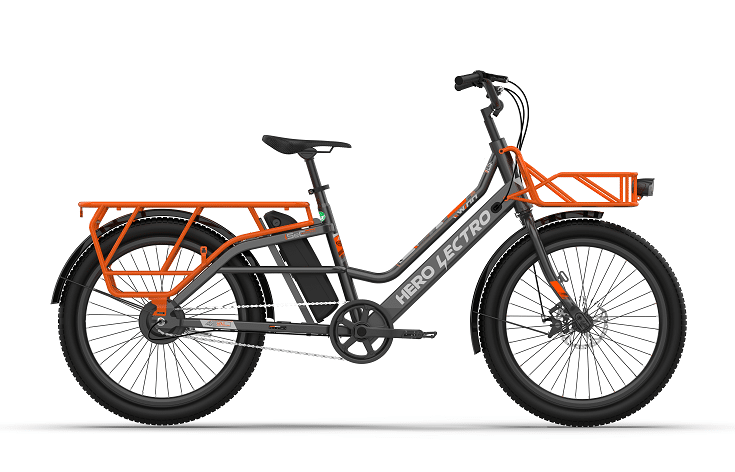 Hero Electro Winn e-cycle
In addition to e-commerce platforms, Hero Lectro is also in advanced discussions with rental companies to make Hero Lectro Winn available to delivery agents with affordable rental leases."With e-commerce witnessing a surge in India in recent times, the delivery density for the last mile has increased significantly. However, the absence of purpose-built vehicles for this segment is acting as a major hurdle for cost and resource optimization. Motorcycles, which form the bulk of last-mile delivery vehicles currently, have limited volumetric space and payload capacity, which in tu increases running costs for delivery providers," Hero Lectro CEO Aditya Munjal said."By overcoming these constraints, Hero Lectro Winn e-cycle holds huge potential for enhancing incomes and unlocking profitability by increasing per day shipment capacity and achieving cost optimization which comes from enhanced productivity offered by our solution," he added.According to Hero Lectro, major e-commerce players, consumer goods companies, and logistics service providers, including Amazon, Xpress Bees, DS Group, and DOT, are already conducting advanced feasibility studies and are likely to adopt the product for achieving even greater value for money.
Also Read: Nexzu Roadlark e-cycle with 100km rangeAlso Read: Detel Easy Plus electric bike launched in India at Rs 39,999