DC Avanti car may go from being famous for her ambitious intentions to being notorious in light of recent accusations. Independent automakers and auto customizers are known to have friction with lawmakers and now Indian auto designer Dilip Chhabria is in trouble over the law. Mumbai police recently arrested the founder of the acclaimed car design house DC Design as part of an investigation into alleged financial fraud and fraud related to the capital's own model, the Avanti. Here's everything you need to know about the car.rn
What is DC Avanti Car?
rnThe DC Avanti car was the first homemade mid-engined sports car. Designed, built, and sold by Dilip Chhabria Designs Pvt Ltd, the Avanti was launched in 2015. It is a two-door, two-seat model offered in a frame with a range of optional extras. The bodywork is said to be made of carbon composite on the basis of a high-quality composite steel body. DC plans to sell the car here and in other countries.rn
DC Avanti Car Specifications
rnIt was powered by Renault's turbocharged 2.0-liter four-cylinder petrol engine with a rated output of 250 hp and 340 Nm. This engine was rear-mounted and mated to a 6-speed manual transmission that only sent power to the rear wheels. The declared acceleration time from 0 to 100 kilometers per hour was set at 6 seconds with a maximum speed set at 200 kilometers per hour.rnA later model improved engine power to 310 hp and added a six-speed AMT option with paddle shifters. However, it is difficult to confirm whether this model has actually been launched on the market or not.rnIt wasn't a fancy show.rnrn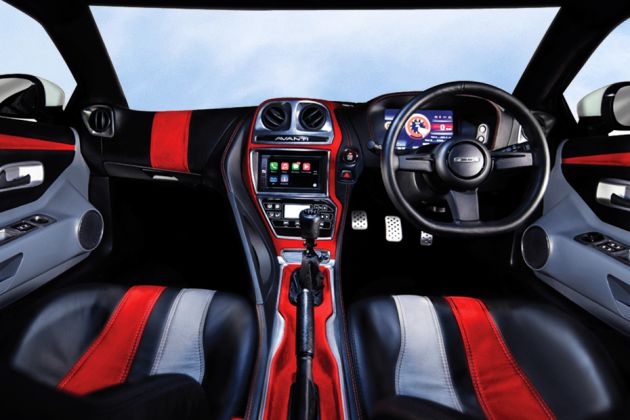 DC Avanti Interior
rn
DC Avanti Interior
rnThe DC Avanti car's list of standard features was limited to amenities like air conditioning, power windows, power-adjustable exterior mirrors (which looked similar to
EcoSport
), and synthetic leather upholstery. The Options menu included bi-xenon headlights, a rear parking camera, an on / off button, leather or Alcantara upholstery and tuned exhaust. Even the MID in the instrument cluster was a bonus. While the safety list mentions a round cage, four-wheel disc brakes with ABS, and three-point seat belts, it had no airbags.rnrnBy appearance, this 2015 sports car was equipped with air conditioning vents, an aftermarket infotainment system, from a
mid-size sedan
from the late 2000s.rn
DC Avanti price
rnSince this limited-run model was meant to be very individual and come with an extensive list of optional extras, it didn't have a traditional price list like the OEM model. However, at launch, its price was starting at Rs 34.90 lakh (ex-showroom).rnLooking for Car Insurance?
Know what's best for your car with expert help.
rnrn
Also Read: Toyota Raize Price in India, Interior, Mileage and More