While most of the new two-wheeler brands launched in India in recent years have been for electric vehicles, there are some Chinese brands that have come to India with their petrol -powered two-wheelers. The four brands that have come to India this year - Keeway, Moto Morini, Zontes and QJ Motor - have launched 20 motorcycles in a matter of months. Among these, Zontes falls under the corporate umbrella of Moto Vault which has been introduced by Adishwar Auto Ride India. The Chinese brand currently presents five offers in our market, all powered by the same engine. With us this time is the Zontes 350X, which is the sporty tourer of the lot. Let's find out what it offers.
Zontes 350X Design
The 350X poses a look that belongs to the sporty tourer a few slides up, and this one actually turns out to be on the street. And it's not like the design is too radical or polarizing either. The bike has a sharp, muscular look and the use of a set of saddlebags or a top box will only enhance its visual appeal. Yes, it could have added a little extra bodywork to save some weight, especially since it only has a relatively small 350cc engine, but the visual drama the bike packs makes it well worth the compromise.
Not just that, but the 350X brings the "sport tourer" form factor to the sub-400cc class for the first time in India, meaning this bike has no direct competition. This segment currently has multiple ADVs, such as the KTM 390 Adventure and BMW G 310 GS, that can also double as excellent touring machines. However, this sporty ride presented with smaller 17-inch wheels and a lower 795mm seat height has given the 350X a less intimidating and more engaging appeal, especially on tall ADVs, and especially for shorter riders. The same cannot be said for the rear seat, as it is much higher than the passenger seat and quite difficult to reach.
Zontes 350X Features
The entire Zontes range has arrived in India in feature-rich forms, and the 350X is no stranger to the same. It has some very clever parts on display, and while they may look flashy, they're very useful. The bike is keyless, to the point where the keys are not even key-shaped; They are just labels that you can put in your backpack or pocket and forget about. This means that the fuel filler flap and seat open at the push of a button. The bike also has an electronically adjustable windshield, and it can pop up at any speed, again, at the push of a button. It also comes with two USB Type-A charging ports and LED lighting, among other features.
The bike also has a 5-inch full color TFT screen that is clear and responsive. The display also offers Bluetooth connectivity and even a Tire Pressure Monitoring System (TPMS). There are also four layouts to choose from on the screen, all of which are easy on the eyes. The bike is also getting connected features that can be used via the Zontes app, but it hasn't launched in India yet, so we'll reserve our opinions on that.
Despite this, there are two shortcomings. For starters, the range and fuel economy readings on the display were very inconsistent and unreliable. The display is also positioned a bit further back from the driver, making the 5-inch screen difficult to read while navigating. The bike is well built and apart from a few plastic parts the overall feel is very nice.
Zontes 350X Engine
The Zontes 350X is powered by a 348cc single cylinder engine which is shared among the 5 motorcycles that Zontes owns in India. The engine develops 38.3 horsepower at 9,500 rpm and 32.8 Nm of torque at 7,500 rpm. It's quite manageable and quick to turn, and it has plenty of power throughout its rev range. Power develops very linearly after 4000rpm, but the engine doesn't feel exciting. It also has an "Eco" drive mode for city use and from what I've experienced the lack of power wasn't too great. However, the engine has a very big problem.
The engine does get liquid cooling and doesn't get very hot on the go. But in stopped traffic, the engine tends to overheat and the radiator fans often don't work as well as they should. That in itself isn't much of a problem, but the engine does radiate quite a bit of heat on the high side, and you can really feel the heat coming up through the seat and fuel tank rim. That's a bad recipe for comfort, which is a shame because otherwise this bike is very happy and easy to ride in urban environments.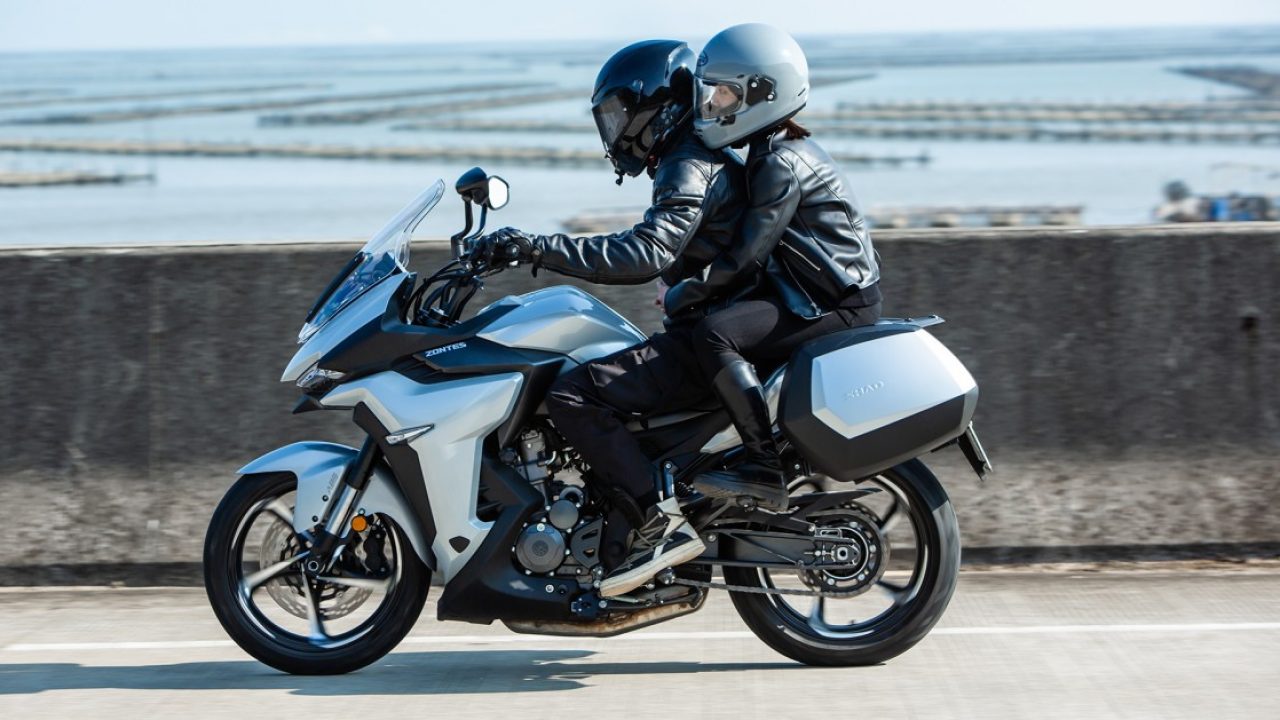 Zontes 350X Suspension, Ride, & Handling
The 350X has a decent seating position, and with a low seat height of 795mm, it's accessible to shorter riders, too. Sitting in the back seat can feel like you have to climb a small hill, but once you're up, it's comfortable again, and you'll also have a good view of the road ahead. The 350X has a pair of 43mm USD forks up front and a monoshock at the rear, which do a good job of absorbing bumps and bumps. That, along with the comfortable seat, makes long miles feel short.
However, the bike doesn't feel very confident in corners, thanks to the top-heavy design and general lack of tire grip. Especially with a full tank of fuel on board - and the tank is quite large, too - with a usable capacity of 15 litres, the top of the motorcycle becomes even heavier. A full tank of fuel gives you a good amount of space, and I had no anxiety doing 350 kilometres before considering stopping for petrol.
At 152mm, the bike has low ground clearance and will stall on speed-breakers quite often, especially with the rear seat on board. Another thing we noticed is that while the adjustable windshield is very nice to use and a nice feature, even in the raised position, the windshield doesn't do a great job of diverting air away from the body.
Zontes 350X Brakes
The mixed trend continues on the braking front as well. The 320mm front disc and 265mm rear disc provide very positive feel and grip, and are on par if not better than most other bikes at this price point. However, when the brakes did discern, the anti-lock braking system (ABS) felt inadequate to handle the stopping power, often resulting in lockups. The crashes were particularly evident on loose surfaces, which is a big drawback considering that the main competitors are ADVs that thrive on such surfaces, which are plentiful in India, to say the least. All of this is also enhanced by the Migra S3 tyres lack of grip, and swapping them for a better compound could solve most of the issues in the handling and braking department. Now I can't comment on whether this solution definitely works until I try it, but I'm sure this build deserves a better pair of shoes.
Zontes 350X Review: Verdict
After riding the Zontes 350X for a while, the nagging thought was that the bike looked unfinished. Not in the superficial sense, but what's under the skin. If Zontes would give this bike a better set of tires, a better shaped windshield, and correct the dents in the instrument cluster and ABS, the bike would immediately be a much better proposition. And half of those problems can be solved by you, the customer, by adding some aftermarket parts too. This would leave the 350X with only one major problem: engine heat.
So in its current guise, there are very few shortcomings that would make it an ideal first touring bike, and if you're still okay with those issues, the price starts at Rs. 3.35 lakh (ex-showroom) compares it to two very prominent ADVs from big brands like BMW Motorrad and KTM, and while the sports touring format is a joy to use, on Indian roads an ADV would be, by a decent margin, the Best option for motorcycle tourism. And if ADVs aren't your cup of tea, new-style bikes like the Royal Enfield Interceptor 650 also offer impressive credentials with a bigger, more powerful engine, making the Zontes 350X a tough sell.

Also Read: Upcoming Car Launches In January 2023