Children love to ride skate scooters. They are certainly a lot more portable and lightweight than bicycles. These scooters also help children to maintain their fitness. These days as we all know a lot of things have changed in terms of how we spent our childhood and how kids of 2021 are living it. The big task is to keep your child cheerful and energetic. Presently, in the market companies provide a wide range of skate scooters for kids.Hence, it becomes really difficult to choose from all the options available. Well, the easiest way is to see the list of recommended scooters for kids here. We have compiled this list after carefully reviewing hundreds of models and taking online opinions from parents whose children are already using them. So, let's have a look:
R for Rabbit Road Runner Skate Scooter For Kids-3 Wheel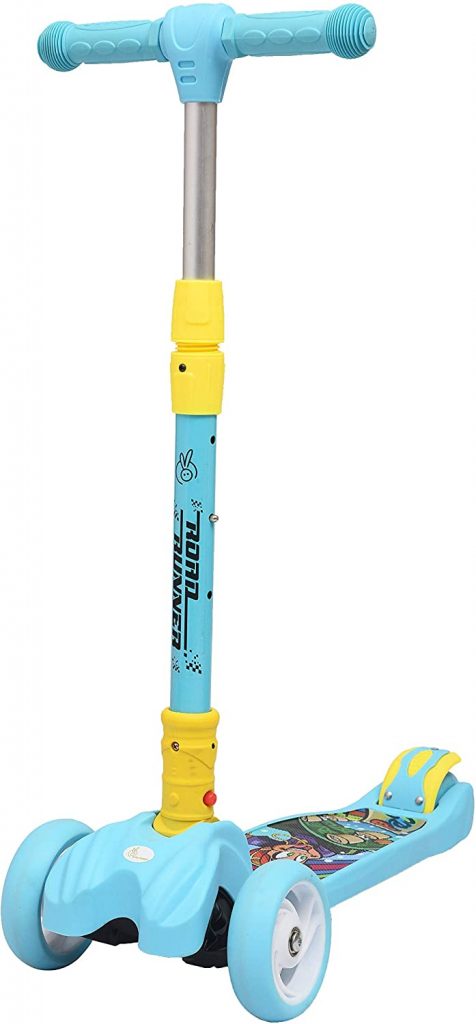 R for Rabbit scooter for kids
R for Rabbit is a brand known for providing strong and durable products for children, such as toilet training seats, cribs, and skateboards. This kids scooter is one of the
best scooters
and it comes packed with cute features. It has a unique design that allows kids to lea to ride very easily. Front wheels have been kept wide to provide stability, which makes this scooter safe to ride. A child can control the tuing and balance easily by handlebars as well as physical inclination. This scooter is ideal for a kid because it can be used by a kid as he or she grows up. This skate scooter comes in four adjustable heights ranging from 25 inches to 33 inches.The scooter has PU wheels for a smooth ride and can be used indoors as it will not leave any marks on the tiles due to the high-quality wheels. It has two front wheels and small LED rear wheels that are bright enough to be seen during the day. The faster you go, the light becomes more prominent. The scooter has a load capacity of 75 kg making it ideal for kids in the 8-14 years age range.
Zest 4 Toyz Skate Scooter For Kids With Powerful Brake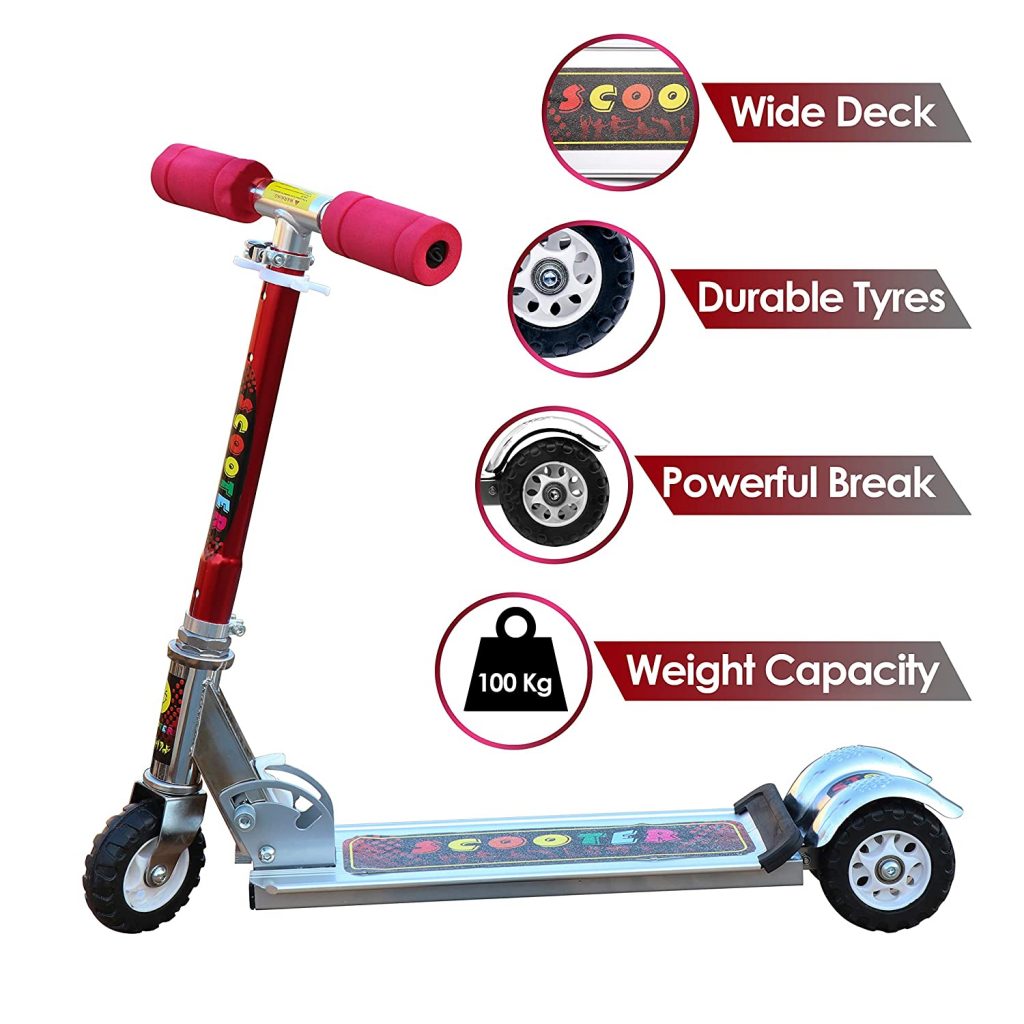 Zest4Toyz Skate Scooter for Kids with 3 Wheels and 3 Position Adjustable Height
Zest 4 Toyz is a well-known brand when it comes to toys for kids. This skate scooter for kids from Zest is one of the best kick scooters and has many features including one front wheel and two rear wheels, Lean-To-Steer technology which allows kids to steer the scooter by physical inclination, adjustable height, powerful brakes, durable handlebar, wide and non-skid foot-board.This kick scooter for kids can be easily folded and carried on your shoulder in a carry bag which is provided with the purchase. Furthermore, since it only weighs 3 kgs, it won't put too much strain on your body. The scooter weighs 50 Kg making it ideal for a kid of 4-5 years of age.
BAYBEE Flash 3 Scooter For Kids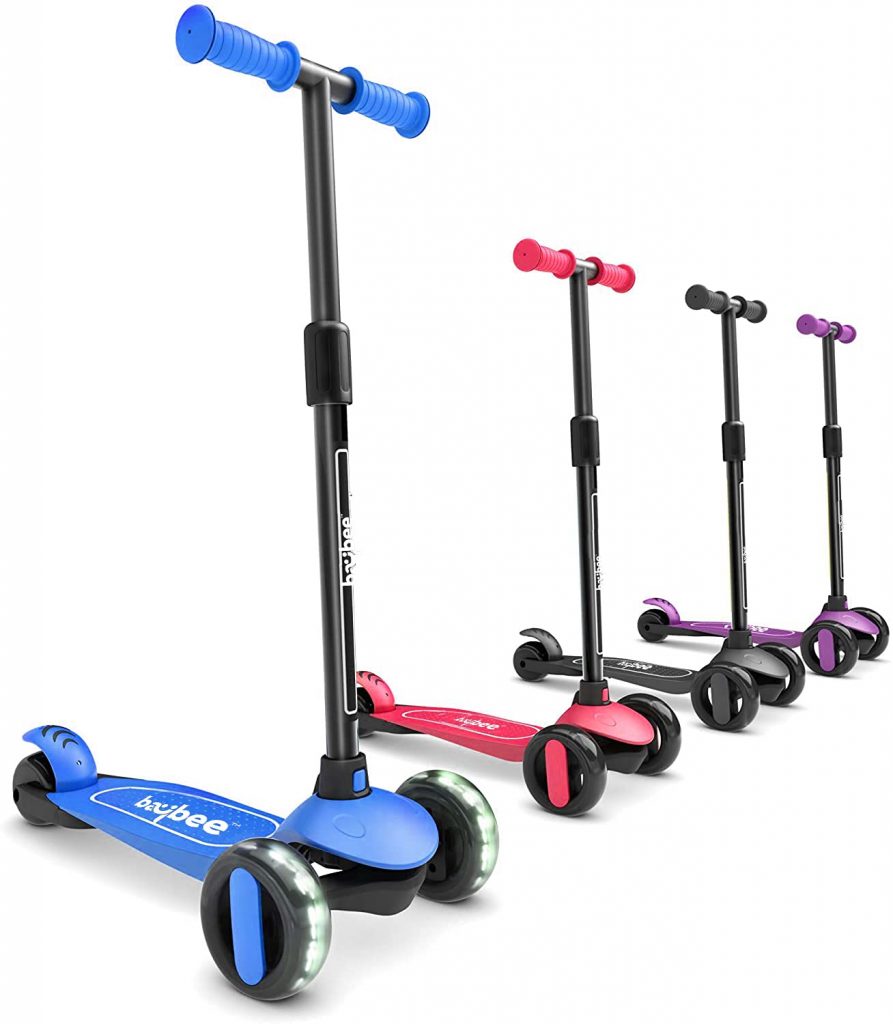 Baybee Alpha-Glide Skate Scooter for Kids, 3 Wheel Kids Scooter, Smart Kick Scooter with Fold-able & Height Adjustable Handle
This 3 Wheel smart kick scooter for kids is foldable and comes with an adjustable handle. This scooter can be used by kids aged between 3-14 years. This high-quality scooter has been certified to the highest standards of safety. The scooter is beautifully designed with fluorescent colors. The scooter has a maximum load capacity of up to 75 kgs. This is an easy-to-ride scooter for kids and can also be used indoors. Balancing can be done by physical inclination as well as handlebar which is also extendable.
Toyzone Ben 10 Scooter For Kids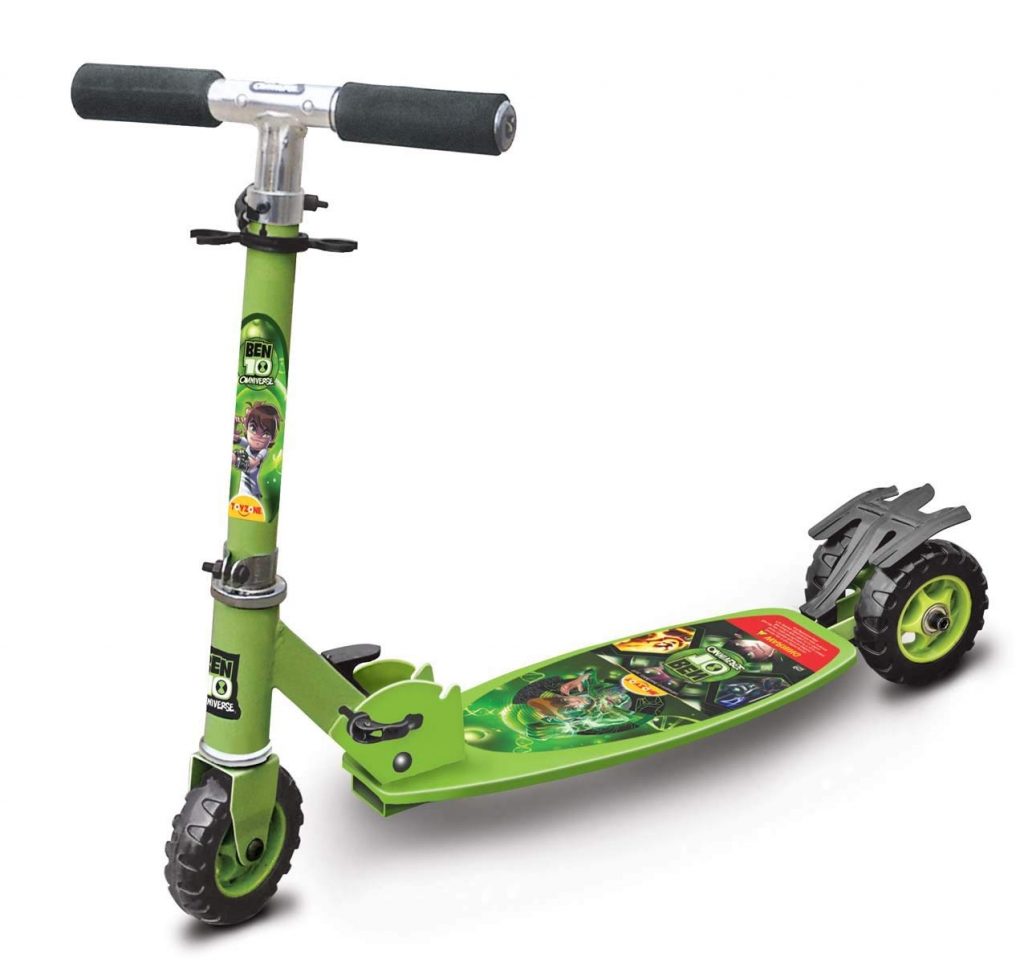 Toyzone Ben 10 Kids Skate Kick Scooter -Multicolour
This scooter is available in 3 different designs which include graphics of Batman, Ben10, and Doremon. Now if your kid is a big-time fan of these characters he or she will definitely love it. Even if they are not, he or she may love this scooter for its colorful design. The scooter has one wheel in the front and two wheels in the rear which makes it easy to balance. This skate scooter for kids is made of high-quality durable materials. Additionally, it has a wide floorboard with anti-skid grips to prevent your kid from slipping while tuing.It is safe to use this scooter when the child is at least four years old. The scooter is foldable, height-adjustable and the brakes are located at the rear end which makes it easy to stop.
BAYBEE Funbee Ninja Skate Scooter For Kids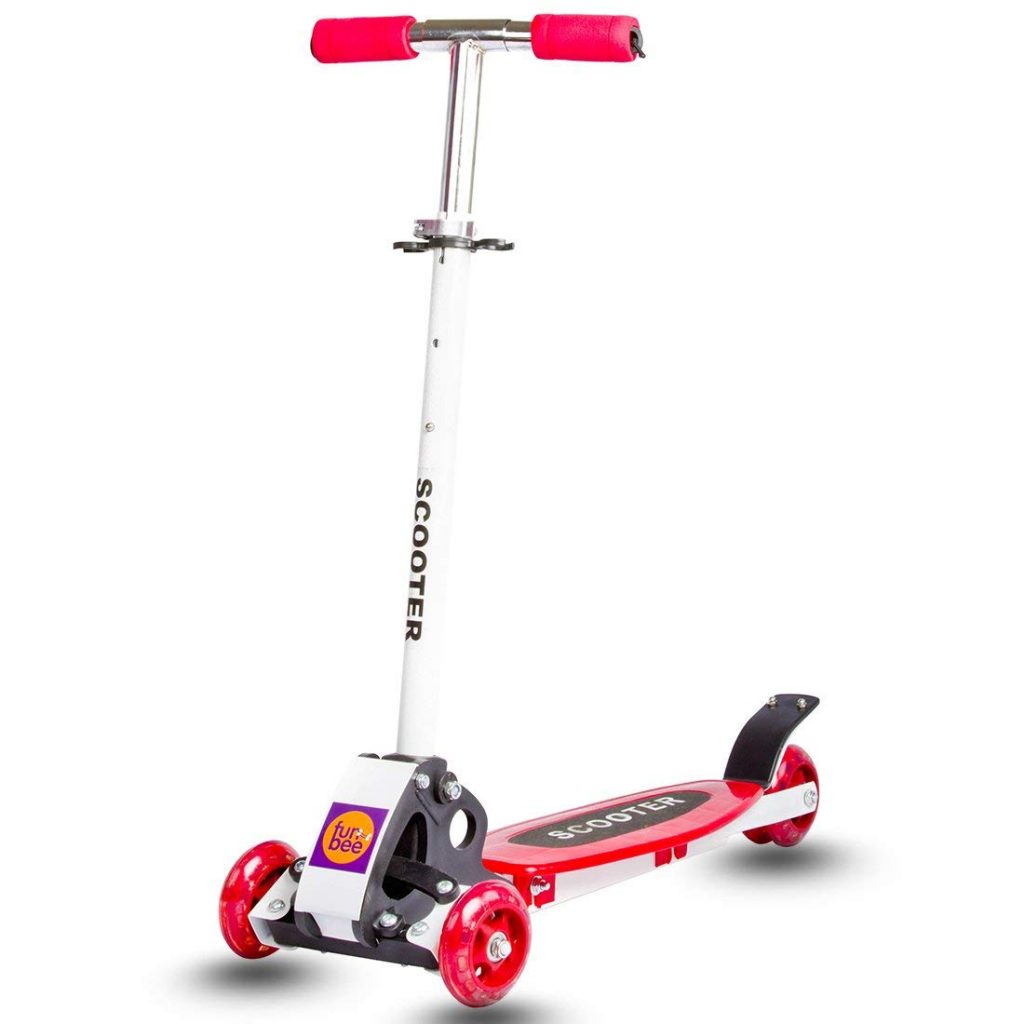 BAYBEE Funbee 3 Wheel Lean to Steer 3 Adjustable Height with Suspension Ninja Skate Scooter for Kids
The Funbee Ninja Skate Scooter has three wheels that make it more stable. It is very lightweight and easy to ride for toddlers who have no prior experience with cycling or scooter riding. This scooter comes with three wheels and an adjustable handlebar. It also has a wide-footboard and anti-skid grip. This skate scooter for kids is available in many color options where you can choose from according to your kid's choice. Funbee Ninja Skate scooter is very affordable and of high quality as well.
Also Read: TOP 10 BEST MILEAGE BIKESAlso Read: Best Car Accessories in 2020 I Car Gadgets That Are Useful