Nexzu Mobility launched the Roadlark electric cycle at Rs. 42,000 in the country. The Roadlark e-cycle has a 100 km riding range on the pedlec mode and a 75 km range on throttle mode. Here's everything you  need to know about the cycle in detail.
Roadlark e-cycle: Design and Features

The Nexzu Roadlark uses cold-rolled steel chassis with a telescopic suspension at the front and a swingarm frame at the rear. The electric bike features 26-inch spoke wheels with threaded cotton tubular tires on both ends. The passenger seat is made of high-quality foam for added comfort.Braking duties are performed by ventilated disc brakes at both ends. The Roadlark also features a flat handlebar with a digital display. The display provides the passenger with a variety of information including the charging status and other waing signs.For added driver safety, the Roadlark e-cycle is equipped with LED headlights on the front fender and a series of reflectors. The course is available in four color options: blue, black, red, and silver.
Roadlark e-cycle: Battery and Range
The electric cycle comes with two Li-ion batteries, one mounted in the frame and the other under the passenger seat. The exteal battery pack is the base unit 8.7 Ah, which can be removed from the cycle. On the other hand, the secondary battery pack in the frame is a 5.2 Ah unit.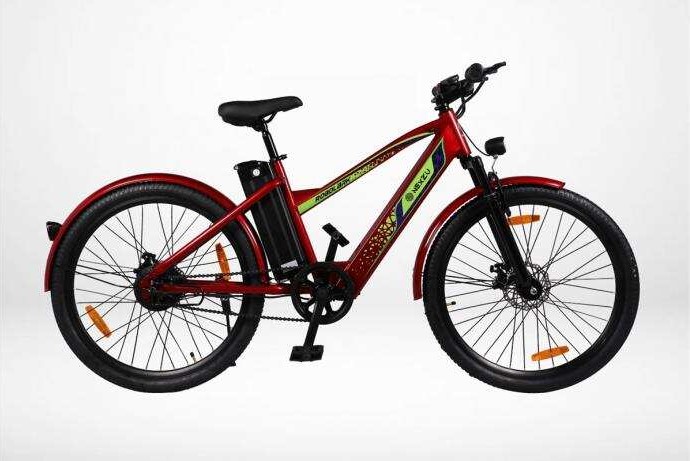 Both sets of batteries can be charged using a household socket. These battery packs are attached to a 250W 36V DC electric motor mounted on the rear wheel and pedal assist. As a result, Roadlark e-cycle regains an impressive range of 100 km on Pedlec and 75 km on Throttle.It takes 3-4 hours to completely charge both the batteries. The top speed of the e-cycle is 25kmph when in throttle mode.
Roadlark e-cycle: Price
Nexzu Mobility Roadlark e-cycle is priced at Rs. 42,000. No registration is required for this cycle.
Also Read: Joy e-bike Monster Price, Specifications, Range, Features, and ColoursAlso Read: Hero HF 100: The cheapest Hero bike