The new generation Mahindra Thar is based on a new platform and will be offered with a choice of petrol and diesel engines as well as automatic transmission options, all for the first time in history. Designed to be more practical and versatile than before, the new Thar has removable body panels and also a convertible roof. But the automaker kept enough DNA from the previous model intact to keep the new car's design in touch with Jeep's origins. Here's a quick look at how the new Thar differs on the surface.Let's take a look at the dimensions of the second generation
Mahindra
Thar and some numbers that address the new off-road design capabilities:
| | | |
| --- | --- | --- |
| | Old Mahindra Thar | New Mahindra Thar |
| Front Track | 1445mm | 1520mm |
| Rear Track | 1346mm | 1520mm |
| Length | 3920mm | 3985mm |
| Width | 1726mm | Up to 1855mm |
| Height | 1930mm | Up to 1920mm |
| Wheelbase | 2430mm | 2450mm |
| Tyres | 235/70 16-inch | 245/75 16-inch; 255/65 18-inch |
| Ground clearance | 200mm | 226mm (w/ 18-inch wheels) |
| Approach angle | 44° | 41.8° (w/ 18-inch wheels) |
| Breakover angle | 15° | 27°  (w/ 18-inch wheels) |
| Departure angle | 27° | 36.8° (w/ 18-inch wheels) |
The new Mahindra THAR gets wider tires for its wider track, which improves handling on and off the road.
The new 18-inch wheels seem to fit better to Thar's squat and also aid in his off-road capabilities.
Thar's new front end, now meeting the latest pedestrian and collision safety standards, slightly reduces Thar's approach angle.
However, its departure angles and limits have been greatly increased by about 10 degrees.
With larger wheels, the Thar's unladen ground clearance has been increased by 26mm.
The new Thr device has a fording depth of 650mm.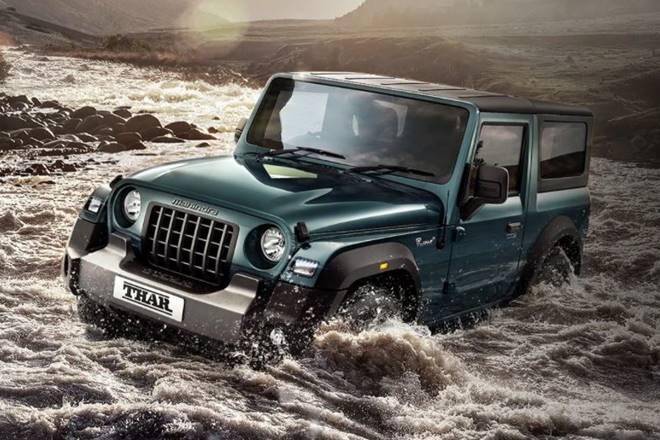 mahindra thar
Mahindra Mechanicals
| | | | |
| --- | --- | --- | --- |
| | Old Thar Diesel | New Thar Turbo-petrol | New Thar diesel |
| Displacement | 2.5-litre | 2.0-litre turbo-petrol | 2.2-litre diesel |
| Power | 107PS | 150PS | 130PS |
| Torque | 247Nm | 300Nm/ 320Nm (AT) | 300Nm |
| Transmission | 5-speed MT | 6-speed MT/ 6-speed AT | 6-speed MT/ 6-speed AT |
| Drivetrain | 4WD | 4WD | 4WD |
This is an on-paper comparison of what will be offered in the new Thar in terms of powertrain options and some other mechanical parts.
Mahindra Thar awarded a petrol engine option for the first time and it will be the strongest variant on offer.
The new diesel engine offers THAR more performance than before.
Another first choice on THAR powertrain options is the optional six-speed automatic torque converter. This will be offered in both petrol and diesel alongside the new 6-speed manual transmission.
Mahindra also gave Thar a comment talk. It now has a multi-link rear suspension compared to Thar's old leaf spring setup.
THAR's new all-wheel-drive system features a differential to lock the brakes, an upgrade from the previous generation model that only had a mechanically locked differential.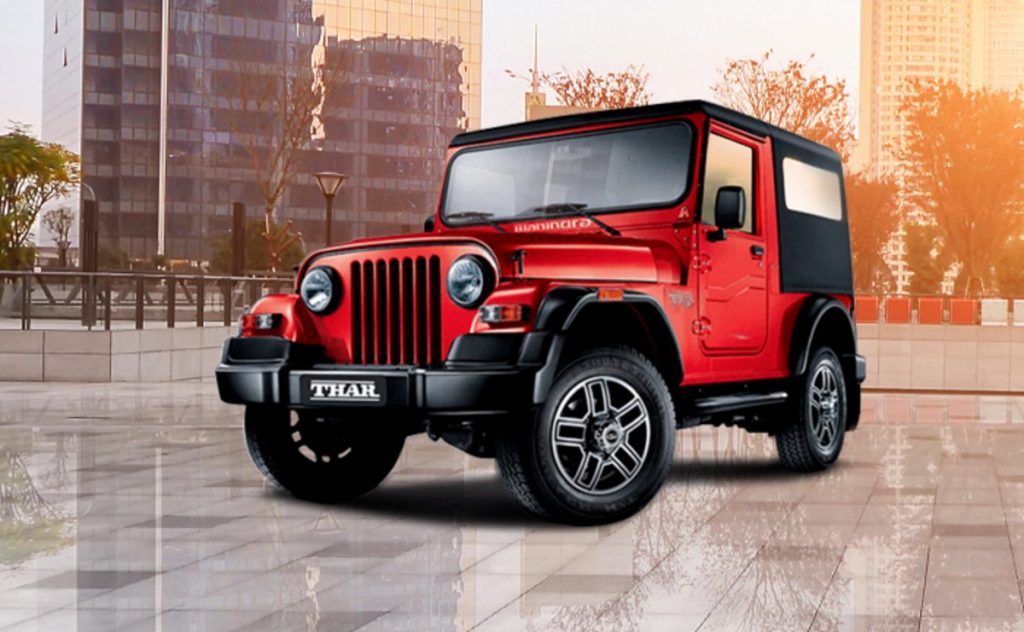 mahindra thar
Mahindra Thar Front
The new Thar retains old styling cues such as the rounded multi-reflector halogen headlamps and the vertical slatted grille that remain the focal point of the front fascia. It has a dummy skid plate that complies with the lower shock design.The indicators are installed in the projecting wheel arches, while the molding at each coer now houses the front fog lights.
Mahindra Thar Side
Mahindra's new design of the Thar wheels is an evolution of the old wheels rather than a completely different look that works to their advantage.The Thar remains a two-door SUV that maintains similar proportions to the front half of the cabin. Finally, it got for the first time a rigid platform fitted at the factory with removable roof panels.The new soft-top version of Thar has also been updated. Now there are two smooth versions for buyers to choose from: fixed and manual switchable. These options depend on the variants you choose. The new convertible soft top folds neatly at the end of the roll cage and behind the tailgate-mounted spare tire. It facilitates the change from top to bottom and vice versa.
Mahindra Thar Rear
With the sleeker and more proportionate roof design at the rear of the new Thar, the rear end appears taller than before. The rear bumper cladding is also stiffer as it now includes rear reflectors and rear sensors.The taillights are still vertical rectangles, but the new design is more age-appropriate with LED elements. Place indicators and reversing lights in the center of the brake lights with an ambient LED element.
Mahindra Thar Interior
One of the biggest changes to the old style is the new Thar interior, designed to be more practical for everyday use.More importantly, the Thar has forward-facing rear seats for the first time instead of folding seats. This is not a bench for three, instead, the seats can be folded individually for each person and thus can be folded individually when not needed. To cater to even the most eager Jeep enthusiast, Mahindra will continue to introduce the folding seat design on the adventure-oriented AX variants of the new Thar.You also get your first ceiling-mounted speakers. why? Because you can remove the doors. This way, you can have an open jeep and enjoy your favorite songs.
Mahindra
Thar is now getting more comforts than ever. Its list of equipment includes a 7.0-inch touchscreen infotainment system with steering wheel-mounted controls, cruise control, a TFT multi-information display in the instrument cluster, and sporty-looking seats. Needless to say, the cabin looks more luxurious than before.But don't think Thar goes soft on its new comfort features. You're still supposed to take it on adventures, so Mahindra made sure the interior was dust and water-resistant (IP 54 rated). That way you won't have to worry about getting a little wet and muddy in the cabin.In addition, the centerpiece of the 7.0-inch touch screen features Thar's proprietary technology called Adventure Stats that allows you to view different types of data from the unit in real-time. In off-road mode, this includes Thar's camber and sharpening, the gear you're using, and the wheel angle. The system itself can also display the amount of torque and power you are using while driving. Mahindra has also allowed a degree of customization in this system for custom displays. Some of this information will also be visible on the TFT screen in the driver's instrument cluster.
Mahindra Thar Safety
This category was almost absent from ancient Thar. Mahindra has equipped the new generation model with little equipment. Some of them are required by law, while the rest are simply reasonable. The new Thar comes with dual front airbags, rear parking sensors, ESP with slip mitigation, ABS with EBD, ISOFIX child seat anchors, roll cage, automatic speed-sensing door locks, and three-point seatbelts on the rear.
Also Read: Kawasaki Ninja 650 2020 review, test ride