Electric vehicles are the new buzz word when it comes to the world of automotive. With fossil fuel reserves running out and pollution levels increasing to dangerous levels, an alte
ative to inte
al combustion engines is the need of the hour. Electric bikes run clean and produce zero emissions, making them a popular alte
ative. Currently, the biggest problems faced by electric bike in India are range and charging infrastructure. But with improving technology and infrastructure, electric scooters and motorcycles will gain more popularity in the near future. Here is a list of the best electric bike in India. Check out these top-ranked electric bike prices, specifications, features, and more.


1. Revolt RV 400
Revolt RV 400
The Revolt RV400 is the first AI-enabled
electric bike in India
. The Revolt RV 400 electric motorcycle is offered in two variants: Standard and premium and has a maximum 150km on a single charge. Both
motorcycles
offer a host of features, AI-enabled technology and unique payment and maintenance schemes.
Price:

Rs

98,999 - 1.03 Lakh
2. Revolt RV 300
Revolt RV 300
The Revolt RV 300
electric bike in india
is the entry-level model in the brand's lineup. It offers most of the features and equipment as its larger siblings. However, it does come with a smaller electric motor and is aimed more towards the commuter segment. It has a range of 180km on a single charge and also comes with three-riding modes.
Price: Rs. 84,999
3. Ultraviolette F77
Ultraviolette F77
The Ultraviolette F77
electric bike in India
draws its design inspiration from the aviation space. The motorcycle has a mode
look and will surely be a head when tu
ing on the streets. Inte
et connection, smartphone app, fully digital meter, ABS, regenerative braking and more. The motorcycle has three 4.2 kWh batteries combined with an electric motor that produces 33.5 hp and 90 Nm of torque. Power is sent to the rear wheels by adjusting the drive chain. The company claims the F77 can reach 0 to 100kmph in 2.9 seconds and carry on to reach a top speed of 147kmph. The Ultraviolette F77 features 150km riding range from on a single charge from its 3 batteries. It also features fast charging that can take the batteries from 0 to 80 percent in 50 minutes.
Price:

Rs

3 Lakh
4. Joy e-bike Monster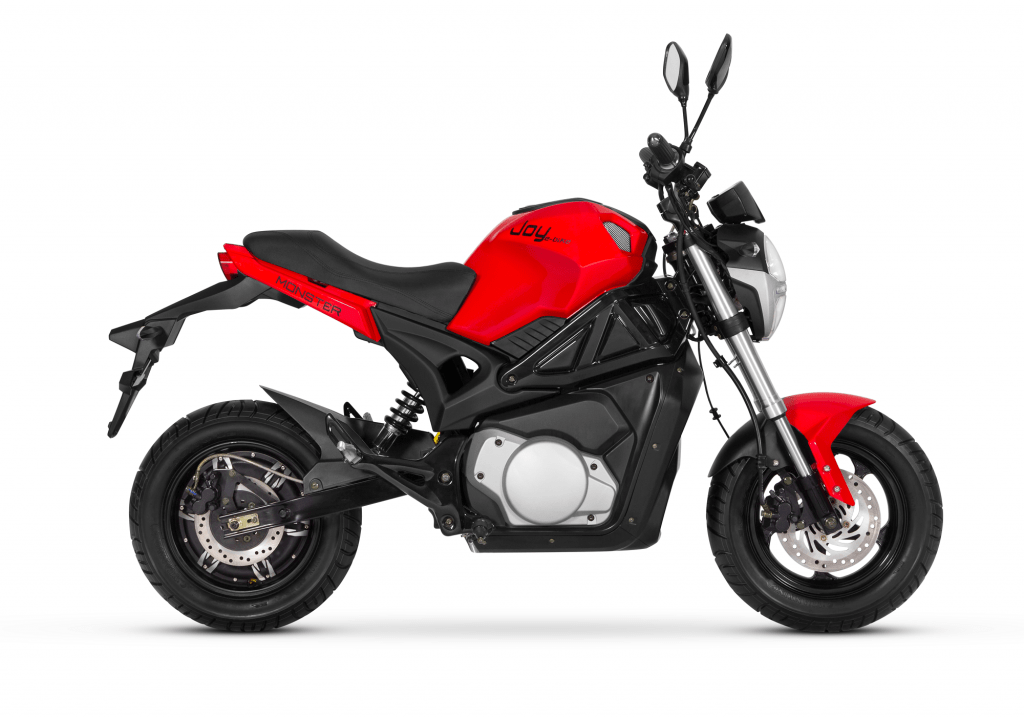 Joy Monster
The Joy Monster is an
electric bike in India
inspired by the Honda Grom 125. It's a low-speed electric vehicle powered by a 250W BLDC motor and capable of a top speed of 25kmph. The motor is fed by a 30Ah battery which is good for 75km on a full charge and requires 4.5hrs to top up.
Underpinnings consist of an upside-down fork and monoshock, and the Monster rolls on 14-inch wheels at both ends. Braking is handled by disc brakes front and rear, and the bike tips the scales at 75kg.
Price: Rs.98,999
Read More:
Electric car in India I Top 5 Cars with Specs, Prices & Features