Porsche Panamera GTS, Turbo S, and Turbo S E-hybrid now available in India
Porsche launched the 2021 Porsche Panamera line in India with a starting price of Rs 1.45 crore. The new Porsche Panamera is now available in four models: Panamera, Panamera GTS, Panamera Turbo S, and Panamera Turbo S E Hybrid.
The new Panamera models have a front end with impressive air intakes, large side air vents, and a single stripe front lighting unit. The all-new front end of the Porsche Panamera Turbo S is highlighted by the larger side air intakes and newly designed exterior elements, which are fixed horizontally and thus emphasize the width of the vehicle.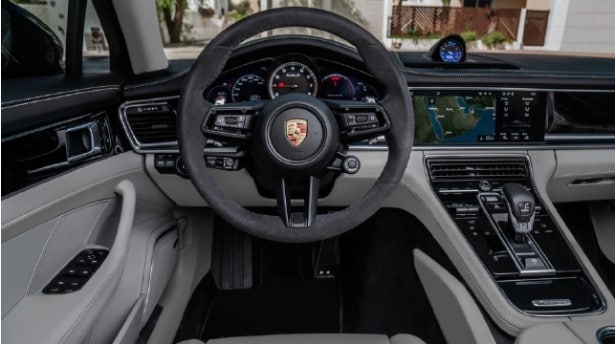 Porsche Panamera 2021 Interior
The revamped light bar in the rear now extends smoothly over the boot lid with a convenient contour. Thus it provides a seamless connection between the two sets of our newly designed LED taillights. Panamera GTS models come with new, exclusively designed dark taillight packages with dynamic retu/start function. Three new 20-inch and 21-inch wheels have been added to the wheelset, so a total of 10 different designs are now available.All new models feature an optional sportier front fascia with impressive air intake grilles, larger side vents, and a single bar front lighting unit. The new Turbo S is distinguished by larger side air intakes and is easier to locate due to its dual headlights that are now more widely spaced. The rear of the new Porsche Panamera is easily recognizable by a strip of light that runs smoothly over the boot lid to provide a smooth, continuous line between the two newly designed LEDs.
2021 Porsche Panamera Specifications
The Panamera Turbo S models are powered by a 4-liter V8 petrol engine that produces 621 hp and 820 Nm of torque. That's a bump at 79 hp. Acceleration from 0 to 100 km / h in Sport Plus mode in just 3.1 seconds, top speed is rated at 315 km / h to transfer tremendous power to the road in a controlled manner and maximize coering performance, air suspension three-chamber cameras and Porsche Active Suspension Management (PASM) and Porsche Dynamic Chaass Control Sport (PDCC Sport), including Porsche Torque Vectoring Plus (PTV Plus), are customized for each specific model and optimized accordingly.The Porsche Panamera 4S E-Hybrid is a new addition to the line of plug-in hybrids, offering an all-new 552 hp drive system. Compared to previous hybrid models, the all-electric range has been increased by up to 30 percent according to Porsche. The E-Hybrid uses a 134 hp electric motor integrated into the PDK eight-speed dual-clutch transmission and the 434-hp 2.9-liter twin-turbo V6 generating a 412 kW system and 750 peak system torque. Nm.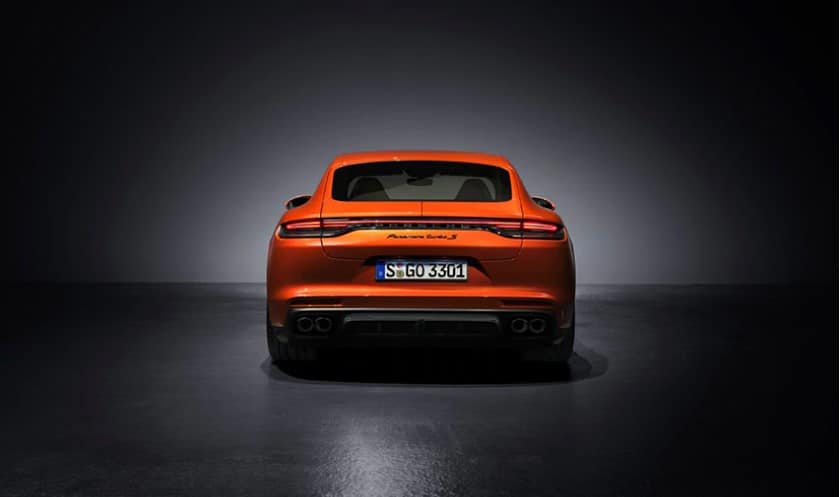 Porsche Panamera 2021
The V8 Biturbo engine in the Porsche Panamera GTS has been improved with a special focus on power delivery. With 473 hp and 620 Nm on display, the new Panamera GTS offers 19 hp more than its predecessor. Power output continually increases, approaching the engine speed limit. Consequently, the power delivery is like a classic
sports car
with a naturally aspirated engine. The traditional sound characteristics of the V8 are more prominent than before thanks to a new standard sports exhaust system that features an asymmetric rear silencer.The new Panamera and Panamera 4 are now equipped with the well-known 2.9-liter V6 Biturbo engine that puts out 326 hp and 450 Nm, and performance remains unchanged. The chassis and control systems have been oriented towards sportiness and ergonomics also for all-new Porsche Panamera models. Some systems were completely implemented from scratch. For example, the renewed Porsche Active Suspension Management (PASM) results in a marked improvement in damping comfort, while the control of the Porsche Dynamic Chassis Stabilization System (PDCC Sport) ensures greater chassis stability. There is also a new generation of tire control and steering equipment.
2021 Porsche Panamera price in India
| | |
| --- | --- |
| Model | Price (ex-showroom India) |
| Panamera | ₹ 1.45 crore |
| Panamera GTS | ₹ 1.85 crore |
| Panamera Turbo S | ₹ 2.12 crore |
| Panamera Turbo S E-Hybrid | ₹ 2.43 crore |
Also Read: Citroen C5 Aircross variants and features explainedAlso Read: Re-registering 15-Year-Old Vehicles Could Cost Over 25 Times Under New MoRTH Proposal