MG Motor India built its 50,000th Hector with an all-women crew in its state-of-the-art Halol manufacturing facility in Gujarat (Panchmahal district). The automaker says the initiative created a new standard while celebrating "diversity", one of the carmaker's central pillars, with women leading production from start to finish. In this unique development, dedicated teams of women participated in sheet metal pressing and welding for painting work, as well as conducting post-production testing.The British automaker boasts a 33% female share of its industry-leading workforce, with professional women working alongside their male counterparts in all commercial roles.
Also Read:
MG ZS EV now available at Rs 49,999 per month rental plan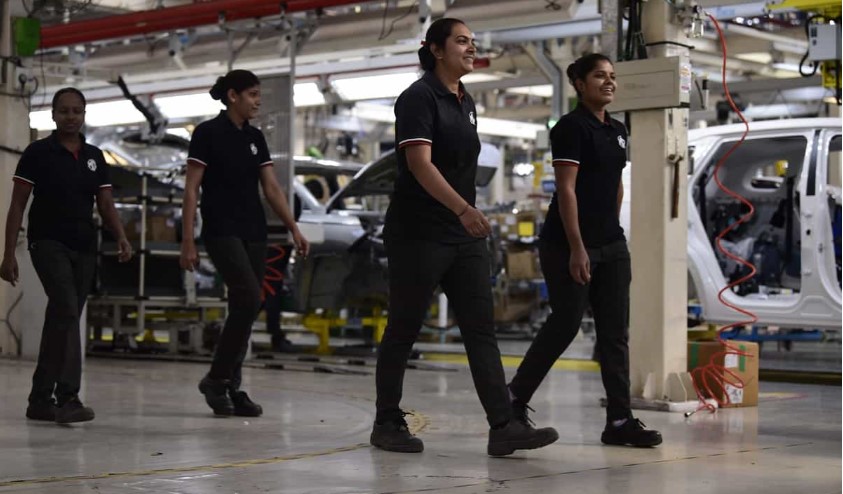 MG Motors India rolls out 50,000th MG Hector proudly made by the women of MGTaking its role even further, the automaker aims to achieve 50% gender diversity in its enterprise in the future and pave the way for a balanced workforce. Since its inception, the brand has worked closely with local panchayats near the Halol Manufacturing Factory. Doing so encouraged more girls to work in a safe environment in their factories.Speaking on the development, Rajeev Chaba, President & Managing Director, MG Motor India, said, "MG has always been a progressive brand with diversity, community, innovation, and experiences as our coerstones. We believe that it is something that has broadened our perspective as a brand and unlocked efficiencies in every aspect of our business operations. The rollout of our 50,000th Hector by an all-women crew comes as an honor to their contributions and hard work. It also demonstrates that glass ceilings no longer exist even in an erstwhile male-dominated industry such as automobile manufacturing. We believe that it will inspire more women to join the automotive industry in India and abroad."Since 2018, MG Motors India has employed several associate women in its manufacturing facilities through various initiatives. Today, these women lead the facility's core manufacturing areas. MG's state-of-the-art Halol manufacturing factory is equipped with robotic steering vehicles (AGV) and Robotic Process Automation (RPA) for various workshops. The automaker uses RPA technology at Body Shop for automated brass, Paint Shop for automated primer and topcoat, and GA Shop for automated glazing.
Also Read: 2021 MG ZS EV launched in India; Prices start at Rs. 20.99 lakhAlso Read: 2021 MG ZS EV launched in India; Prices start at Rs. 20.99 lakh