Mahindra Treo Zor was launched in October 2020 and is a popular electric three-wheeler in the cargo segment. The last mile delivery electric vehicle is built on a tried and tested Treo electric three-wheel platform. The Treo platform is completely designed and developed in India, and the Treo Zor is the latest offering in the company's portfolio of electric three-wheelers.The Treo Zor passed the 1,000 sales milestone in just six months after it was launched in October 2020 at a starting price of Rs 2.73 lakh (ex-showroom, Delhi). The Treo Zor now occupies a 59 percent market share in its segment.
Know everything about the Mahindra Treo Zor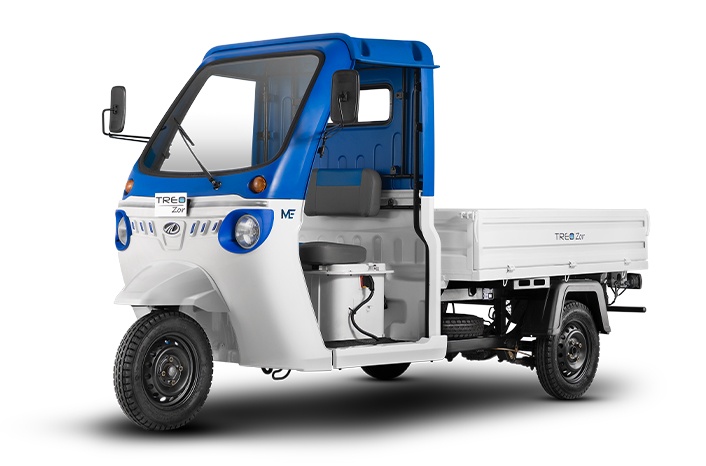 Mahindra Treo Zor's starting price is Rs. 2.73 lakh
The Mahindra Treo Zor electric powertrain delivers 8 kW of power and 42 Nm of torque. It is said to offer the highest payload in its class of 550 kg. The car has an automatic clutchless transmission with a quiet and vibration-free ride. It has the industry's longest wheelbase of 2,216 mm. The electric three-wheeler offers hassle-free driving with a maintenance-free battery that provides a life of over 1.5 lakh km and a standard warranty of 3 years/80,000 km with an option to extend it for 2 years / 1 additional km.The best electric three-wheeler is available in three trim- Treo Zor, Treo Zor FB, and Treo Zor DV. The vehicle comes with three standard driving modes FNR (Forward, Neutral, Reverse). Other features include Telematics Unit & GPS, 15 A Off-board Charger, a lockable glovebox, reverse buzzer, and hazard indicator.
Also Read: Kabira Mobility launches Hermes 75 commercial delivery electric scooter at Rs. 89,600Also Read: Solis Hybrid 5015 Tractor Launched In India At Rs. 7.21 Lakh