The long-awaited new generation Mahindra Thar 2020 will be officially launched in the country on October 2

which is Mahatma Gandhi's birthday. In addition, Mahindra will also celebrate the 75th Founder's Day. The company will also begin reserving the mode
-generation Thar SUV on the same day.

The new 2020 Mahindra Thar will be based on the new ladder frame structure, which will also power the new Scorpio. The new model features a completely new design, a new interior, and more powerful engine options. Few dealerships have already started making informal reservations for the SUV.

The 2020 new generation Mahindra Thar will be available in three variants: AX, Ax (O), and LX.

The new model will be offered with petrol and diesel engines. The SUV will be available with two engine options: a 2.0-liter turbocharged petrol engine and a 2.2-liter turbo diesel. While the petrol engine produces 150 hp and 320 Nm of torque, the diesel is good for 130 hp and 320 Nm of torque. Transmission options will include a 6-speed automatic torque transmission and a 6-speed manual.

The new generation of Thar will be offered in 6 exterior color options: Red Rage, Aquamarine, Galaxy Gray, Napoli Black, Mystic Copper, and Rocky Beige.

The high-spec petrol and diesel LX AT will come in four color options: Rocky Beige, Aquamarine, Galaxy Gray, and Mystic Copper.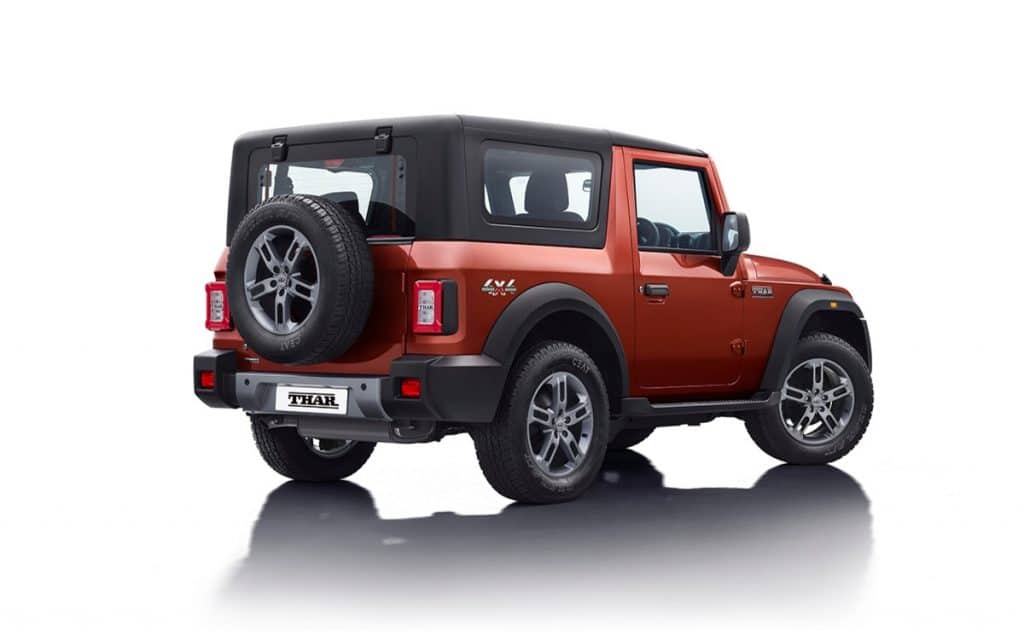 The basic AX brochure with stationary petrol and diesel models is reported to cost Rs 9.75 lakh and Rs 10.49 lakh respectively. The new model offers 650mm water wading capacity, 226mm ground clearance (no load), 37 ° of departure, and 47 approach angles.

The 2020 Mahindra Thar comes with a touchscreen infotainment system compatible with Apple CarPlay and Android Auto. In terms of safety, the Lifestyle SUV features Hill Start Assist, ESP (Electronic Stability Program), dual front airbags, cruise alert system, rear parking sensors, anti-lock braking system (ABS ), Seat Belt Alert, and more.

ALSO READ : The Hyundai Creta Alcazar with seven seats is expected to be launched in mid-2021