The Japanese motorcycle manufacturer Kawasaki introduced the Kawasaki W175 in Indonesia in the year 2017. The Kawasaki W175 TR is a motorcycle with the classic look and has various upgraded features as compared to the W175. Some of these features include the raised mudguards, long-travel suspension, dual-purpose tyres, upswept exhaust and braced handlebar which makes it capable of going through a little off-road route as well. It is a trail-friendly version of the standard W175.

The Kawasaki W175TR SE variant of the motorcycle has got chrome highlights on the instrument cluster as well as the exhaust heat shield which makes it look more classy. The bike also has a metal bash plate, ribbed seat, knee grips and retro graphics on the fuel tank of the bike.

When it comes to the engine, the Kawasaki W175TR has been powered by the same 177cc single-cylinder engine that has been used to power the previous standard versions of the bike. The bike has a carburetted motor which makes the bike capable of giving a maximum speed of 12.5bhp and a maximum torque of 13.2Nm. The bike is mated to a 5-speed transmission type. It has a front suspension of telescopic forks and the rear suspension of twin-shock absorbers. The Braking system has a disc-drum setup. Although, there is no ABS.

The Kawasaki W175TR is available in four different color choices namely ebony, solar yellow, bright white and urban green. The bike is priced at IDR 29,900,000 (approximately 1.52 lakh rupees).

It has been strongly rumored that the W175 TR is unlikely to be launched in India. The reason for the same is that the brand has been perceived as a premium motorcycle brand in the country and if the W175 TR is brought to India, the brand image of Kawasaki will be affected in the country.

The bike has been claimed as the most affordable model of the Kawasaki's W range of motorcycles.

The bike's front and rear suspension are 35mm and 27mm longer as compared to the standard bike. The ground clearance of the bike is increased by 30mm, now at 195mm.

The fuel tank capacity of the Kawasaki W175 TR has been reduced from 13.5 liters in the standard model to 7.5 liters in this model. Consequently, the kerb weight of the bike has also been reduced from 126kg to 121kg with a difference of 5kg.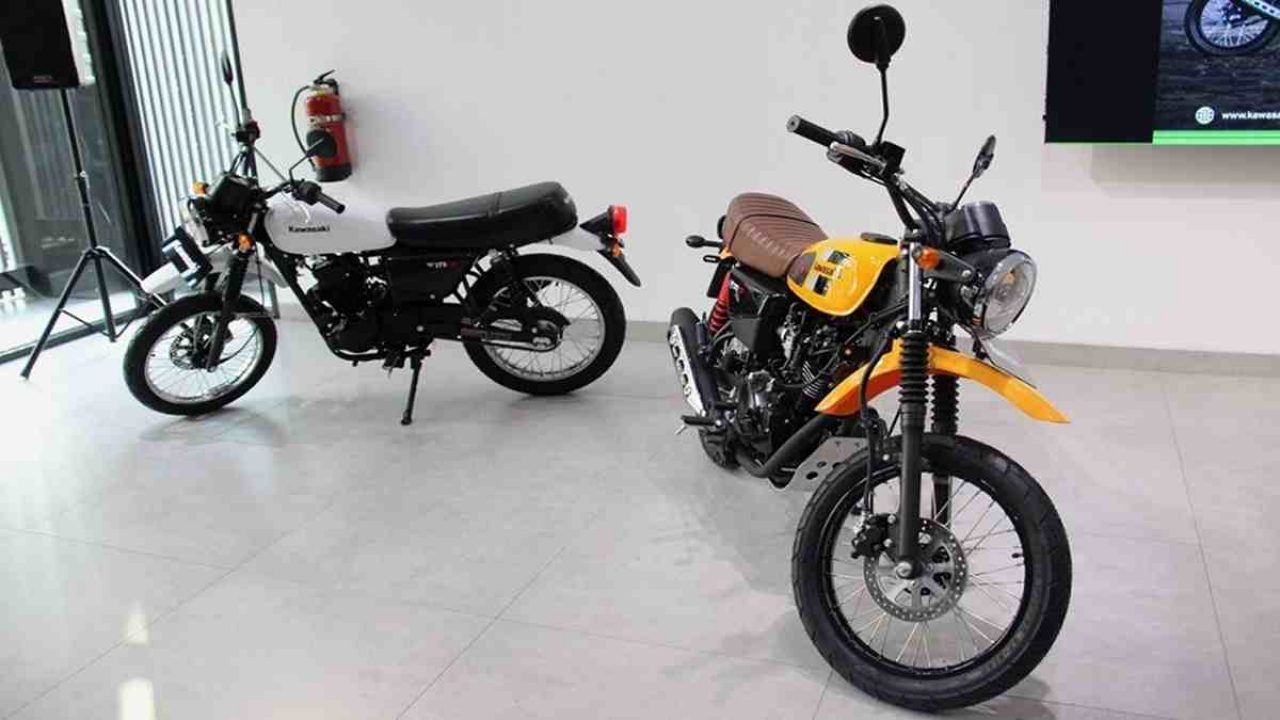 Specifications of the Kawasaki W175 TR:

Total length: 1,950mm

Full width: 850mm

Overall height: 1,085mm

Wheelbase: 1,285mm

Seat height: 805mm

Kerb Weight: 121kg

Compression ratio: 9.1: 1

Gear: 5 speed

Horsepower: 9.6kw (13PS) / 7,500rpm

Torque: 13.6Nm / 6,000rpm

Fuel supply method: Cab (Mikuni VM24)

Front suspension: 30mm erect

Fuel tank capacity: 7.5L

Minimum ground clearance: 195mm

Engine: SOHC air-cooled single cylinder

Displacement: 177cc

Bore x Stroke: 65.5mm x 52.4mm

Rear suspension: Twin shock

Front brake: 220mm / 2POT

Rear brake: drum

Front tire: 80 / 100-17M / C 46P

Rear tire: 100 / 90-17M / C 55P

Also read:- The new Avantura Choppers Rudra

image source-News @ Maxabout, Harapan Rakyat