Ford Figo AT is equipped with a six-speed torque converter. But is that enough to choose it over the Maruti Suzuki Swift AMT and Hyundai Grand i10 Nios AMT?rnrnFord has revived the Figo automatic variants here in the country. It is the only car in its class that comes with a fully automatic transmission. This, of course, gives it a clear advantage over its competitors from AMT.rnrnBut is that enough to choose it over the Maruti Suzuki Swift and Hyundai Grand i10 Nios? That's exactly what we'll be talking about in this detailed comparison on paper specs.rnrn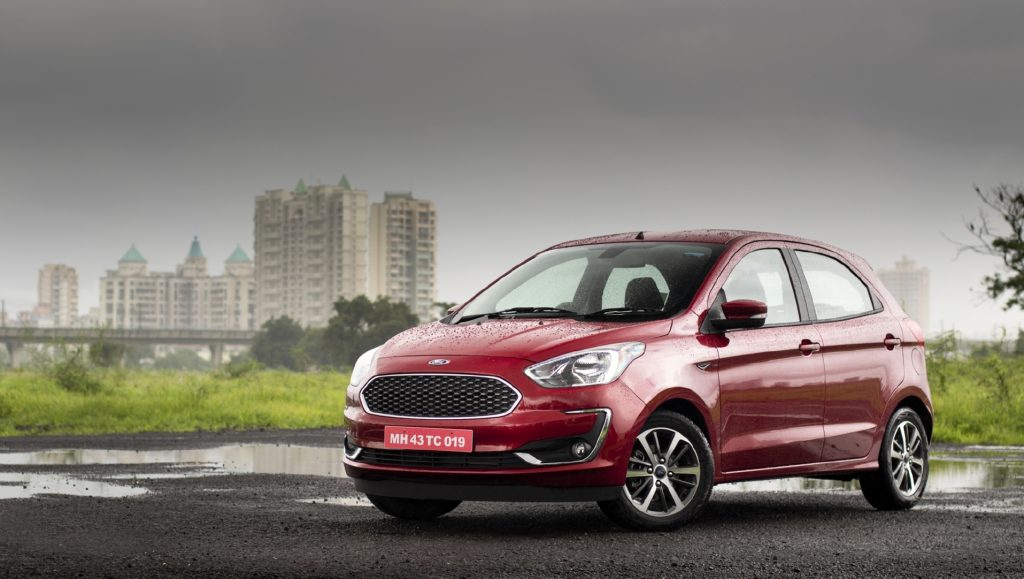 Ford Figo automatic variant launched in India; prices start at Rs 7.75 lakh
rnrnFirst Things Firstrn
| | | | |
| --- | --- | --- | --- |
| | Ford Figo | Maruti Suzuki Swift | Hyundai Grand i10 Nios |
| Engine | 1.2-litre petrol | 1.2-litre petrol | 1.2-litre petrol |
| Power (PS) | 96PS | 90PS | 83PS |
| Torque (Nm) | 120Nm | 113Nm | 114Nm |
| Transmission | 6-speed torque converter | 5-speed AMT | 5-speed AMT |
| Claimed Fuel Efficiency | 16kmpl | 23.76kmpl | NA |
rnThe 1.2 litre Ford Figo petrol engine develops class-leading figures over its competitors. It's also the only model with a proper six-speed automatic torque converter; The Swift and Grand i10 Nios use an AMT (Automatic Manual Transmission) system.rnrnHowever, the downside is that the Figo is the least fuel efficient of the lot. With a fuel economy of 16 km/l, the gap between Ford and Maruti is 7.76 km/l, which is significant.rn
Features On Offer
rn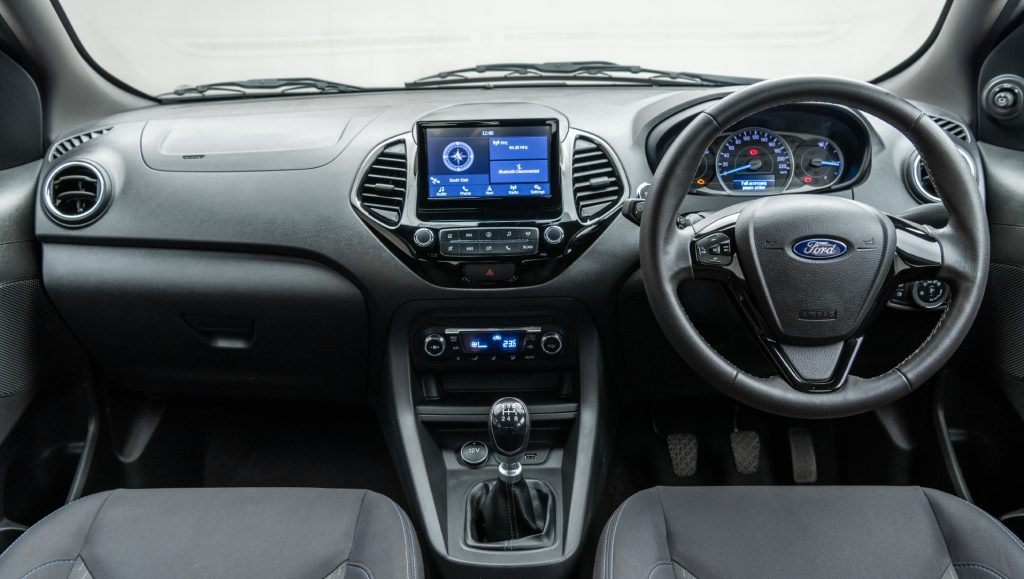 Ford Figo Interior
rn
| | | | |
| --- | --- | --- | --- |
| | Ford Figo | Maruti Suzuki Swift | Hyundai Grand i10 Nios |
| Headlamps | Halogen headlamps | Projector LED headlamps with DRLs | Projector halogen headlamps with DRLs |
| LED Tail lamps | No | Yes | No |
| Infotainment | 7-inch touchscreen | 7-inch touchscreen | 8-inch touchscreen |
| Apple CarPlay and Android Auto | No | Yes | Yes |
| Climate Control | Yes | Yes | Yes |
| Cruise Control | No | Yes | No |
| Multi-info display | Yes | Yes | Yes |
| Keyless Entry with Push button start | Yes | Yes | Yes |
| Automatic Headlamps | Yes | Yes | No |
| Automatic Wipers | Yes | No | No |
| Connected Car Tech | Ford Pass | Optional (Telematics only) | No |
| Wireless Phone Charger | No | No | Yes |
| Auto dimming IRVM | Yes | No | No |
rnFeatures common to all three hatches include a touchscreen infotainment system, automatic climate control, a multi-information display, and keyless entry with the power button.rnrn-The Figo comes with automatic windshield wipers and auto-dimming IRVM, but it doesn't have Android Auto or
Apple
CarPlay.rnrn-The
Swift
is the only model here that has cruise control.rnrn-Grand i10 Nios loses headlights and automatic wipers. However, it does include a wireless phone charger.rn
Safety Kit
rn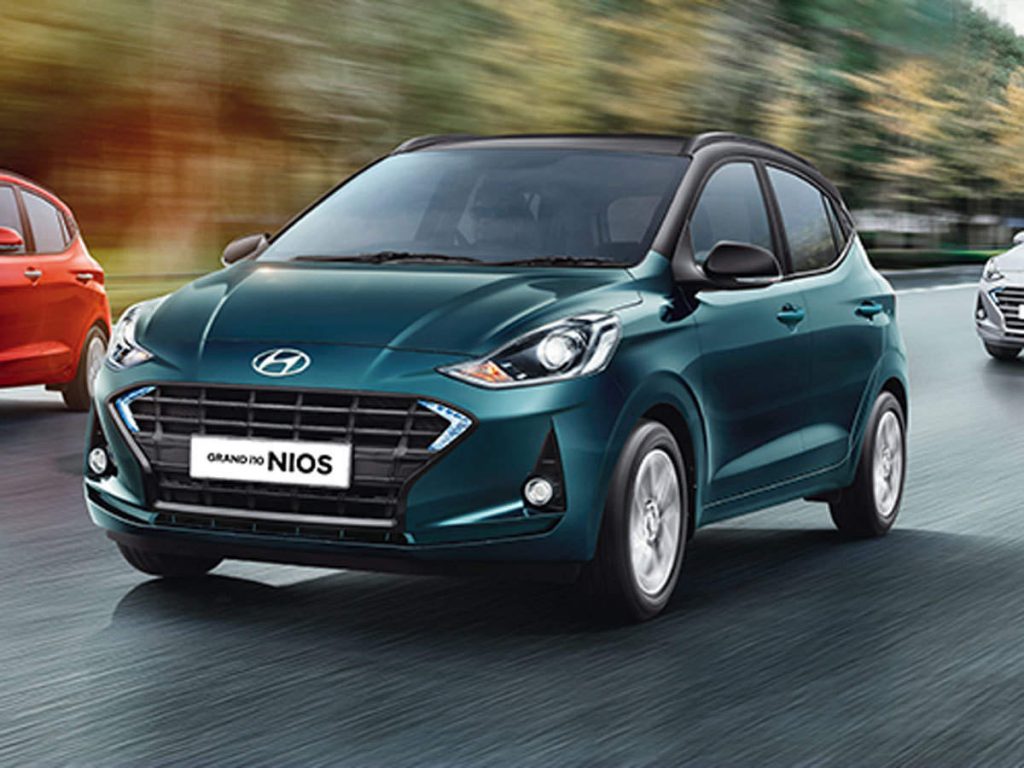 Hyundai Grand i10 Nios
rn
rnrnrn
 
rn
rn

Ford Figo

rn
rn
rn

Maruti Suzuki Swiftrn

rn
rn

Hyundai Grand i10 Niosrn

rnrnrn
rn

Airbagsrn

rn
rn

6rn

rn
rn

2rn

rn
rn

2rn

rnrnrn
rn

ABS with EBDrn

rn
rn

Yesrn

rn
rn

Yesrn

rn
rn

Yesrn

rnrnrn
rn

Rear parking Sensorsrn

rn
rn

Yesrn

rn
rn

Yesrn

rn
rn

Yesrn

rnrnrn
rn

Parking Camerarn

rn
rn

Yesrn

rn
rn

Yesrn

rn
rn

Yesrn

rnrnrn
rn

Electronic Stability Controlrn

rn
rn

Yesrn

rn
rn

Yesrn

rn
rn

Norn

rnrnrn
rn

Traction Controlrn

rn
rn

Yesrn

rn
rn

Norn

rn
rn

Norn

rnrnrn
rnAll three come with airbags, ABS with EBD, rear sensors, and a parking camera. The Swift and Figo automatic variants also feature electronic stability control.rnrnHowever, it is Ford that does its best, with traction control and side and curtain airbags.
Hyundai Grand i10 Nios
does not have electronic stability control or traction control.rn
Price and Verdict
rn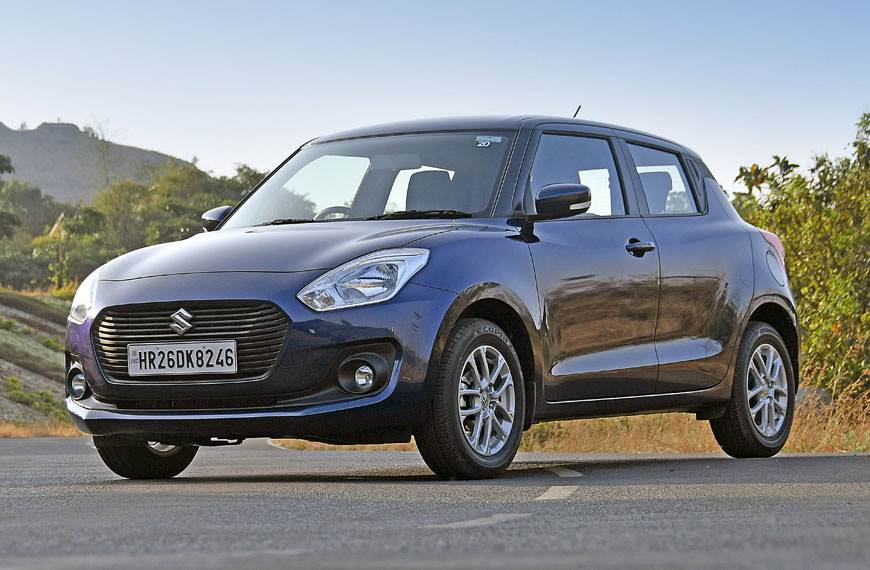 Maruti Suzuki Swift
rn
rnrnrn
 
rn
rn

Ford Figo ATrn

rn
rn

Maruti Suzuki Swift AMTrn

rn
rn

Hyundai Grand i10 Nios AMTrn

rnrnrn
rn

Ex-showroom Pricesrn

rn
rn

Rs 7.75 lakh to Rs 8.20 lakhrn

rn
rn

Rs 7.01 lakh to Rs 8.42 lakhrn

rn
rn

Rs 6.62 lakh to Rs 7.86 lakhrn

rnrnrn
rnAt this price, the
Ford Figo
is a great buy, as it includes a more refined automatic transmission. Sure, you'll miss out on some feel-good features like Android Auto, Apple CarPlay, and cruise control. But if we look beyond that, the Figo with its class-leading strong personalities and impressive safety kit is undoubtedly a solid case for itself.