Tata Motors today launched the upgraded Tigor EV sedan to the Indian market with a starting price of Rs 12.49 lakh. The updated Tigor gets additional features, an increased range, and the introduction of two new variants.
2022 Tata Tigor EV Powertrain and Range
Now, let's talk about the driveline, battery and range. The updated Tigor EV will continue to be powered by the same electric motor as the outgoing model. The EV is powered by a permanent magnet synchronous electric motor that produces 75 hp and 170 Nm of torque. Tata claims that the electric car can accelerate from 0 to 60 km/h in 5.7 seconds.
Speaking of the battery, the motor is paired with a 26 kWh lithium-ion unit with IP67 waterproof and dustproof standards. Tata says the EV can be charged from 0 to 80 percent in just 60 minutes.
The biggest update here is the range of 315 kilometers, which is 9 kilometers more than the previous model.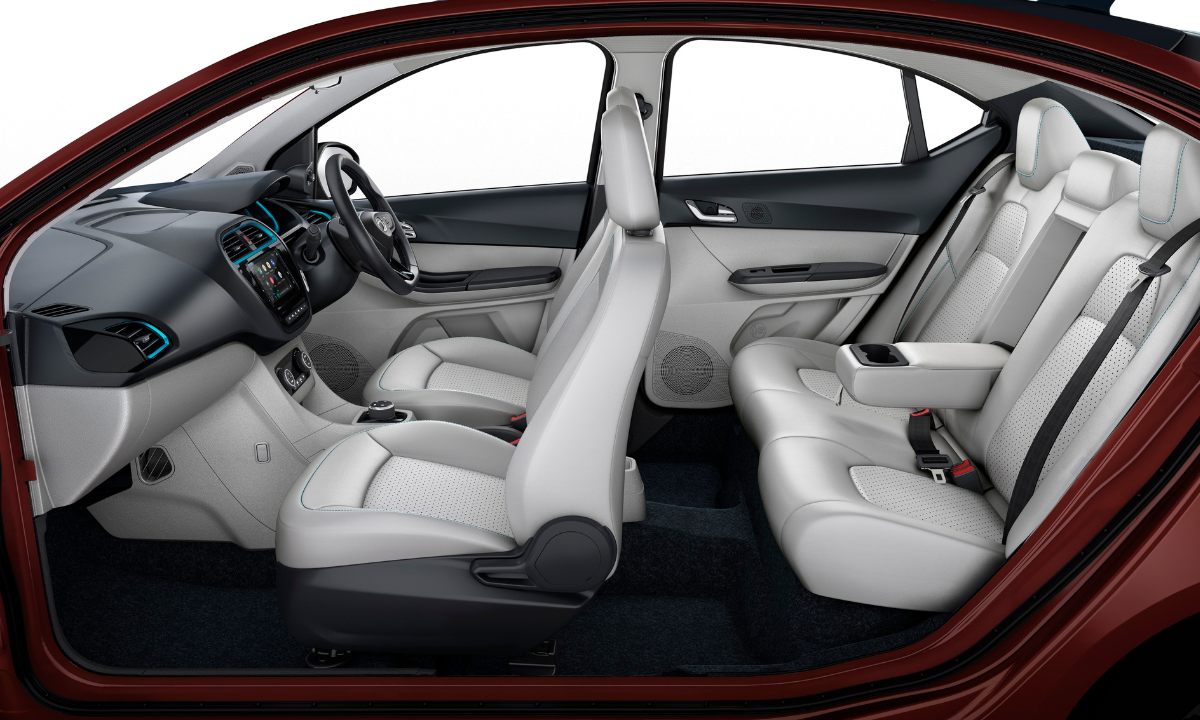 2022 Tata Tigor EV Features
Now let's talk about additional features, the updated Tigor EV borrows many features from the Nexon EV max and Prime. The EV gets four levels of regenerative braking similar to the Nexon EV where Level 0 cuts off regeneration and Level 3 is stronger.
The EV also features automatic brake light activation, which changes the brake lights during regeneration. Other features include cruise control, an indirect tire pressure monitoring system via a smartphone app, and connectivity features built into the smartwatch.
Similar to what Tata did with the Nexon EV, Tata Motors will roll out new software-based features at no cost to existing Tigor EV customers.
2022 Tata Tigor EV Price
The Tigor EV now has the XZ + Lux variant that is now top of the line, this variant has a black contrast roof, leather-wrapped steering wheel and leather upholstery and is priced at Rs 13.75 lakh (ex-showroom). The current XZ+ variant received new features such as automatic headlights, rain-sensing wipers and cruise control, and is priced at Rs 13.49 lakh (ex-showroom).
As mentioned above, the updated Tigor EV gets two new variants. The Tigor EV is getting a new XT variant, which will replace the existing Tigor EV XM variant. The new XT model has features such as steering wheel-mounted controls and a 7-inch touchscreen infotainment system and is priced at Rs 12.99 lakh.
Shailesh Chandra, CEO of Tata Passenger Electric Mobility Limited and Tata Motors Passenger Company Limited, said, "The electric vehicle industry is experiencing tremendous growth and is gaining popularity in the Indian market. With 50,000 Tata electric vehicles on the road and a market share of 89% (YTD), we at Tata Motors are only driving that change through our extensive portfolio. The recently launched Tiago.ev, a product launched to democratize the electric vehicle market, has received a great response and we are pleased to announce that it has secured over 20,000 bookings in just one month since its launch. In keeping with our New Forever philosophy, now is the time to update Tigor.ev with more technology and premium features. Our deep insight into the customer's driving style from the 600 million kilometers traveled on Indian roads has helped us understand and deliver better efficiency and range. We are pleased to present you the new Tigor.ev with an extended range of 315 km (ARAI certified)
Also Read: India-bound Kia Seltos 2023 showcased at Los Angeles Auto Show