UM, motorcycles based off of America came into existence in the early 2000s. The quality and affordability that the company is known to have put its name on the inte
ational board. Being a relatively new company in this field it is hard to be recognized for what they do. UM, motorcycles have a great history with its customers that helped them get to the place where they are in the world market. Before being branded as Motorcycle Company they were distributors for automobile parts in most parts of Asia.

This passion they had for bikes is what made them grow in this world market at such a rapid phase. Over the years they have slowly started to gain popularity in different parts of the world and their recent target being India, they sure have a lot of eyes tu
ing for them. Like every other large company UM motorcycles also eyes to place a firm foot in India before other brands and they have managed to do that in the past few years. They have a great line of sports model bikes and cruisers that has a separate fan base for them. Surprisingly UM motorcycles design scooters as well which also have a large number moving all over the palace.

The latest of them all is the UM Motorcycle Scrambler X. true to its name the new Scrambler X packs a lot of x-factors to its design and features. This bike is one of their sporty off-road adventure bikes that are all set to release in October 2019 in India. UM, Motorcycles have managed to keep almost everything about this bike under covers but the few things that we know of are enough to keep the bike enthusiasts on the edge of their seats.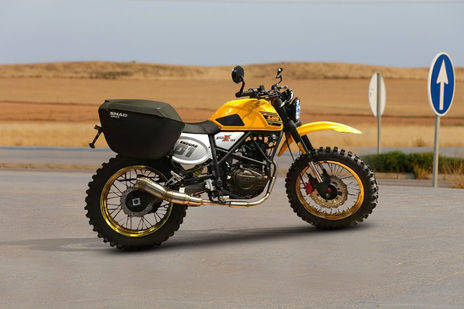 The bike is said to come with a 230 cc liquid-cooled engine and manual transmission. What this means is that not only does the bike is full-on off-road it also packs a punch on the power to the engine. Being off-road bikes means it has to endure a lot more than what is expected from a normal bike. By the design of this bike, it is safe to say it might just be one of the best off-road bikes in India both by performance and by the price point. The body of the designed like any other off-road adventure bike but the aesthetics of the bike is in a class of its own. What the bike has been able to achieve look wise is something to commend on.

The headlight on this bike is changed to LED which emits more light with less power consumption from the battery. The taillights are also switched over to LED in the new UM Motorcycle Scrambler X. given the fact that the manual kick start in this bike has been removed, it is understandable that the lights are modified in order to support that. The shock absorbers are more powerful than a normal bike from this company, this will be held with the rider's control over the bike during an off-road adventure. The wheels on this bike are spokes instead of an alloy wheel. This helps with additional support over the stress distribution on the wheels during any impact from the tires or the front shock absorbers. The bike is equipped with disc brakes on the rear as well as the front. The inclusion of ABS is still not finalized by any sources or by the company itself. The looks on the bike are so sports and classy at the same time that stands out from the rest of the competitors in this space.

Even though very less is known about this bike from UM motorcycles the name they have ea
ed over the years have made sure that this bike is noticed. Priced around 1,50,000 INR this bike is sure to be a value for the money spent on it. The fact that not much is known about the bike creates more discussion about this bike and fuels the eage
ess in the minds of every bike enthusiast. Overall the UM motorcycle Scrambler X is expected to a complete surprise. And knowing what to expect from the bike being an off-road adventure type machine you can still be surprised in so many different levels.

Also read:- Harley Davidson Livewire – What are we expecting?

image source-BikeDekho,youtube