Top Car Tyre Inflators in India
Looking for car tyre inflator? Here are top car tyre inflators in India.
Unwanted flat tyre situations can arise anywhere. Whether you are going to work in the morning or your just out for a lovely ride with your family. This is where the car tyre inflator comes in. Using these, you can quickly inflate the tyre and be back on your journey. Additionally, with these tyre inflators, you can do a routine check of air in your car tyre and keep it at an optimal range. To help you out, we have compiled a list of the best car tyre inflators in India.
Bergmann Typhoon Heavy Duty Metal Car Tyre Inflator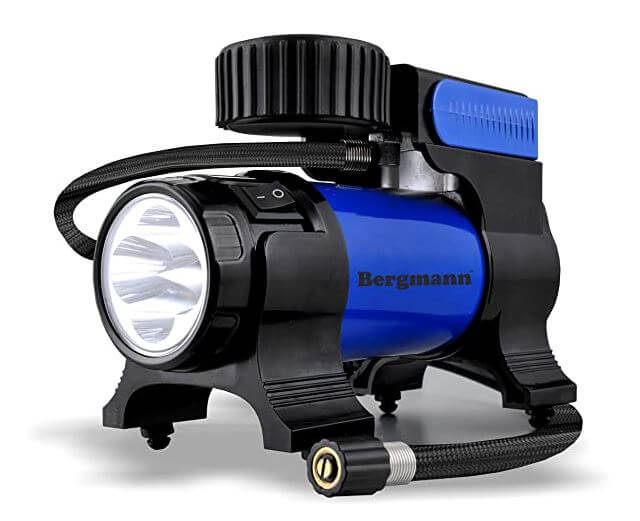 The Bergmann Typhoon car tyre inflator is a solid machine that comes with a strong metal body that makes it durable and good for heavy-duty work. Metal air compressors allow the heat to radiate quickly which makes packing easy after use. It has a 150W pure copper motor that can inflate tyres from 0 to 30 psi in two minutes. The Bergmann tyre inflator comes with a heavy-duty copper motor and an all-metal body, making it a very durable option.
Voroly Heavy Duty Automatic Shut Off Car Tyre Inflator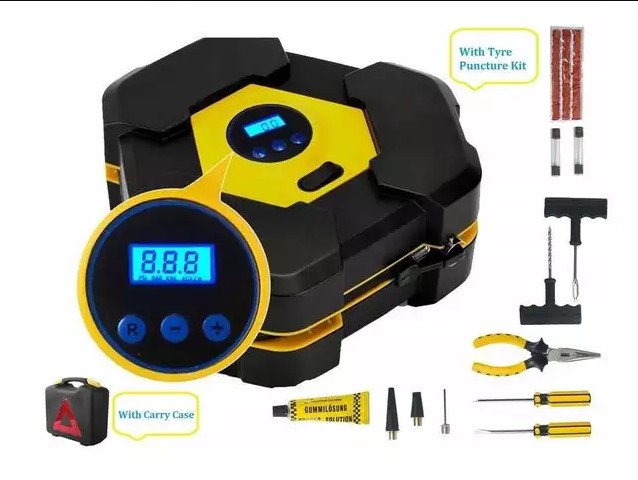 The Voroly tyre inflator comes inflator is powered by a 120-watt motor and comes with 3 different types of heads to inflate other objects such as bicycles and sports equipment. This digital tyre inflator comes with a case that increases portability and a tyre repairing kit that makes it a multipurpose car accessory.
TUSA Digital Car Tyre Inflator – 12V DC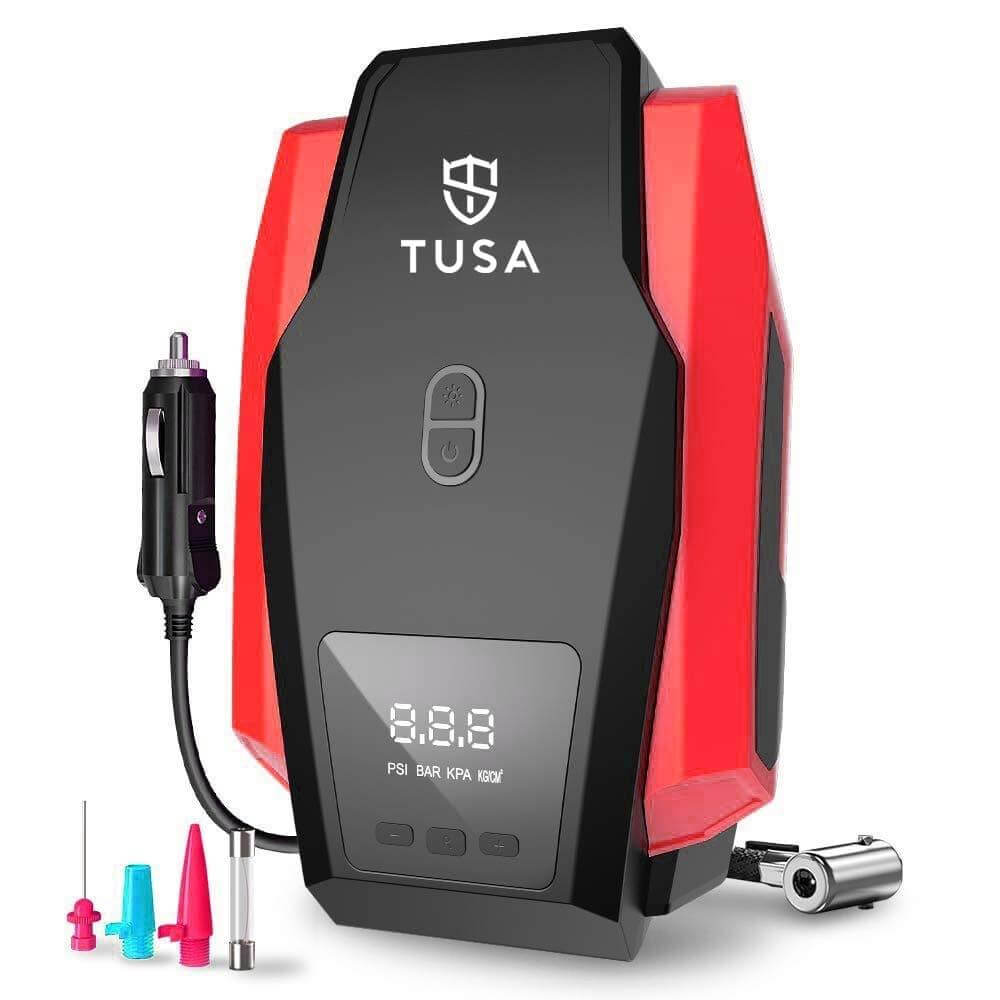 The TUSA digital tyre inflator is made of high-quality plastic and is very simple to use due to its lightweight. The compact design allows you to easily store it anywhere in your car. It comes with a 12.1ft cord that makes it easy to reach all of your tires. It has a monochrome digital screen that displays the air pressure from the hose to the tyre and a bulb to help in the dark. This car tyre inflator works on the 12V power supply and is a reliable alternative at an affordable price.
Also Read: Best Car Tyres for Indian roads
Woscher Pro Power 802D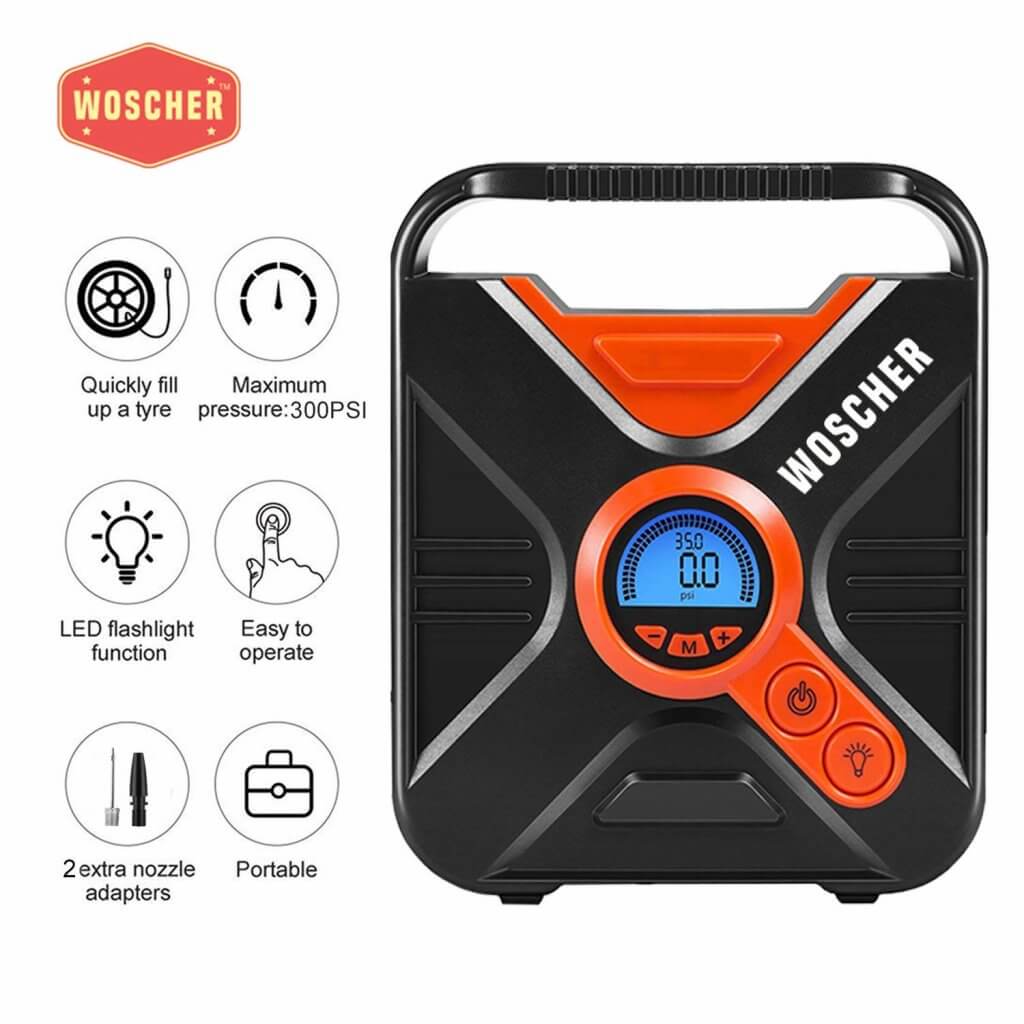 The Woscher Pro Power 802D car tyre Inflator provides support for up to 300psi and a long cord for easy management. The cable length is 10 feet and the hose height is 22 inches. This tyre inflator comes with a display screen that shows pressure information and can inflate a mid-sized car from 0-35 PSI in only two minutes. It is also equipped with 3-in-1 LED indicators and pressure set buttons. Additionally, it can also be used as a torch and SOS light.
Windek RCP -AL1E-1902 Digital Tyre Inflator
The Windek digital tyre inflator is manufactured using plastic which makes it light, portable, and easy to use. It comes with an auto-shutoff feature to prevent overinflation, thus ensures the safety and also saves time.
Michelin 12266 High Power Rapid Tyre Inflator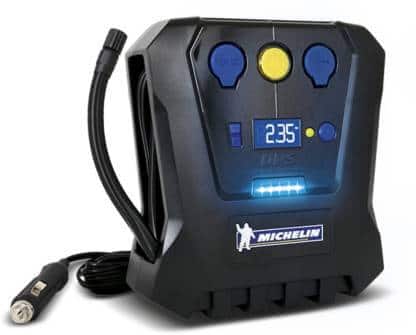 Michelin 12266 car tyre Inflator is a high-quality inflator loaded with features. It can inflate a tyre from flat to 30 psi in approximately 3 minutes.  It is equipped with a white LCD digital panel that is easy to read and can be switched between PSI, bar, and kPa. One of the most exciting features is the new Digital Power Source Technology (DPS) that allows you to charge your mobile phone through the USB socket.
Also Read: Top Car Batteries in India 2020 – Review and Buying Guide
Also Read: Best Alloy Wheels for Cars: The Alloy Wheels for Cars in India