The global business magnate Elon Musk's (entrepreneur, engineer and innovator) company Tesla is going to revolutionize the face of goods transport by road. Recently they announced their debut venture in commercial transport segment with the Tesla Semi truck. This wedge-shaped, streamlined house of power is supposed to go into full-scale manufacturing somewhere in 2019. Already supermarket chains have started to book their own! And why is it so?
rnrn
This awe-inspiring, amazing electrical vehicle can cover a distance of 966 kilometers approximately on a full charge which is about 150 kilometers more than what they initially claimed. Point-to-point transportation will get a new face with this technology. At such great speed delivering goods will be as easy as having a pie! And not only this, the company is proud of its safety features too. This semi truck front glass can withstand even a nuclear explosion let alone the possibility of accidental damages. It will be equipped with semi-autonomous driving capabilities. It will also have the intelligence to detect jackknifing by identifying a sudden change in directions or lockups and applying individual brakes on wheels to prevent such incidents.
rnrn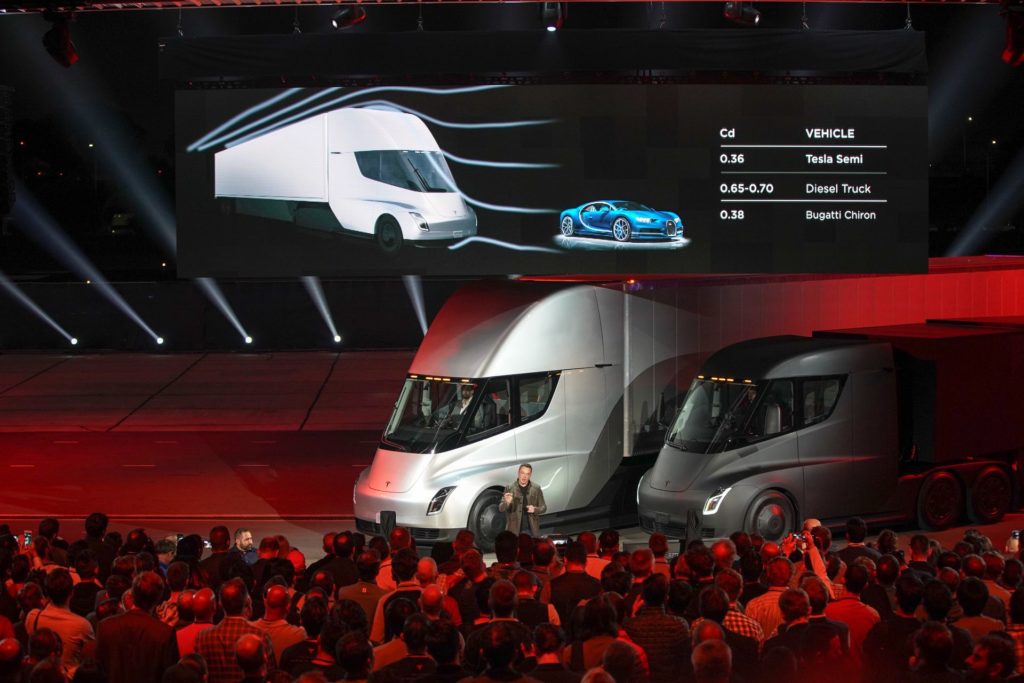 rnrn
The Tesla semi truck will be fitted with super fast charging capabilities. And accordingly, Tesla will soon be installing mega chargers, especially for their semi truck clients. These mega chargers will be able to give the charge needed to cross over 650 kilometers in about 30 minutes only.
rnrn
The six-wheeled truck will be powered by four different electric motors that will draw their juice from a battery bank placed at the base of the vehicle. This vehicle can achieve 60 mph in 5 seconds when not carrying any weight whereas it will hit the same speed in 20 seconds when the vehicle is fully loaded (that is around 36 tonnes). This truck will also be able to manage 65mph whereas the present diesel trucks can only touch upon the 45 mph mark on an average.
rnrn
The interiors will be as luxurious as any commercial transport oriented vehicle can be. The cabin is six and a half foot in height and will allow the driver to stand tall. The driver's seat is placed in the middle of the cabin where one can see the point where the road meets the vehicle.
rnrn
The cost of having one of these miracles would be around $180000. The company claims this is still 20% less than the diesel operated truck. In the current world conditions, where rising prices of oil is a deep concern for many and on the other hand pollution caused by fuel emissions is also on a rising spree, this "clean" energy driven truck will contribute largely in both the aspects. Fossil fuels are hugely used in commercial transport sections and the pollution caused by this is also quite alarming. The introduction of semi trucks which run on battery power will definitely help in reducing fuel consumption and in turn, will cut down on pollution.