Do you want to buy a car that comes at an affordable price and give you an amazing ride? If yes, then Tata Tiago Facelift is one perfect option for you. With Tata Tiago Facelift, Tata comes up with effective upgrades that do not only make the Tiago sportiest but also enhance the safety standard of the car. It is expected that you can buy this car around the price Rs 4.31 Lakh. 
rn
Tata Tiago Facelift design 
rn
The Tata Tiago Facelift adopts the carmaker impact 2.0 design tenets that you can also see in the upcoming Tata Altoz. You will get to see an edgier design with the shape front bumper and headlamps that are different from the old model. Apart from this, Tata has also redesigned the air dam, fog lamp units, and the grilles that make it look different and attractive from others. The upcoming Tata Tiago Facelift also has a new design of the tail lamp and has a restyled bumper. One of the prominent changes made in Tata Tiago Facelift is a wider nose and an orange finish on the ORVMs.
rnrn
The sleek and classy look of the car offers you higher satisfaction and allows you to make a good investment. The cheap prices of the car do not mean that it comes in a poor quality design. You can trust on the look and design of the car that enhances your reputation and standard of living and does not put any pressure on your pocket.  
rn
The Tata Tiago Facelift features 
rn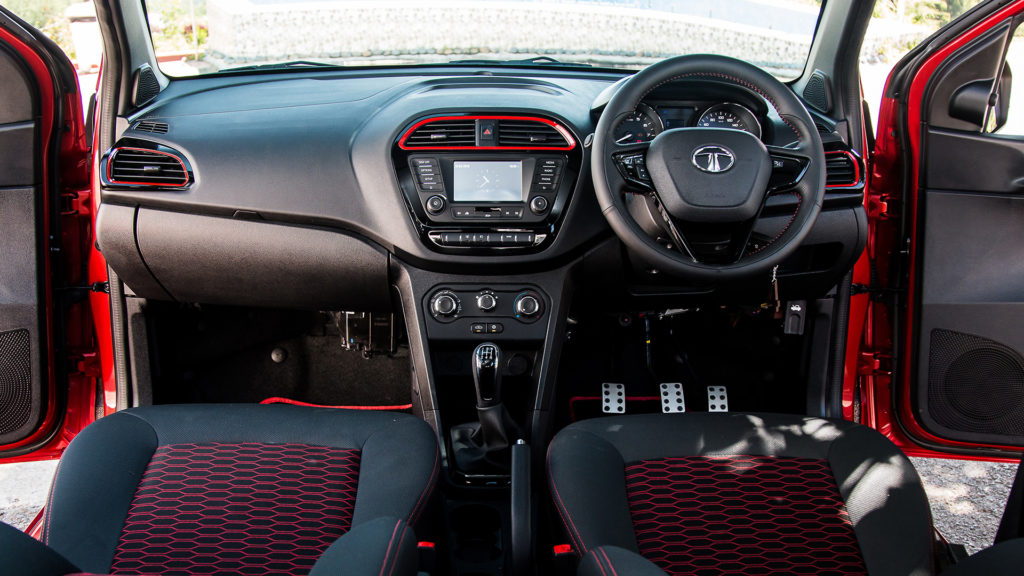 rnrn
Plenty of features are updated in Tata Tiago Facelift that makes it smooth and effective looking. It is also uploaded with various safety features and tools to make people happy and satisfied. In this model, Tata Motors offer dual airbags, rear parking sensors and ABS with EBD as standard. It also offers great fuel efficiency that is one of the main priorities for car buyers and makes it look effective for all users. Tata Tiago Facelift made with solidly build and quality material that is used inside the cabin and makes it look premium. Overall, if you are looking for a hatchback that is classy and trendy as well, and has lots of safety and other features and an ample amount of space then Tata Tiago Facelift is the perfect choice for you. 
rn
Tata Tiago Facelift Specs 
rn
There are lots of changes are made in the features and specifications of the Tata Tiago Facelift that makes it likeable for a lot of people. The Tata Tiago Facelift is one of the most awaited upcoming cars because it includes lots of features and comes in affordable prices that make convenient to buy for any person. The Tata Tiago Facelift gets an energy absorbing body structure that is able to bear the brunt of the crash without having any issues and trouble in the cabin. It also has a dual front airbag with EBD and ABS. 
rnrn
It seems to be carrying forward the three-cylinder petrol engine with 1.2 liter capacity that makes 85BHP of the maximum power as well as the 114Nm of peak torque. Apart from this, it keeps the optional 1.05 liter engine that makes 69BHP and Revotorq diesel engine. In Tata Tiago Facelift, it is considered that both of the engines are mated to a 5-speed manual transmission while on the other hand petrol engine get the 5-speed automatic gearbox as an option. In addition to this, the Tata Tiago Facelift has up to 1199 cc engine capacity that offers mileage up to 27.28 kmpl that looks perfect for any person. 
rnrn
As you know, Tata is one of the best selling cars in India and by making effective improvements and changes the company makes their customers satisfied and make sure to satisfy the needs and requirements of different customers. So, if you are looking to buy an affordable and comfortable car that fits well within your budget, then you can easily opt for Tata Tiago Facelift and able to enjoy a smooth and comfortable ride without any hassle. 
rnrn
The Tata Tiago Facelift is equipped with added safety and comfort features so that you can enjoy your ride in the best effective manner. It includes comfortable and spacious five seats that seem perfect for a family ad you can enjoy your ride in a comfortable way.