Skoda Auto India has launched the revamped Skoda Superb Sedan, for 2021. The Skoda Superb 2021 has received a new year update that introduces a host of new features including Adaptive LED Headlights,  Virtual Cockpit, wireless Apple CarPlay, and Android Auto, as well as cosmetic improvements to the cabin.Zach Hollis, Brand Manager, Skoda Auto India, said: "Since its introduction, the Skoda Superb has set benchmarks in its segment and one above. With its attractive combination of elegant design, luxurious interior, abundant space, and distinctive presence, it has been the favorite salon of many seekers of 'economic luxury'. In India, the updated Skoda Superb features some contemporary updates that increase its appeal and will be appreciated by everyone. "
Skoda Superb 2021 Features
The 2021 Skoda Superb sedan now comes with new Adaptive LED Headlights that improve lighting by taking into account contrasts in speed, light, and weather. The Adaptive Front Lighting also features a Pan & Tilt function, along with Dynamic Headlight Tilt Control. You can have different modes for you, including city, highway, and rain. The headlights also have a home entry/exit feature and LED tu signals as standard equipment.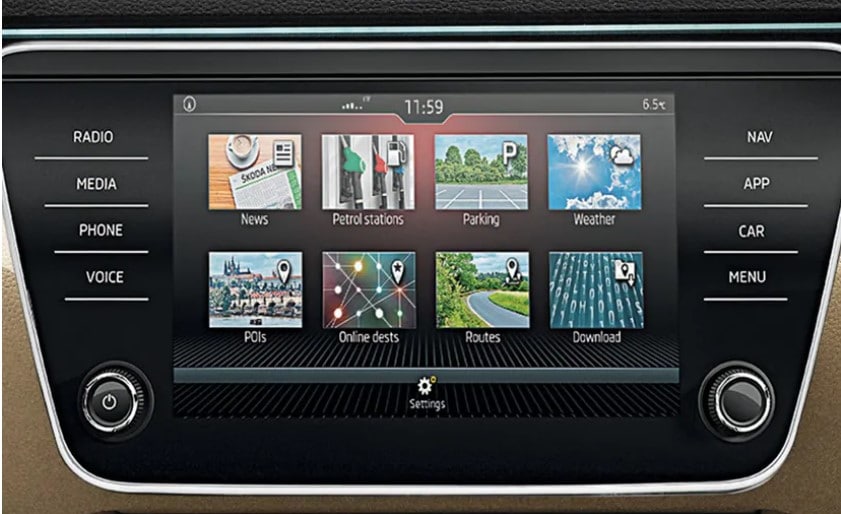 Skoda Superb User Interface
In addition, the Skoda Superb 2021 gets a Virtual Cockpit and an updated infotainment system. The new 8-inch touchscreen with proximity sensor gets an updated user interface that includes the next generation of Amundsen's infotainment system with an integrated navigation system. In particular, there is now wireless charging and connectivity for both Apple CarPlay and Android Auto. The new system also supports voice commands and the new USB Type-C ports. Finally, the 2021 Skoda Superb has a 360-degree camera with parking assistance on the L&K model.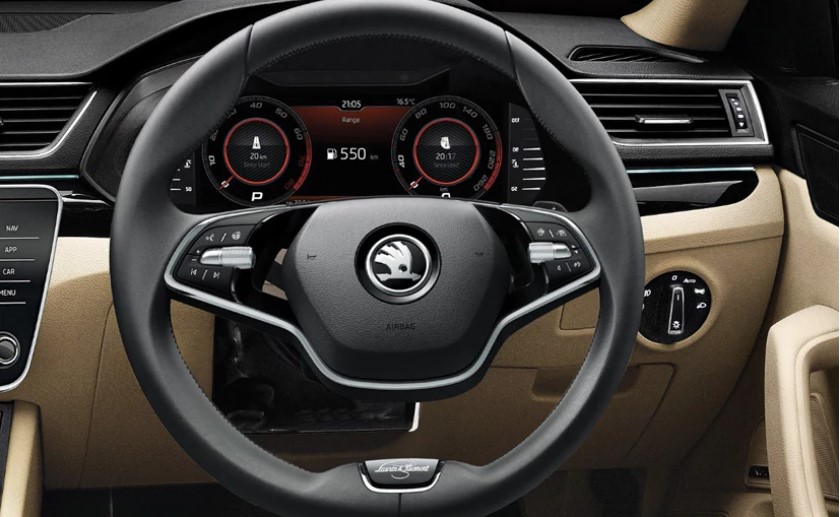 Skoda Superb two-spoke steering wheel on the L&K Variant
Cosmetic changes include new carbon cladding with the SportLine three-spoke flat-bottom steering wheel, along with black Alcantara seats with integrated headrests. The Superb Laurin & Klement features black piano accents featuring perforated leather upholstery in stone beige or light brown. L&K also uses more chrome and a two-spoke steering wheel design with Laurin & Klement lettering.
Also Read: Best Alloy Wheels for Cars: The Alloy Wheels for Cars in India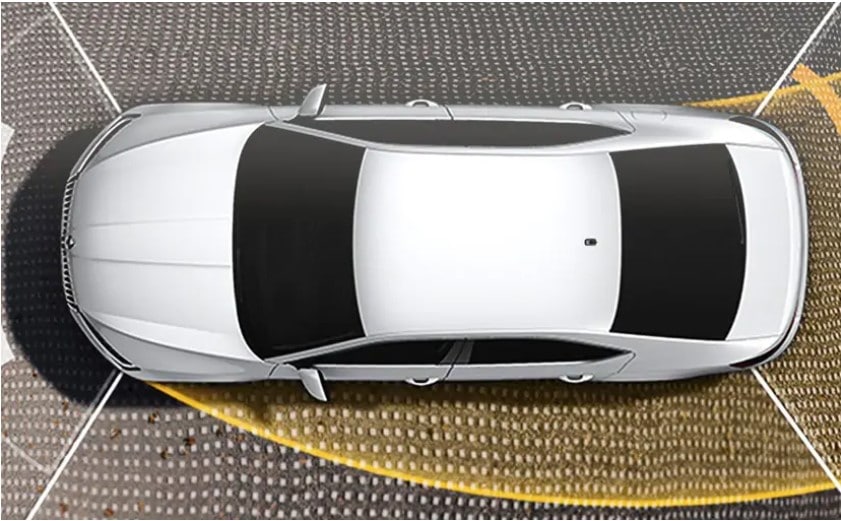 Skoda Superb 360 degree camera function comes with park assist.
2021 Skoda Superb Engine
In addition to new features, the Skoda Superb 2021 continues to use the same 2.0-liter turbocharged petrol engine under the hood with 187 hp. The engine is mated to a 7-speed automatic DSG. Superb competes with the Toyota Camry Hybrid in its class.
2021 Skoda Superb Price in India
The 2021 Skoda Superb comes with a host of new features and is priced at Rs 31.99 lakh for SportLine and Rs 34.99 lakh (all previous prices from ex-showroom, India) for Laurin & Klement variants. By 2021,  Skoda Superb aims to become more profitable with new feature updates, with a host of additional features coming months after the revamped version went on sale in the country last year.
Also Read: Upcoming popular sedan cars in IndiaAlso Read: Tata Safari 2021 presented; Production begins