Royal Enfield has launched its long-awaited new model, the Hunter 350. The Royal Enfield Hunter 350 is a roadster-style motorcycle and marks the new entry point to the Royal Enfield range. The Hunter 350 arrives in two variants, Retro and Metro. Retro arrives as 'Factory Series' while Metro arrives in two guises, 'Dapper Series' and 'Rebel Series' The Hunter 350 starts at Rs. 1,49,900, and prices go up to Rs. 1,68,900.
The Royal Enfield Hunter 350 comes in two versions, Retro and Metro, with the Metro also being divided into the Metro Dapper and Metro Rebel.
In terms of style, the Hunter 350 features a fresh, modern design and introduces a new style to the Royal Enfield range while maintaining the brand's DNA. The design varies between two variants of the Hunter 350, and to add to that, both variants have a different colored and sized slate, bringing the total number of luminaires to 23. The Metro has LED taillights and circular turn indicators, while the Retro has rectangular turn signals and a halogen headlight. Both variants only have halogen headlights, while LED turn signals are available as an accessory. The bike has a one-piece seat, and while the Retro has a traditional-looking tube rail in the rear, the Metro has modern-looking split bars. The bike is blacked out apart from the colored panels and there is a marked absence of chrome.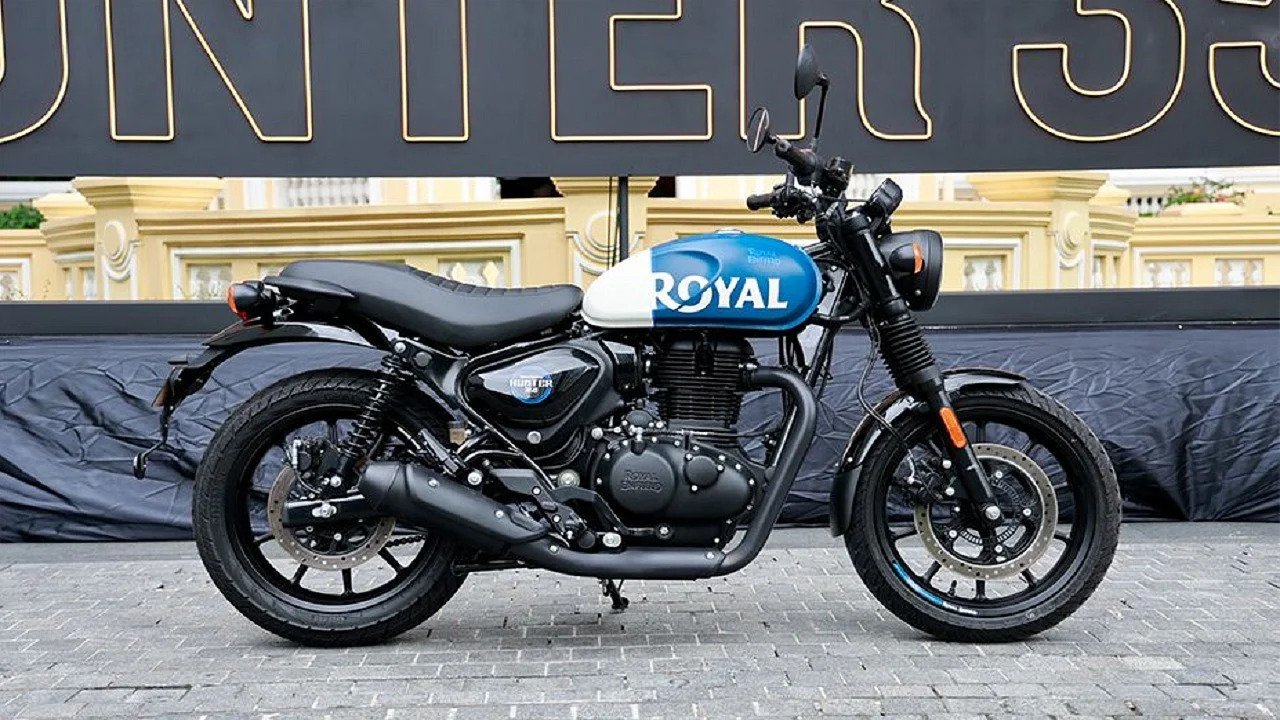 The Hunter 350 Metro gets split grab rails and an LED taillight combined with round turn indicators.
The bike is powered by the well-known 349cc J-series single-cylinder engine, which is also at the heart of the Classic 350 and Meteor 350. The long-stroke engine generates 20.2hp at 6,100rpm and 27Nm of torque. engine at 4000 rpm. . Power is sent to the rear wheels through a five-speed transmission. The engine redlines at 7,000 rpm and can propel the Hunter 350 to a top speed of 70 mph. The Hunter 350 has a curb weight of 181kg, making it 14kg lighter than the Classic 350.
The Hunter 350 gets a digital circular tachometer for the displacement part, but it differs in the two variants, with the Metro getting a larger digital input than the Retro. The Metro gets a triple navigation pod as an optional accessory, which is the same unit seen on other Royal Enfields. The Metro has dual disc brakes and dual-channel ABS, while the Retro has rear-only disc brakes and single-channel ABS. The retro rides on railed wheels, while the Metro is blacked out on alloy wheels.
Priced between Rs. 1.50 Lakh & Rs. 1.69 Lakh, the Hunter 350 goes up against the TVS Ronin, Java 42 and Honda CB 350 RS and offers people upgrading from a commuter bike a convenient entry point into the dirt bike category. Middleweight.
Also Read: Tata Tiago NRG XT variant launched at ₹6.42 lakh. Here's what's special