The French car manufacturer Peugeot unveiled the new Peugeot 308 with a new interior design, along with class-leading technology and safety. You can also get plug-in hybrid engines for the first time, along with diesel and petrol engines. The new Peugeot 308 will go on sale in European markets at the end of 2021.The new Peugeot 308 is equipped with a brand new logo. The car is based on the third-generation Stellantis EMP2 platform. The distinct hatch rests on a wheelbase that is 55 mm longer and has a lowered height of 20 mm. It is available in a wide range of color options:  Olivine Green, Cumulus Grey, Bianca White, Pearlescent White, Nera Black, Elixir Red, and Vertigo Blue. It features new LED headlights with vertically stacked LED daytime running lights. It features Peugeot Matrix LED technology offered on the premium GT and GT models. In front of it are a wide grille, wider air dams, and a new bumper with fog lights and taillights.
New Peugeot 308: Interior
Inside the cabin, the Peugeot 308 has a 10-inch i-Cockpit display, a new 3D steering wheel, a new infotainment system with fully configurable I keys, a USB C socket, etc. It offers a trunk with a capacity of 412 liters, which can be increased to 1,323 liters by folding the rear seats. The vehicle is equipped with the latest generation driving aids and Peugeot i-Cockpit in 3D technology, as well as the advanced i-Connect infotainment system.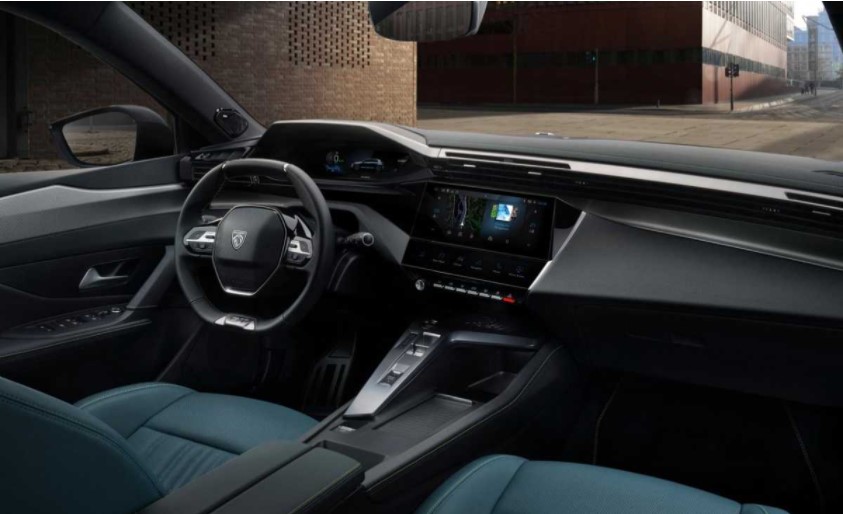 Peugeot 308 Interior
The 2021 Peugeot 308 comes with many safety and driver assistance features such as blind-spot monitoring, rear cross-traffic alert, 180-degree reversing camera with integrated cleaning nozzle, 360 perimeter view parking assist with four cameras, windshield and steering wheel heating, electronic call + Emergency call with information and location of the passenger number, etc.It also has adaptive cruise control with start / stop function, automatic emergency braking, active lane-keeping assist, driver attention alert, automatic high beam, traffic light recognition, electronic parking brake, etc.
2021 Peugeot 308: Engine options
The Peugeot 308 will come in two hybrid options, with a 12.4 kWh lithium-ion battery. The Hybrid 180 e-EAT8 variant comes with an 81 kW electric motor and a 150 hp engine, providing a range of up to 60 km in electric mode. The Hybrid 225 e-EAT8 variant has the same 81 kW engine with a 180 hp engine and offers an electric range of 57 km.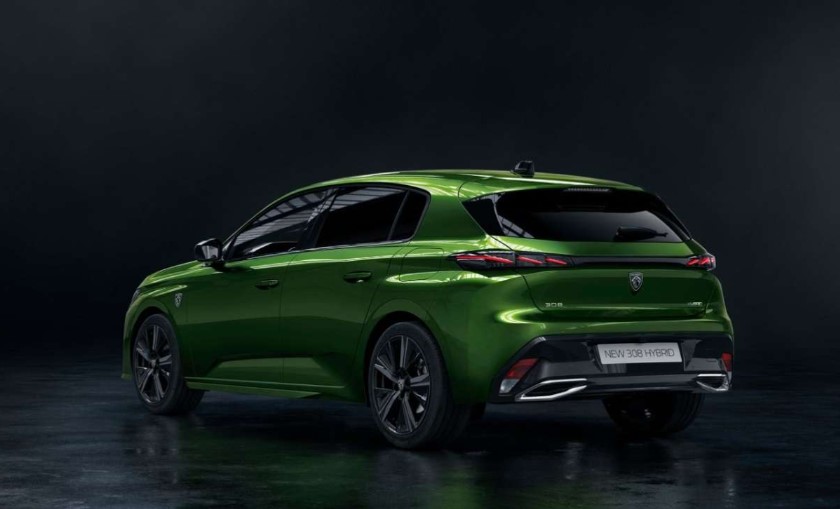 Peugeot gets plug-in hybrid engines for the first time, along with petrol and diesel engines.
The luxury hatch also houses a 1.2-liter PureTech 130 petrol engine that offers two tuning modes: 108 hp and 128 hp. The diesel version has a 1.5-liter BlueHDi 130 engine that produces 128 hp. The 128hp electric and petrol plug-in hybrids are paired with an 8-speed automatic gearbox, and the 6-speed MT will be standard.
Also Read: 2021 Jeep Wrangler Launched; Prices Start At Rs 53.90 Lakh