The made-in-India Maruti Suzuki Baleno has just been put through the Latin NCAP crash and emerged with a score of zero stars. The model tested was manufactured at the Maruti Suzuki plant in Gujarat and exported to Latin American markets. Earlier this year, another Indian-made Suzuki car, the Swift, received a zero-star rating.
Baleno has 20 percent protection in adult occupant protection
Child occupant protection score was 17 percent
Bodyshell and footwells were rated stable


Suzuki Baleno Latin NCAP crash test results: details
In terms of safety equipment, the NCAP-tested Latin Maruti Suzuki Baleno features two airbags, a seat belt pre-tensioner, seat belt reminders, ISOFIX points on the outer rear seats, and ABS.
For this reason, Baleno scored just 20 percent on the adult occupant protection test, and its only points came from the front-wheel-drive test with a score of 8 out of 12. It scored zero points in two other categories: the rear impact test from injury and lateral movement. Deformed barrier test. Latin NCAP skipped the side pole impact test as the car did not get side head protection as standards.
The child protection test yielded a worse result, with Baleno scoring just 17 percent. For the Security Systems Installation category, the Baleno scored 4.36 out of a possible 12, while it scored just 4 out of 13 on the Vehicle assessment test. In actual dynamic tests, Baleno scored zero out of 24 points.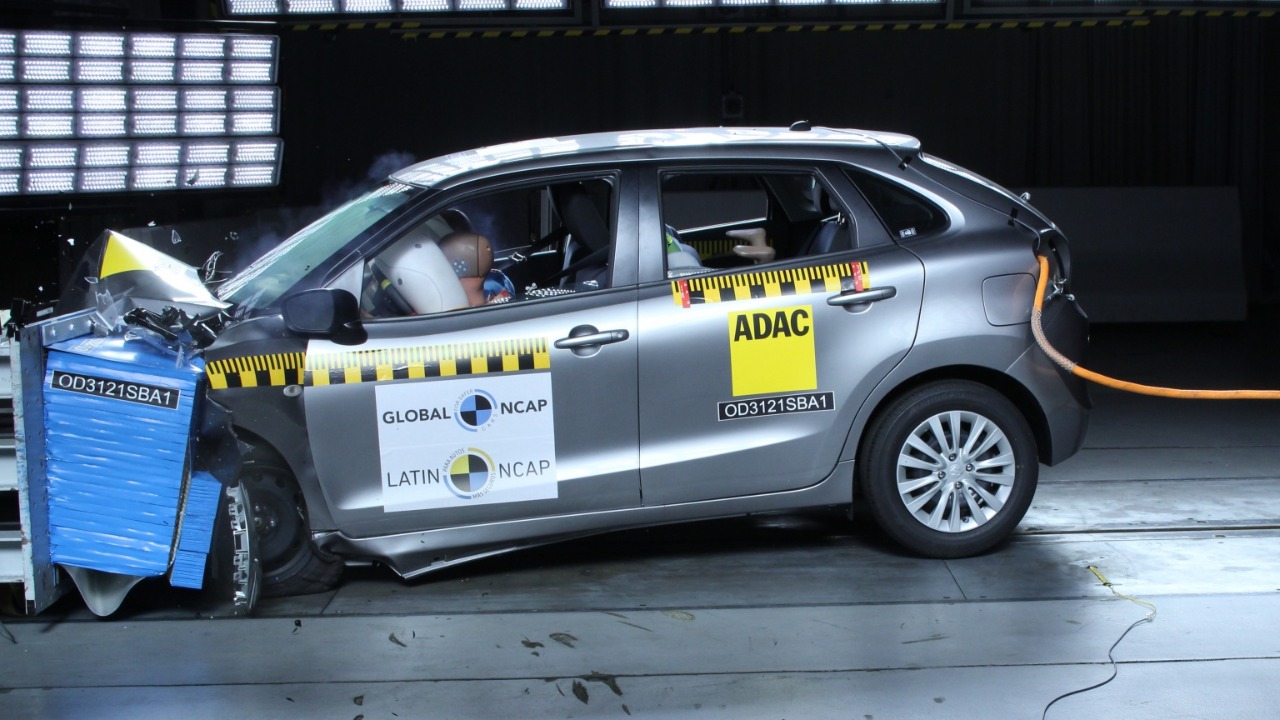 Pedestrian protection was by far the best category for Baleno, with a score of 64.06 percent, with all of its points coming from negative tests. Since Baleno does not have any active pedestrian protection features, no points are awarded as no test can be performed.
Finally, the worst category for Baleno was Safety Assistance, with a rating of 6.98%. Its only points come from the seat belt reminder system, without which it would have had zero points because it didn't have lane-keeping, roadside detection, blind-spot detection, ESC, or any autonomous emergency braking features.
It is worth mentioning, in the testers' comments, that the chassis and parts of the driver's and passenger's feet were rated stability after the off-center frontal crash test.
Has the Suzuki Baleno been crash-tested before?
The made-in-India Maruti Suzuki Baleno has been tested by the Euro NCAP in 2016, when it was originally introduced, and managed to earn a three-star rating. However, a point to note is that the tested car was a European specification model and was equipped with more safety features like 6 airbags and ESC as standard, and the tests themselves weren't as rigorous.
Also Read: MARUTI SUZUKI PROFIT FALLS 66% TO INR 487 CR IN Q2 FY22