Citroen is ready for its entry in India with 10 exclusive La Maison dealerships to distribute it across India. These dealers are preparing to launch the Citroen C5 Aircross on the market, which is scheduled for February 2021.
What is La Maison Citroen?
La Maison Citroen when translated means 'home of Citroen' and is basically a branded version of the new agency look. This selling style uses wood and warm earthy tones decorated with shiny reflections to create a welcoming and relaxing atmosphere for customers.For Indian galleries, Citroen will equip La Maison dealerships with large glass façades and large vertical display screens designed to entice pedestrians. These dealerships will also have a detailed 3D component that will allow customers to review all vehicle details and options that Citroen offers to configure their vehicle the way they choose.Since Citroen wants the La Maison selling experience to be unique, all of its dealerships will also have an antique model on display in addition to the cars on display. The brand hopes this will help showcase its heritage to customers. Additionally, one of the screens in the showroom will allow customers access to a virtual Citroen museum.Citroënist Café will also allow customers to come, relax and have a coffee in the agency, adding to the comfort at La Maison. There will also be a delivery-only area, to make your shopping and delivery experience even more special.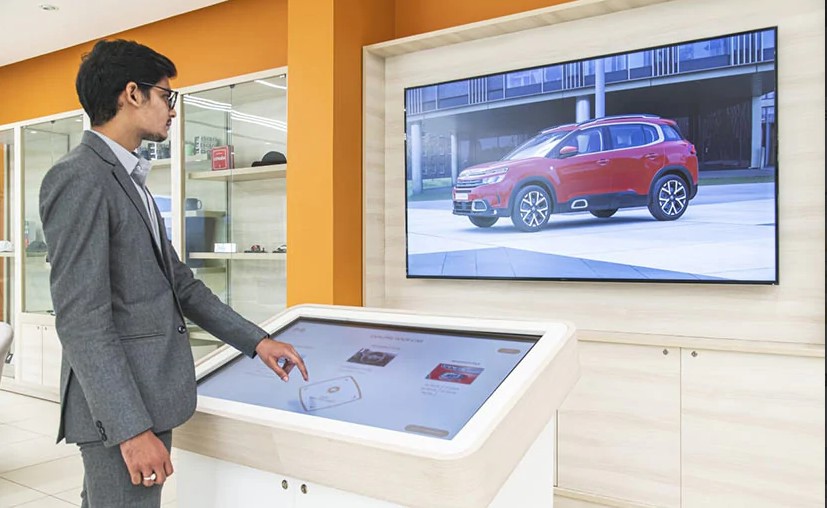 Citroen dealerships
Where will the first 10 Citroen dealers be located?
The first phase of La Maison agents will consist of 10 showrooms that will be located in major cities in India, including Ahmedabad, Delhi, Gurgaon, Mumbai, Pune, Calcutta, Hyderabad, Bangalore, Chennai, and Cochin.The 4,000 sq ft La Maison Citroen in India is nearing completion. The agent located in Ahmedabad, which will open in the coming weeks.It is also worth noting that this concept was first introduced in Paris in 2017 and is now present in more than 100 locations around the world. The showroom concept can be expanded or reduced thanks to the use of detailed configuration tools.
Services given by La Maison Citroen
Alongside this new selling system, Citroen will also offer its customers the option to have home repairs on their cars through the 'Service on Wheels' initiative for added convenience and safety during times of COVID. This will be in addition to the usual Citroën service centers.Another thing that the automaker will provide to all of its customers is All India Roadside Assistance (RSA) to give them peace of mind.
Citroen models planned for India
The first model Citroen plans to launch in India is the premium
C5 Aircross SUV
, which will be presented on February 1, 2021. The Citroen C5 Aircross will be introduced to India as a CKD and will be offered with a 180 hp, 2.0-liter diesel engine coupled with an 8-liter automatic gearbox. Speeds. We expect the C5 Aircross to be over Rs. 30 lakh (ex-showroom).After that, Citroen will introduce a series of models based on a new platform, with high levels of translation under the "C-Cubed" program.All showrooms will have a 3D display tool to help consumers customize their cars.The question about the average cost per agency has been left unanswered because the company said the cost depends on the city and local region in which it is located. With the arrival of the 10 dealerships in the first quarter of this year, the company is looking to push the C5 AirCross into the Indian market and promises to launch more products in the coming years.
Also Read: Mercedes-Benz GLC 2021 launched with prices starting at Rs. 57.40 lakhAlso Read: 2021 Volvo S60 launched at a price of 45.90 lakh; Reservations Open