Bentley Mulsanne has rolled out of the brand's facility in Crewe, England. Mulsanne has been Bentley's flagship limousine for just over a decade, and in that time over 7,300 examples have been sold.The end of Mulsanne production is also the culmination of a line of Bentley luxury sedans that can trace their lineage back to the original  8 Litre of 1930, the latest car designed and developed by W.O. Bentley Based on this heritage, more than 700 people have invested nearly three million hours in making Mulsanne over the last 11 years.Since it's Pebble Beach debut in 2009, Mulsanne has seen many iterations. The first sports specification to drive a Mulliner was 2012. The most notable was the 2015 Mulsanne Speed, which debuted the 537PS and 1100Nm version of the 6.75-liter twin-turbo V8 engine. An exclusive sports steering and suspension system has also been added. With the arrival of the most luxurious facelift in 2016, the extended wheelbase option has also been added to the range with a 250mm wheelbase extension.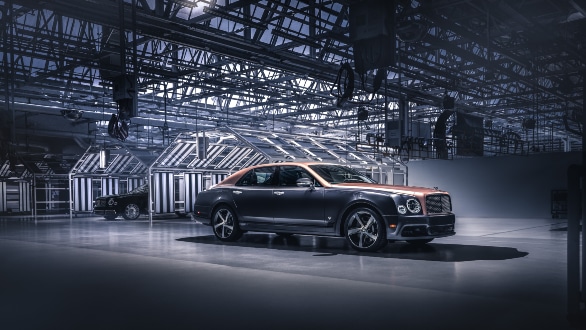 BENTLEY MULSANNE
The end of Mulsanne production also ends the 6.75-liter V8 L-Seris, which has been an engine in continuous production for 61 years. As a tribute to both Mulsanne and
V8
, the last thirty examples are built as " 6.75 Edition by Mulliner". These feature themes from the engine in the cabin, a dark engine cover, and dark themed exterior trim. The car seen here is the second-to-last Mulsanne, which ended in rose gold over tungsten. Bentley has something special in store for the last Mulsanne, the details of which are not yet known.With the Mulsanne and the 6.75-liter V8 gone, Flying Spur will become Bentley's flagship saloon. Mulsanne is expected to be replaced by a new SUV, while the Bentley brand will use more mode converters from the VW Group. These are 6.0-liter W12, 4.0-liter turbo V8, and hybrid V6. The latest engine is now available at Bentayga and will soon follow in the Flying Spur in 2023.
Also Read: BS6 Hyundai Elantra diesel launched in India, price starts at Rs 18.70 lakh