Both Toyota Fortuner and Toyota Land Cruiser come from the same manufacturer and fall in the same category of mid-size 7-seater SUVs. The former was released in 2005 and is actually based on the Toyota Hilux platform, while the latter was introduced in 1984. Fortuner is currently priced at Rs. 30.66 lakh and the Toyota land cruiser is slightly more expensive at Rs. 1.58 crore. Let us go for a detailed comparison of the two cars:
Engine

Let's start with the engine. The Toyota Land Cruiser has a diesel engine of type V8, 1VD-FTV, 8-cylinder with a maximum power of 261 bhp@ 3400 rpm and the torque of 650 Nm@ 1600-2600 rpm. Toyota Fortuner is equipped with a diesel engine of type 4-cylinder, in-line and has a maximum power of 164 bhp@ 5200 rpm and a torque of 245 Nm@ 4000 rpm.
Dimensions

The dimension of Toyota Land Cruiser is 4950 x 1980 x 1910mm and that of the Toyota Fortuner is 4795 x 1855 x 1835mm. The wheelbase of Fortuner is 2745mm with a gross weight of 2500kg and that of Land Cruiser is 2850mm with a gross weight of 3350kg. Land cruiser is slightly heavier than Fortuner.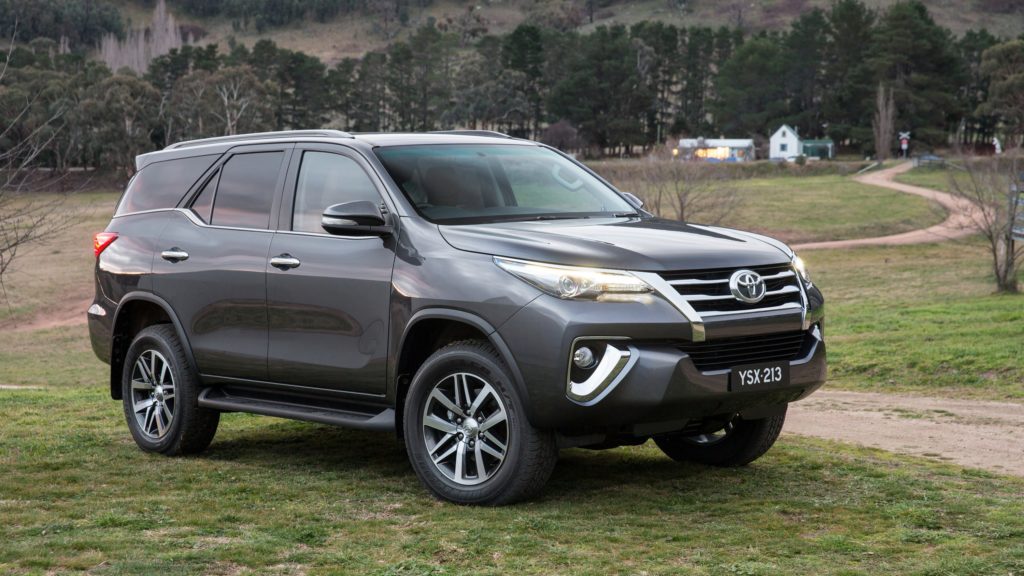 Transmission

Fortuner is equipped with manual-5 gears and Land Cruiser is equipped with an automatic gear, making it easier to drive the car.
Interior & Exterior

Both the SUVs have a very impressive design with a striking look from the point of view of the interior of the car. The interior of both cars has enough space and has a luxurious look. Fortuner is equipped with electric power steering while Land Cruiser comes with hydraulic power steering. Fortuner has automatic climate control AC and Land Cruiser has 4-zone climate control AC. From the exterior point of view, Toyota Fortuner is slightly smaller than Land Cruiser. The type of light for Land Cruiser is a projector Led while that of Fortuner is Bi-beam LED projector headlamps. Fortuner is based on the latest Toyota-design language while Land Cruiser is more of a luxury car with a mode
look.
Fuel Efficiency

The mileage provided by Land Cruiser is about 11 kmpl with a fuel tank capacity of 93. Fortuner provides a mileage of 14.24 kmpl with the fuel tank capacity of 80.


Conclusion

In comparison to Toyota Fortuner, Toyota Land Cruiser is equipped with a powerful diesel engine along with advanced safety measures that will give you a very safe feeling. The interior is not only comfortable for being spacious and well-lit but also equipped with the advanced quality infotainment system. The engine performance and handling of the car are really good. On the other hand, Toyota Land Cruiser has got a noisy cabin in comparison. It has a very high initial cost of ownership too. The maintenance cost is very high for both the cars. Fortuner does not come with paddle shift, cruise control, headlight washers, electronic stability program, and brake and hill assistance unlike Land Cruiser.