The BMW iX is the first model to adopt a new scalable modular architecture on which the future of the
BMW
Group will be built. The new BMW iX redefining the successful Sports Activity Vehicle (SAV) concept and is designed to deliver an exciting driving experience. BMW's new flagship technology features a new design never before seen in the German stable combined with the latest BMW eDrive technology that offers a range of almost 480 km on a single charge and two powerful engines developing 500 hp of power.
The new BMW iX combines a fully electric four-wheel-drive system with the functions of the
BMW X5
, the sporty nature of the
BMW X6
, and the visual impact of the
BMW X7
. The BMW iX can be compared to the X5 in length, width, and almost the same height as the X6. The distinctive BMW visuals, the distinctive kidney grille, and the equally familiar dual headlights are interpreted in futuristic flair. The BMW iX is equipped with standard full LED headlights, while the latest generation of BMW laser lights is available as an option. The bonnet of the BMW iX, with its clear 3D design, extends to the BMW headlights and grille. The rear-view camera is integrated into the black ring of the large BMW emblem in the center of the tailgate. The one-piece LED taillights feature a slimmer design than any previous
BMW
Group car. The familiar L-shape of other BMW models is used in a mode
interpretation.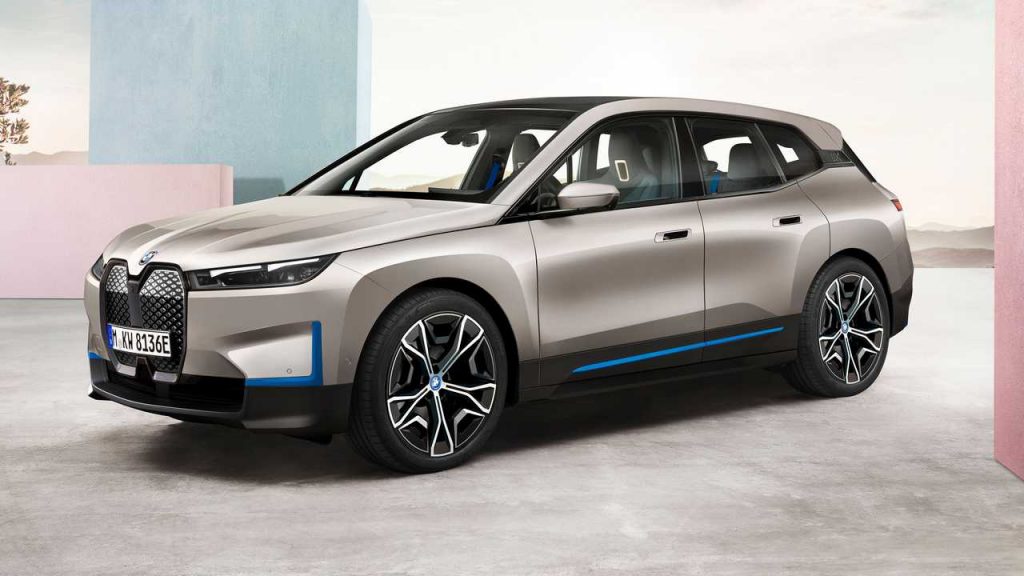 The door handles are elegantly integrated into the sloping tent that houses the button to activate the electric door opener function. The eDrive concept means there is no center tunnel, increasing the feeling of openness and ventilation while providing additional front and rear legroom, adequate storage space, and a center console designed to look like a piece of fu
iture first quality. The newly developed seats for the driver and front passenger have integrated head restraints to create a sporty look. Seat ventilation and massage functions are also available.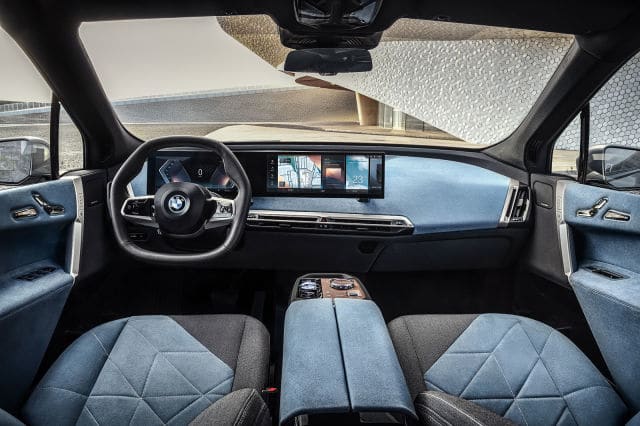 BMW's curved screen, making its debut in a production car, is held in place by a support structure hidden from view of passengers, so it appears to be autonomous. This involved combining a 12.3-inch driver information display with the 14.9-inch center console to form a single unit angled toward the driver. All iDrive menu items can also be selected and activated using the familiar iDrive center console that forms the main center console control.
The BMW iX was the first BMW Group model to feature a six-wheel steering wheel. New multi-function buttons on the control panels, with a high-quality glass-effect finish, enhance the intuitive operation of the audio, communication, and driver assistance systems. For the first time, the latest version of the projector is installed in the front glass on a frameless dashboard, allowing it to be hidden from view.
READ MORE:
Hyundai Motor and chipmaker Nvidia sign a car entertainment system deal