MG Gloster is the company's fourth product in India and it seeks to revolutionize the premium luxury SUV segment here.
Gloster has a 2.0-liter twin-turbo diesel engine under the hood that produces 215 bhp of peak power and 480 Nm of torque.


The MG Gloster SUV was officially launched in India with a starting price of ₹28.98 lakh, up to ₹35.38 lakh for the latest Savvy model (preliminary, EX-showroom). At these prices, MG Gloster managed to take on a formidable challenge for the Ford Endeavor and the Toyota Fortuner. While the Gloster base drops the Endeavor base by roughly Rs 1 lakh, the difference is huge when comparing the main variants of the two SUVs. The Base Fortuner is a bit cheaper than the base Gloster, but the difference opens up again in MG's favor when the main variants are compared.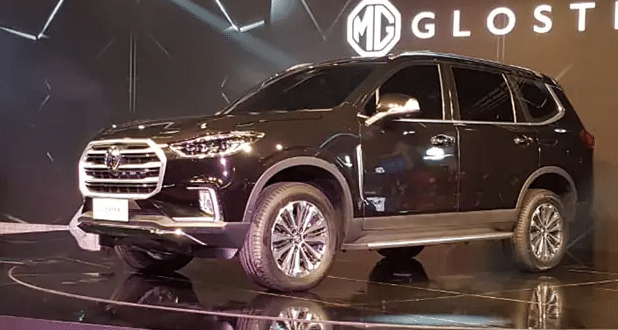 Gloster debuted at Auto Expo 2020 in February, and is the embodiment of MG Motor's dreams of achieving big goals here, and really at it. Gloster is the company's fourth offering in the Indian market, after Hector, ZS EV, and Hector Plus, which is the largest, most expensive, and most premium in the range.

Gloster is definitely a much more premium offering than its siblings and is targeting a completely different group of buyers. However, it also seeks to reduce the dominance that luxury brands and their SUVs have here.
MG is touting Gloster's driving capabilities and comfort features, along with a long list of safety features, to make a tough case for itself. The company claims to be able to go off-road like the Pajero or Land Cruiser, and for this, the Gloster has an integrated five-link rear suspension and a separate rear differential lock button. There are seven driving modes available: Sport, Eco, Sand, Rock, Mud, and Snow, while the 2.0-liter twin-turbo diesel engine under the hood offers 215 horsepower and 480 Nm of torque. An eight-speed automatic transmission unit is standard.

In dimensions, Gloster is gigantic. It is definitely one of the largest SUVs that can be seen on the roads of India and it has a strong presence on the road. It measures 5005mm long, 1932mm wide, 1875mm long, and has a 2,950mm wheelbase.

The Gloster sits on 19-inch alloys and has a large chrome front grille with large fog lamp covers. Compared with LED headlights with DRL bulbs, it is more stylish. The SUV's side profile is where its really large dimensions come into play. With over 200mm of ground clearance and large windows, the Gloster looks majestic. The rear also looks decent even if the large Gloster badge looks tacky.
However, MG hopes it is the Gloster cabin that will attract and impress potential buyers. Gloster has six options plus seven seats and a number of features. And while last-row space is limited, the Gloster's distinctive overall look is totally undeniable.

The list of functions found in MG Gloster includes:
Highlights comfort and convenience inside Gloucester
12-way power-adjustable driver's seat
Massage in the driver's seat
Driver's seat ventilation
Driver and front seat heating
PM 2.5 filter
Cordless phone charging
One-touch panoramic sunroof
8 inch TFT screen
12.3-inch infotainment display
Three zones of temperature control
64 ambient lighting colors
Hands-free opening for the box lid

Gloster SUV reservations opened a few days ago and potential customers can reserve the vehicle for a deposit of ₹1 lakh.

READ MORE: The next 7 seater SUV cars in India in 2020, 2021