Maruti Ciaz is a compact car model from Maruti Suzuki that was designed with a view to replace the SX4 model from the same manufacturers.
The Maruti Ciaz facelift is supposed to be launched in the 20th of this month and car-lovers are eagerly waiting for its launch!
It was, in fact, supposed to be released in the 5th of this month but the release was later postponed due to another event of the company scheduled on the same day.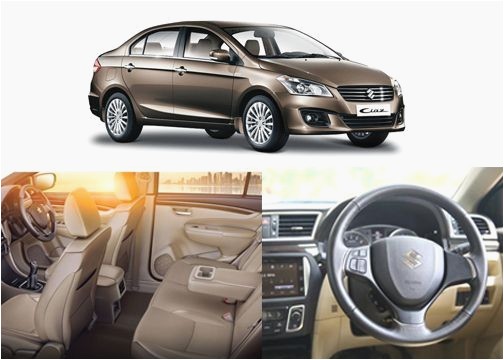 suzuki car ciaz Lovely 19 best New Maruti Suzuki Ciaz images on Pinterest
When it comes to cars, Indians are more likely to invest in a Maruti car than any other brand. The cars from this brand have eaed that special place and goodwill in the Indian market. Naturally, Ciaz will have an edge over cars from other brands that belong to the same price range. Besides, it will boast off the following features:
It is rumoured to have a new 1.5-litre petrol engine that will replace the existing 1.4 petrol engine. The same engine will also be found in Ertiga, the sedan to be released by the company at a later part of the year. The power delivered will be 104hp which is a little less for a sedan.

Among the changes in design, a more rounded-nose and a smoother grill that almost merges with the headlight deserve mention.

It will have subtle chrome accents brightening the grille and the same will be present on the new bumper too.
Another new feature to look at will be the LED headlamps embellishing the exterior and the LED daytime running lights. The rear portion will remain almost same except for some LED tail-lamps and the rear bumper featuring some chrome detailing.

It will have a manual transmission gear that will triumph over an auto gear and makes driving seamless and comfortable.

It will have 4 cylinders and 5 gearboxes so that you have the full liberty of changing gears whenever you feel like.

It will come with alloy wheels delivering extreme grip and support while driving to make sure that your safety comes first.

It will also have a multi-info display with an advance infotainment screen, equipped with Apple CarPlay and Advanced Auto. The faux wood trim will come in a lighter shade.

It will have a multifunction steering wheel that will make maneuvering the car easier.

There will also be a power adjustable rear view mirror.

Additionally, there will be new upholstery in the seats and door pads that will give you a cosy and comfortable experience.

The estimated price of the new Ciaz will be around 9lacs. There is just a minor hike in the price as compared to the existing model on account of the cosmetic upgrades that the car has received.
The Nexa dealers at different parts of the country have already started accepting bookings for the car. The discounts offered lie within the range of Rs75000-Rs 1.3lakh.