The Hyundai Creta comes with an all-new avatar. It feels excellent and connects better and looks sharper. The next-generation Creta reminds us of its little brother sitting right below it in the lineup - Hyundai Venue, which is also another Hyundai's success. The thing is, the arrival of the next generation Creta may create some confusion for buyers who cannot choose between the popular 4-meter SUV or the latest mid-size model. Whether you need to buy a larger car with extra space but at a higher price or a cheaper but smaller SUV with a well-loaded cabin. Let's find out in this comparison.
Creta vs Venue: Engine Comparison

Both the Hyundai Creta and the Hyundai Venue have two petrol engines, one turbocharged and the other naturally aspirated, in addition to the option of a diesel engine under the hoods.

Larger cars come with larger engines and that is reasonable. The new generation Creta borrows the same range of engines from its cousin Kia Seltos, including a 1.5-liter MPi petrol, a 1.4-liter Kappa Turbo petrol, and a 1.5-liter U2 CRDi diesel unit. Meanwhile, Hyundai Venue has a smaller Kappa 1.2-liter petrol engine, a 1.0-liter Kappa turbo petrol engine, and a 1.5-liter U2 CRDi diesel bu
er.
Petrol Engines
Hyundai Creta
Hyundai Venue
Engine Type
1.5 MPi Petrol
1.4 Kappa Turbo GDi Petrol
1.2 Kappa Petrol
1.0 Kappa Turbo GDi Petrol
Displacement
1497 cc
1353 cc
1197 cc
998 cc
Max Power
115 PS @ 6300
140 PS @ 6000
83 PS @ 6000
120 PS @ 6000
Max Torque
144 Nm @ 4500
242 Nm@1500 - 3200
115 Nm @ 4000
170 Nm @ 1,500 - 4000
Transmission
6-speed IVT
7-speed DCT
5-speed MT
6-speed MT/ 7-speed DCT
Emission standards
BS6
BS6



In terms of naturally aspirated engines, the Hyundai Creta 1.5-liter petrol engine produces a maximum power of 115 hp and 144 Nm of torque and delivers 32 HP more power and 29 Nm more torque than the 1.2-liter Kappa petrol engine from anywhere. Creta's transmission option includes a 6-speed MT and IVT, while the Hyundai Venue only comes with a 5-speed manual transmission.

Given the turbocharged petrol factories of these cars, the Hyundai Creta also has more power and torque than its larger 1.4-liter unit. However, this has compensated well with Venue's broadcast package. The Hyundai Creta Turbo comes with a single DCT engine with seven speeds, while the Hyundai Venue Turbo can have a 6-speed MT or 7-speed DCT.
| | | |
| --- | --- | --- |
| Diesel Engines | Hyundai Creta | Hyundai Venue |
| Engine Type | 1.5 U2 CRDi Diesel | 1.5 U2 CRDi Diesel |
| Displacement | 1493 cc | 1493 cc |
| Max Power | 115 PS @ 4000 | 100 PS @ 4000 |
| Max Torque | 250 Nm @ 1500 - 2750 | 235 Nm @ 1500 - 2750 |
| Transmission | 6-speed MT/ 6-speed AT | 6-speed MT |
| Emission standards | BS6 | BS6 |



Both the Hyundai Creta and the Hyundai Venue are powered by a 1.5-liter U2 CRDi diesel engine with exactly the same displacement. However, the SUV less than four meters still offers less power and torque than the Creta, at 100 hp / 235 Nm compared to 115 hp / 250 Nm respectively. This time, the Hyundai Creta Diesel has won hearts and minds with the manual and automatic variants, while the diesel-powered model with a six-speed manual transmission is only available.

Also Read: Renault Kiger vs Tata Nexon Full Detailed Comparison
Creta vs Venue: Mileage Comparison
Specs
Hyundai Creta
Hyundai Venue
Fuel Type
Petrol, Diesel
Petrol, Diesel
Fuel Tank Capacity
50 litres
45 litres
Fuel Mileage
16.8 kmpl (Petrol MT)

16.9 kmpl (Petrol AT)

18.5 kmpl (Diesel AT)

21.4 kmpl (Diesel MT)
18.27 kmpl (Petrol MT)

18.15 kmpl (Petrol AT)

23.7 kmpl (Diesel MT)
Creta vs Venue: Dimensions Comparison

We all know the Hyundai Creta is larger than the Venue, and it's Hyundai's first attempt at an SUV under sub-four meters. That said, let's take a look at the Creta vs Venue dimension table below to see the sizing discrepancy between the models.
| | | | |
| --- | --- | --- | --- |
| Dimensions | Hyundai Creta | Hyundai Venue | Difference |
| Length | 4300 | 3995 | 305 |
| Width | 1790 | 1770 | 20 |
| Height | 1635 | 1605 | 30 |
| Wheelbase | 2610 | 2500 | 110 |
Creta vs Venue: Design Comparison
Exterior

After its launch in March last year, reviews about the new Hyundai Creta avatar could be polarized. To some who are very familiar with the design of the previous generation's car, the Hyundai Creta looks a bit strange and doesn't have the same easy visual effect as its predecessors. On the other hand, it is sharp and dynamic to the rest.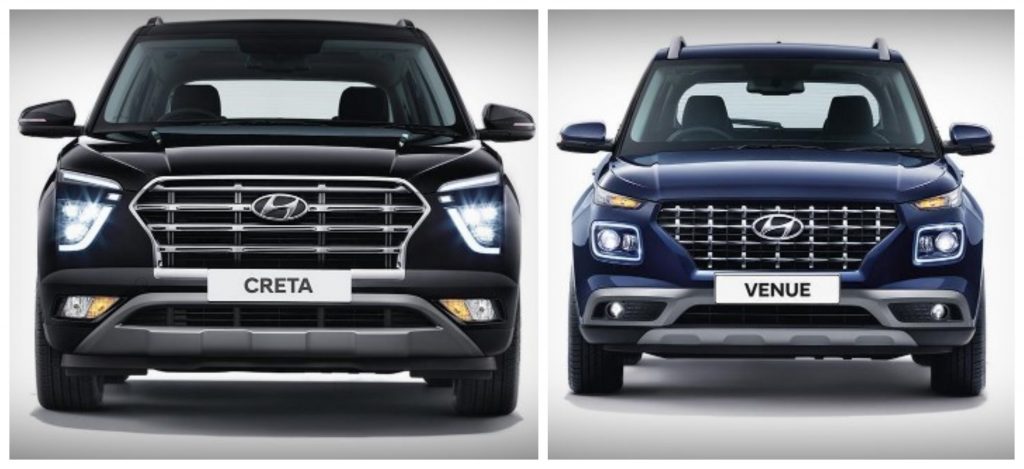 Creta vs Venue

If you haven't looked at the badge and lettering, you might once notice that the new Creta and Venue are brothers and sisters of the same brand due to some common design parts, at first glance. Thanks to Hyundai's Sensuous Sportiness design language, Hyundai Venue, and Creta share many similarities in body posture.

Both cars are inspired by the global Hyundai Palisade, so have a somewhat similar face with a cascading grille, separate headlights, and skid panels at the front, along with roof rails on the sides and dramatic settings at the tail. However, each model has its own versions of the grille and cascading headlamps, as well as LED daytime running lights, co
ering fog lights, and an alloy wheel design.
Interior

Take a look at the interiors of Venue vs Crete and we will find that the cabin of the midsize SUV is more distinct and mode
ized than the cabin of the younger brother which is four meters. The dashboard design of the two SUVs differs in one way or another.

As mentioned earlier, Creta's exterior is polarized, but that's not the case with the interior. The good thing is that when you buy a car, you spend more time inside the car than looking outside, right? The Hyundai Creta has a clean and elegant dashboard design complemented by a V-shaped flow center console. It is available in two interior versions: the more airy beige black two-tone color scheme, and the exclusive color scheme in all black. 1.4 turbo variant. The contrast stitching on the gear selector and the leather-wrapped headphone became small highlights.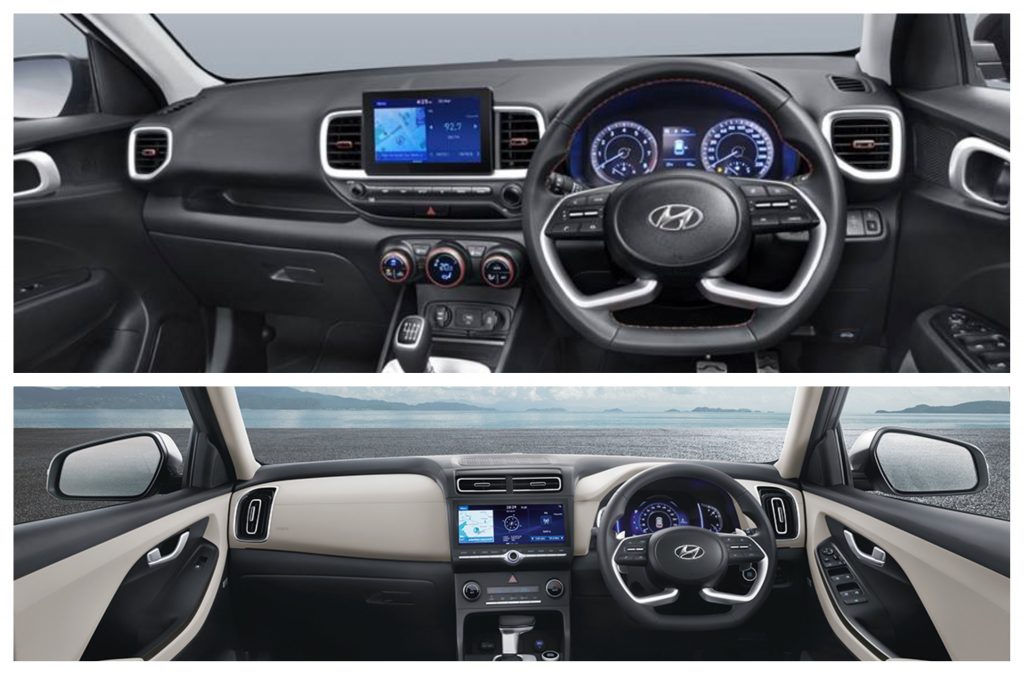 Creta vs Venue

When the venue was first introduced to the market, its interior design was a common point of discussion. Like the larger Creta Turbo, Hyundai Venue uses an all-black interior that contrasts well with the sense of compactness on the inside. It's interesting to see Creta's smallest 8.0-inch touch-screen floating infotainment system, surrounded by two A / C vents in silver. There are a lot of horizontal elements in the Venue cabin, but there are some inferior plastics. The white seams also reach for the steering and gear selector which contrasts well with the black. However, Hyundai Venue is opting for the traditional round steering wheel option, while the Creta gets an advantage with a flat-bottomed unit.

Also Read: New Tata Safari 2021 vs Old Tata Safari Storme
Creta vs Venue: Features Comparison

When it comes to features, both Creta and Next Generation Venue take a feature-class package in their cabs. However, to say a little, the Hyundai Creta appears to have a bunch of features the Venue lacks, while it was the first connected car.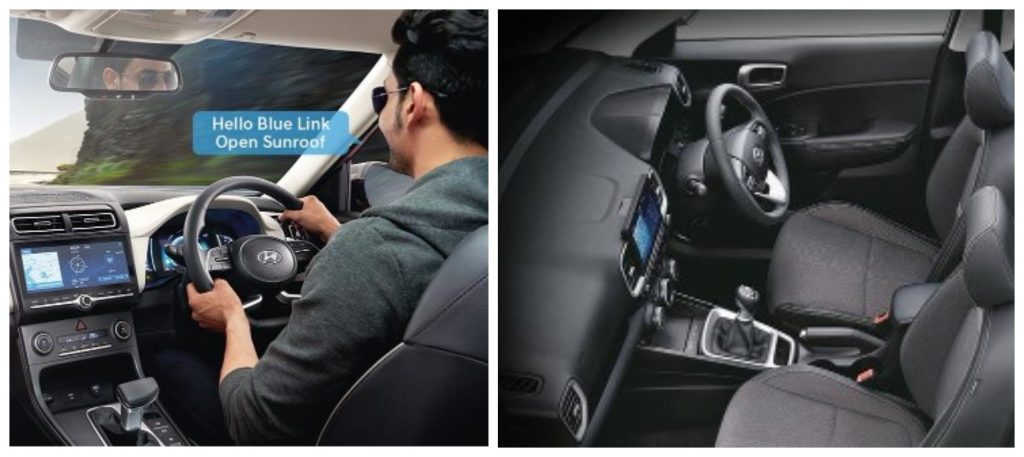 Creta vs Venue

The new Hyundai Creta crowns the cake with a huge 10.25-inch touch-screen infotainment system with a 7.0-inch full TFT instrument cluster. Hyundai Venue sits on an 8.0-inch touchscreen for the infotainment system. Hyundai's Bluelink is available in both cars, but Crete drivers will keep a better connection with the car thanks to a combination of more than 50 jobs, while Venue stops at 33.

On the one hand, the second-generation Hyundai Creta has a broader set of contemporary features up its sleeve, such as a panoramic sunroof, touch air filtration system, electrically adjustable driver's seat, remote engine, premium BOSE sound system, electric parking brake, voice commands to open/close the sunroof, plus live audio updates on the go.

Hyundai Venue's comfort highlights include an electric sunroof, power windows, rear air-conditioning vents, air purifier (DCT only), steering tilt, a front power outlet, power steering audio, Bluetooth controls, and a height-adjustable driver's seat headrest.

Also Read: Best Car Accessories in 2020 I Car Gadgets That Are Useful
Creta vs Venue: Price Comparison

Located in two sections above the Venue, the Hyundai Creta is a huge premium over the previous one. There are some variants where place prices intersect with those of Crete's brother.
| | | |
| --- | --- | --- |
| Prices | 2020 Hyundai Creta | Hyundai Venue |
| Ex-showroom Price | Rs 9.99 – 17.2 Lakh | Rs 6.7 – 11.5 Lakh |
| On-road Price | Rs 11.37 – 20.31 Lakh | Rs 7.53 – 13.61 Lakh |


Also Read: Hyundai Creta 2021 vs Kia Seltos 2021 | Full detailed comparison


Also Read: The next 7 seater SUV cars in India in 2020, 2021