What is a driving school?

When you take professional driving lessons, you gain comprehensive knowledge. From hands-on training to theory classes, best driving schools will make you a safe, competent and responsible driver by the end of the lesson. Whether it's safety rules or state laws, you'll know the dos and don'ts of defensive driving. In addition to lea
ing all the driving techniques, you will also lea
about safe driving values. Plus, the benefit of training from an experienced trainer will ensure you pass your driving test smoothly on the first try. Overall, your choice of driving school will largely determine how satisfied you are with the lea
ing experience.

Lea
ing to drive successfully is an intimidating but important task. The responsibility that comes with it is enormous. After all, when it comes to driving, it's not just about you, but also about the safety of other people on the road.
What are the benefits of going to driving school?

1. Increases your level of confidence behind the steering.

2. You will lea
about defensive driving.

3. Develop better driving habits.

4. Lea
from professional driving trainers.

5. A small and sensible investment will save you time and relieve you from stress.
How long does it take to lea
to drive?

It takes most people 45 hours to 60 hours to lea
the basics of driving and develop confidence in their driving. Driving schools intake students for 10-15 days for lea
ing and practicing driving. The best driving schools in India train you in very short span of time and also teach you how to drive stress free on jam packed Indian roads.
Here is the list of best driving schools in India.
1. Maruti Driving School

This driving school is run by Maruti and they carry their name and quality in their driving lessons. They take students through theory classes, practical classes, and simulation classes to ground the fundamentals of leadership. They are scattered all over the map in places like Rohini, Dwarka, Sheikh Sarai, GK II, Peeragarhi, and more.

Location: You can check the center locator and find the contact details of the nearest center.

Price: INR 4000-9000*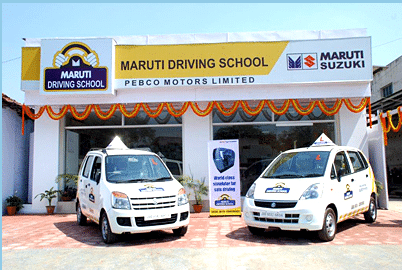 Best driving school in India
2. New Nanda Motor Driving School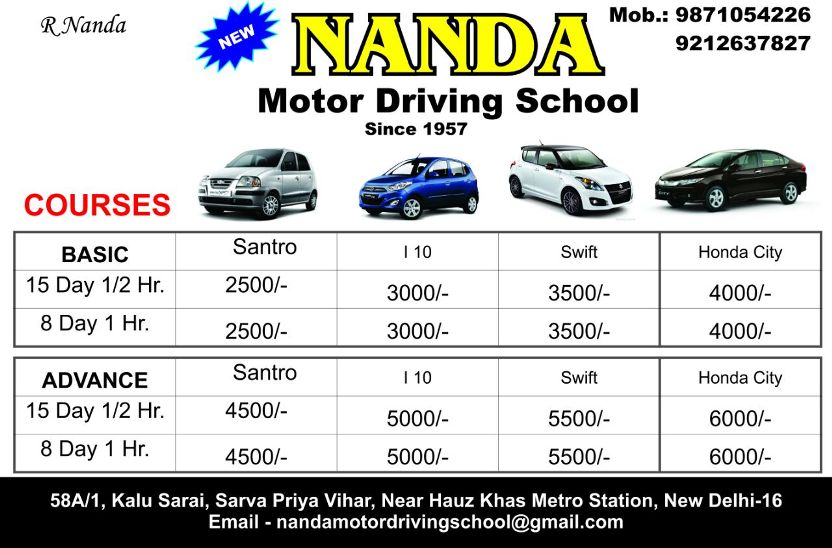 Best driving schools in India



One of the most trusted driving schools, this place will teach you driving in no time. Many people have appreciated Mr. Santosh, the head coach, for his skills and experience. They have explanatory and interactive courses that you can take. They offer an eight-day basic course and a 15-day advanced course. You can pick the one hour slots at any time between 6 a.m. M. And 8 p.m. M. (Monday to Saturday).

Location: South Delhi

Price: Starts from INR 2,500 (eight day course)
3. Expert Motor Training School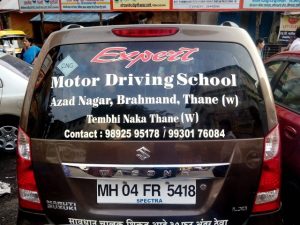 Best driving school in India

There is no better place to head in Mumbai than the Expert Motor Training School, if you are looking to become a driving expert. This school in Thane not only teaches driving, but also rickshaws, heavy vehicles and more. All you have to do is go to them and register and they will take care of all your licensing issues.

Location: Where: Shop No 3, Narayan Apartment, Ground Floor, Tembhi Naka, Thane West, Thane – 400601

Price: On request
4.
Vihaan Motor Driving College

Vihaan Motor Driving College with a 4.6 star rating on Google is one of the best driving schools in India. The instructor is said to teach all the basics and driving rules in the course of 18 days classes, while there were reviewers who claimed lea
to drive in just 8-9 days. The tutor is considered very experienced and believes that safety is a priority.

Location: Across from Kushal Devangan, Near New Puliya, Udaipur Road, RK Circle, Adarsh Colony, Fatehpura, Udaipur, Rajasthan 313001

Price: On Request
5. Driving School Waraich

It is one of best driving school in India. With more than 1500 satisfied customers and highly skill trainers they offer illustrative and interactive training and train you to be a confident and law abiding driver.

Location: Shop -2, Panchkula Sector 15, Opposite Chandigarh Sweet Shop, Near Gurudwara, Panchkula

Price: On request.

Also Read: 5 essential tips for driving a Bike during the winter season