Among the essential equipment that biker enthusiasts invest in, biker gloves stand out as a crucial component. Beyond being a stylish accessory, these biker gloves play a vital role in ensuring maximum comfort and rugged protection for the rider.
Whether you're cruising down the open or navigating through challenging terrains, the right pair of biker gloves can make a huge impact on your ride. Enjoy riding with confidence, knowing that you made an informed decision when choosing the best motorcycle gloves for your biking adventures. From superior grip to impact resistance, we delve into the features that ensure a comfortable and safe ride, enhancing your biking experience while prioritizing your safety on the road.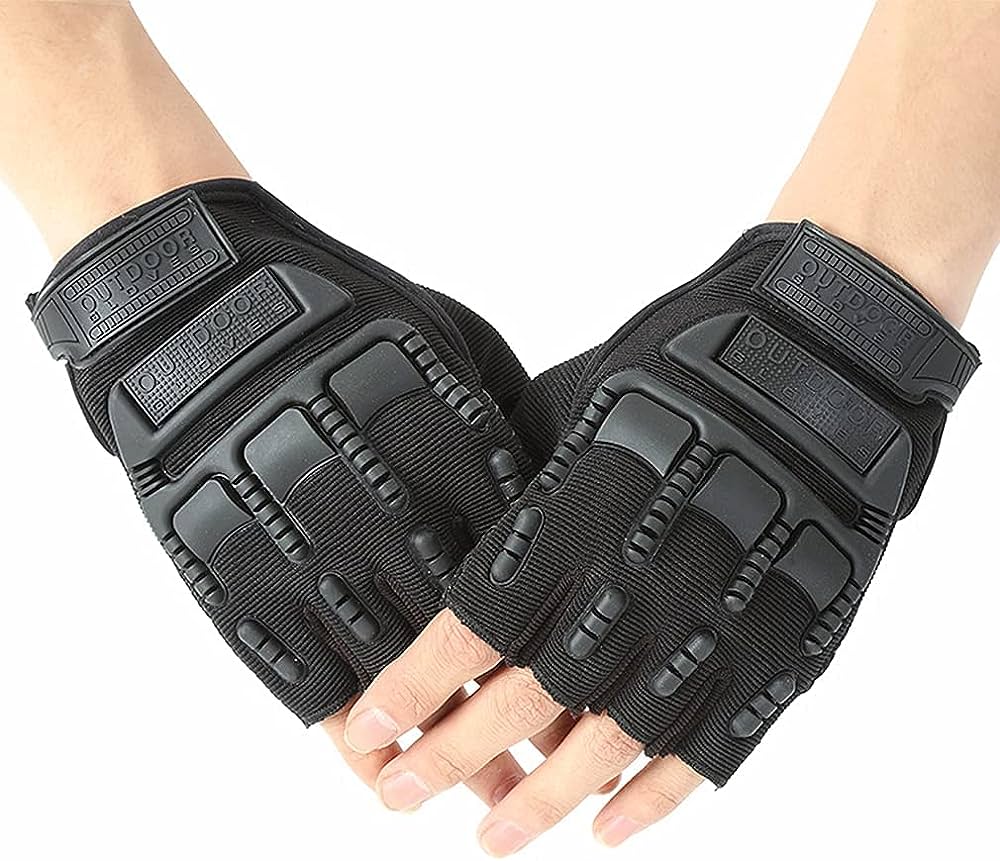 1. Adroitz Anti-Slip Half Finger Glove
The Adroitz Non-Slip Half Finger Glove is a must-have for a variety of activities, including sports, hiking, biking, traveling, camping, and of course, motorcycling. These durable gloves feature a fingerless design, ensuring flexibility and breathability while providing essential protection. Rubber knuckle guards protect hands from impact and abrasion. With a convenient Velcro backing for easy on and off, these gloves prioritize comfort and safety. Designed with wide compatibility and using high-quality breathable materials, these gloves provide the right balance between protection and comfort for any riding season. Ride confidently with the armor your hands deserve.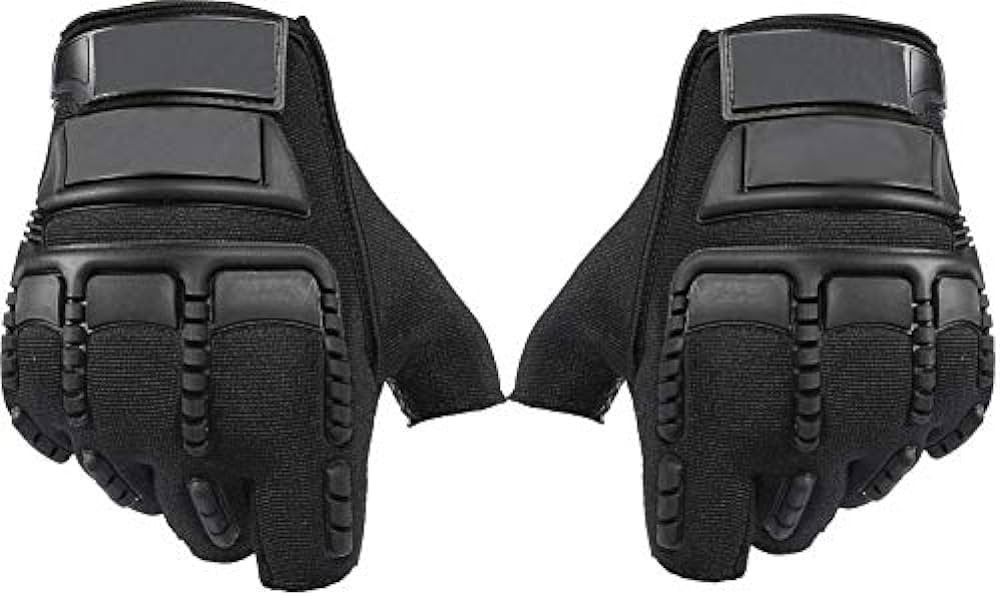 2. Kandid Half Finger Gloves
Meet the Kandid Half Finger Gloves in sleek Army Green leather, an epitome of style and functionality. Designed for versatility, these gloves are perfect for sports, hiking, cycling, traveling, camping and even field arm shooting. Solid knuckle protection ensures safety during intense activities, making it ideal for motorcycle riding. Providing a snug and comfortable fit, they also strike the right balance between protection and flexibility, ensuring an enjoyable riding experience. Drive or ride with confidence, knowing you have got the best half finger bike riding gloves for the trip.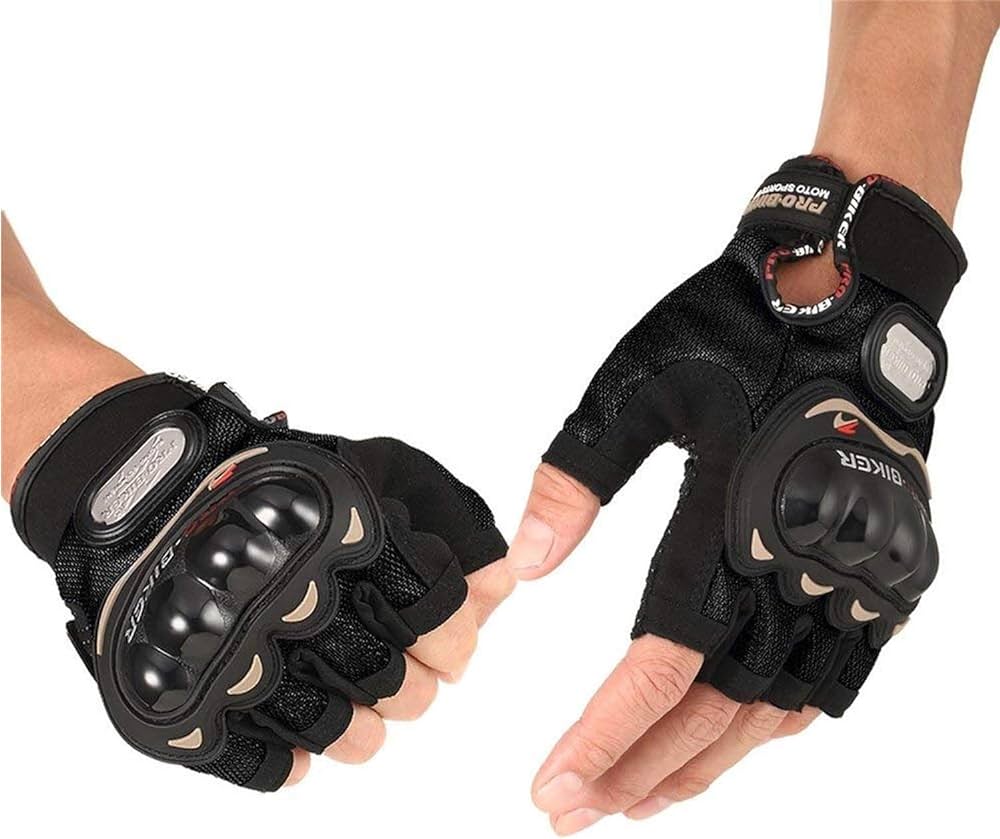 3. Probiker Half Finger Motorcycle Gloves
The Probiker Half Finger Motorcycle Gloves in Gloss Black are designed to perfectly combine beauty and safety. The unique ergonomic design provides style, security and includes rugged protection. These gloves put the rider's comfort first, with a slip-on rubber block for full protection and a breathable mesh finger design. The protective effect is further enhanced by the shock-absorbing and drop-resistant foam technology, ensuring safety while driving. These gloves protect against scratches, damage and dust and include a quick Velcro wrist adjustment, making them a vital part of any rider's daily riding experience.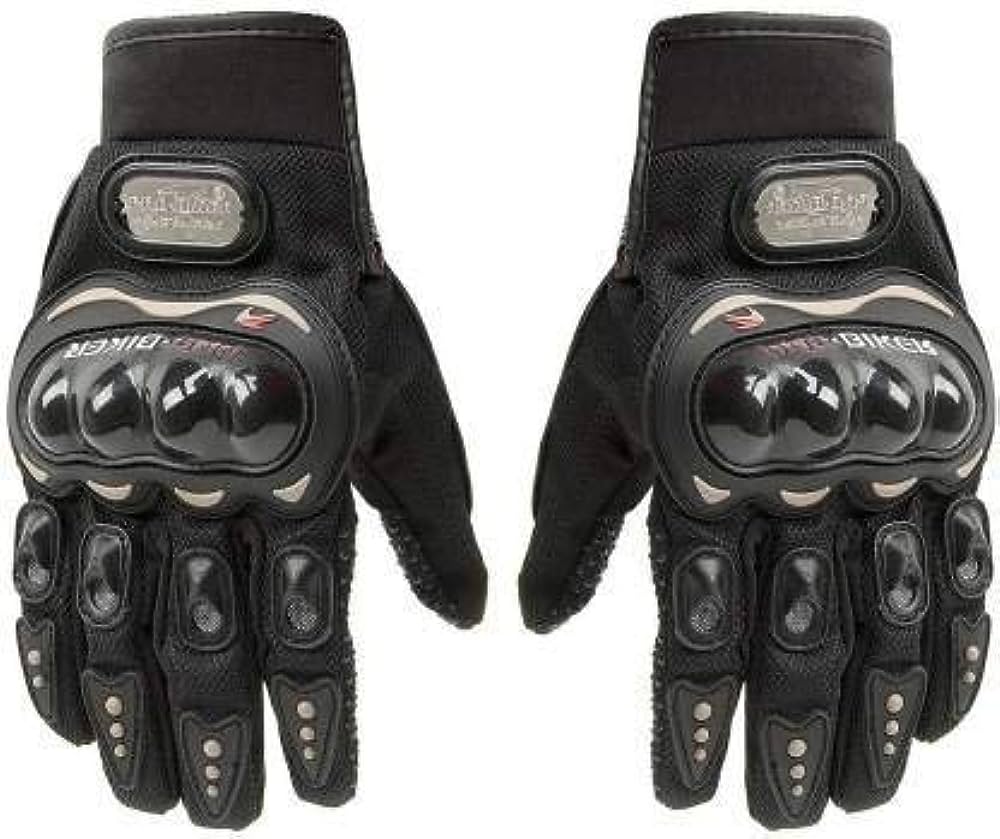 4. Probiker Full Finger Gloves
The Pro Biker Fire Roller Full Gloves in brilliant red are perfect for motorcyclists looking for maximum grip and comfort while riding. Made with safety in mind, these gloves protect your joints in the fingers and knuckles. The unique ergonomic design with strong protection combines safety and beauty. They come in different sizes and are reasonably priced, providing the perfect fit to enhance your riding style. They're made to be durable and functional with a synthetic breathable mesh fabric, air vents, and a TPU finger armour that repels water, grime and oil.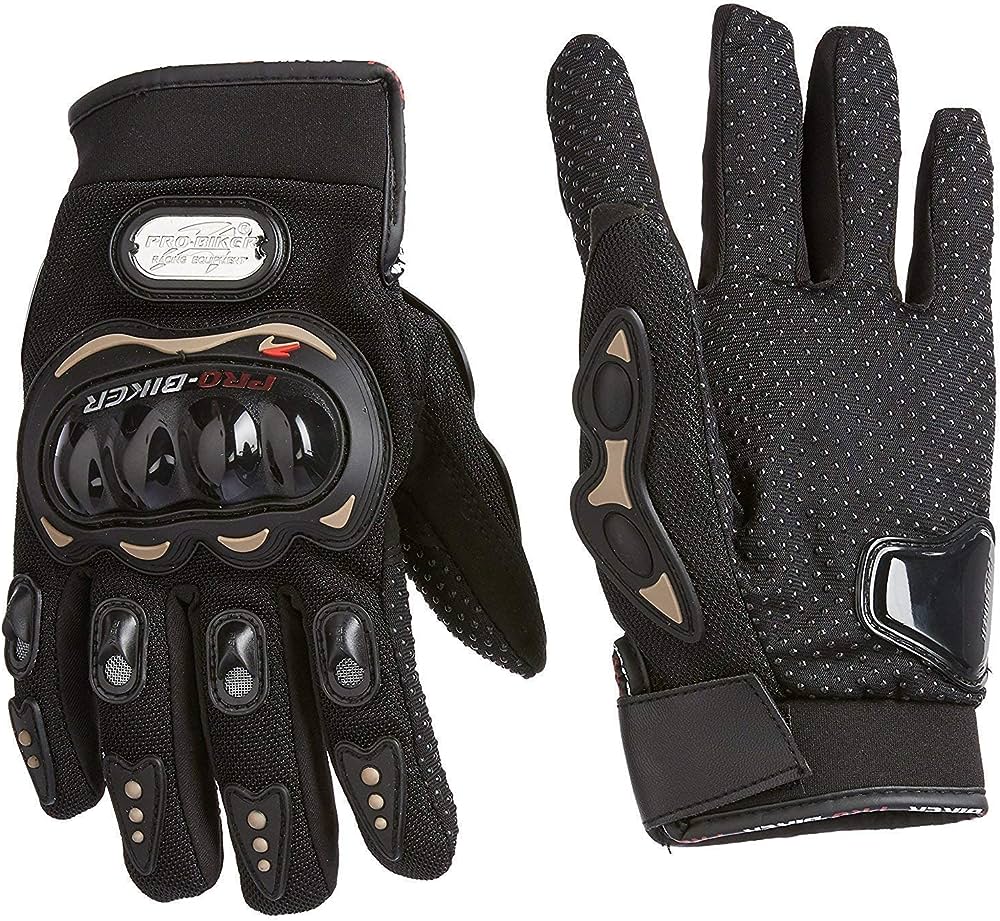 5. Probiker Leather Motorcycle Riding Gloves
Discover maximum protection and style with the Pro Biker Leather Motorcycle Gloves in striking Red, Large. Engineered to endure heat and tear, these gloves are the perfect combination of form and function. They repels water, dirt and oil, ensuring longevity and clean look. Pre-curved fingers adapt to your driving style, while the special ergonomic design provides solid protection for aesthetic and safety reasons. Made from breathable synthetic mesh fabric with silicone dots, ventilation holes and TPU finger armor, these gloves prioritize rider comfort and safety. Elevate your driving experience with these durable and reliable gloves.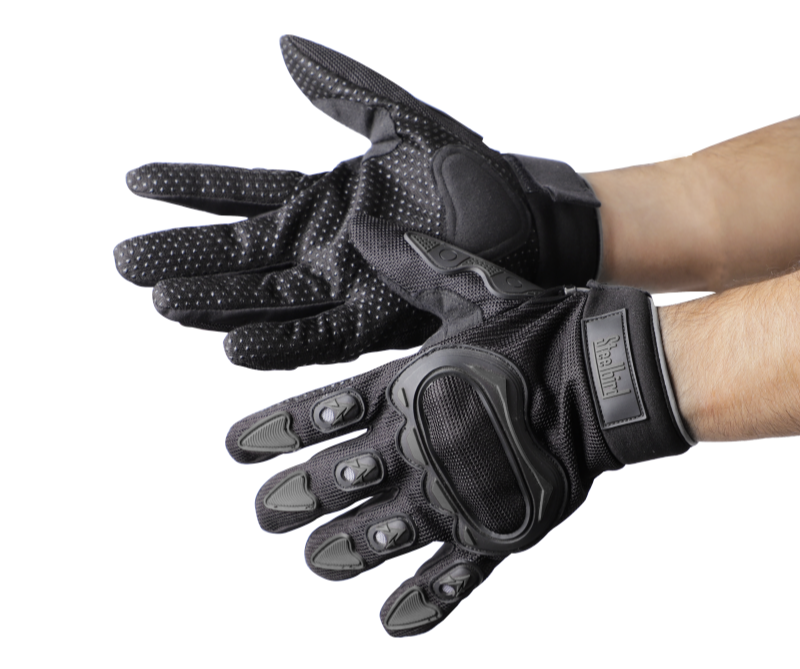 6. Steelbird Full Finger Bike Riding Gloves
Steelbird Full Finger Cycling Gloves is a perfect fusion of innovation and functionality. These gloves provide an ultra grip, ensuring a secure hold during your ride. Thanks to the sensitivity of the touch screen on the thumb and index finger, it provides comfort without compromising safety. Pre-curved fingers improve flexibility, while durable knuckle protection increases rider confidence. With soft palm lining and comfortable, flexible finger protection, these gloves prioritize comfort and safety while racing dirt bikes or riding trail bikes. Enhance your driving experience with this combination of style and function.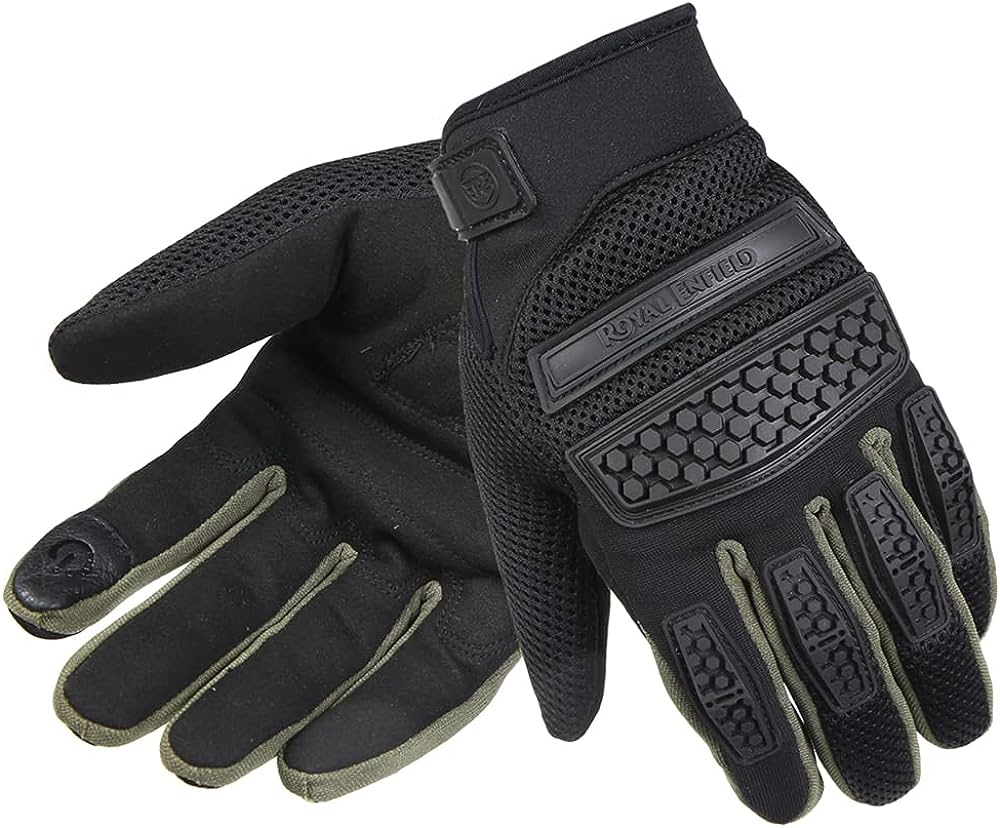 7. Royal Enfield Urban Hustler riding gloves
Royal Enfield Urban Hustler (Rover V3) riding gloves are constructed from a blend of 100% polyester air mesh, Microsuede, Poly Stretch Fabric and Goat Nappa Conductive; these gloves prioritize both style and performance. Protective features include TPR (thermoplastic rubber) knuckles and 3mm rubber sponge (100% PU) to reinforce the palm, ensuring solid protection. Designed for comfort, it includes stretch panels and ventilated air mesh for heat management. Microsuede grip patch provides better grip while riding. Maintenance includes gentle cleaning without washing, ironing or exposure to direct heat.
FAQs about biker gloves
Q1. Why are biker gloves essential for motorcycle riders?
Answer. Biker gloves are crucial for riders as they provide hand protection in the case of accidents, shield against debris and weather elements, offer enhanced grip and control, reduce fatigue during long rides, and prevent blisters or calluses.
Q2. What materials are commonly used in manufacturing biker gloves?
Answer. Common materials for biker gloves include leather, synthetic fabrics (such as polyester and nylon), mesh, Kevlar, carbon fiber, rubber, and thermoplastic elastomer (TPR). Each material has specific purposes like durability, flexibility, abrasion resistance and protection.
Q3. How do I choose the right size of biker gloves?
Answer. To find the correct size, measure the circumference of your hand around the knuckles. Match this measurement to the size chart provided by the glove manufacturer. A snug fit without being too tight or too loose is important for optimal comfort and protection.
Also Read: Is an Extended Car Warranty Worth It? Why Extended Warranty is Important for Vehicles?