Porsche Cayenne India Launch Details
Porsche has already started bookings for the new-gen Cayenne and the car will come to India by September 2018. Porsche has been on a launch spree in India; in October the company brought us the 911 GT3, followed by the 911 GT3 RS in February 2018.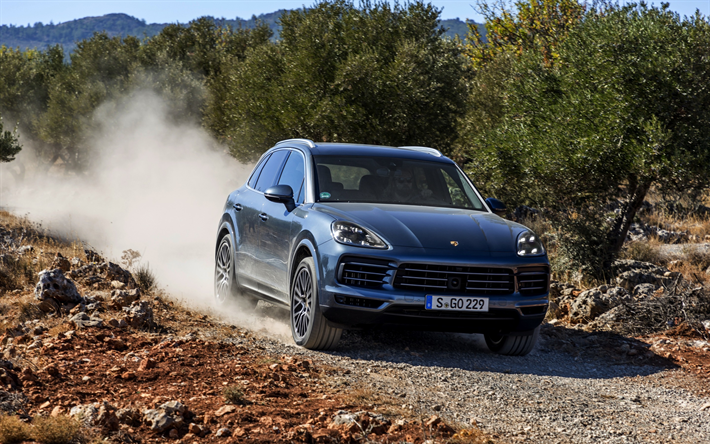 Porsche India has announced that order books are now open for the third generation Cayenne Turbo at its dealerships across the country. The new performance version of the SUV is set to arrive at showrooms in June this year and will be joining the standard Cayenne that is also set to be launched later this year. The 2018 Porsche Cayenne Turbo packs in 542 bhp and 770 Nm of peak torque from a 4.0-litre biturbo V8 engine and is capable of hitting a top speed of 286 kmph. The third generation Cayenne Turbo is also capable off-road, boasting off its new lightweight construction and smart assistance systems.

German automaker, Porsche is expanding its hybrid range globally and has now confirmed the launch of its Porsche Cayenne E-Hybrid SUV in the Indian market. Porsche plans to further expand its Cayenne portfolio with the hybrid variant. It is powered by a 3L V6 engine that sheds a 340 hp along with an electric motor that further gives a boost of 136 hp. The engine and the electric motor have a combined maximum power output of 462 hp and 700 Nm of torque. Porsche says that the performance of the Cayenne's combustion engine has further improved by 7hp and the electric engine contributes to more 43% power.

Porsche claims that the Cayenne hybrid can accelerate from zero to 100 kmph in 5.0 seconds and has a maximum speed of 253 kmph. On pure electric mode, the new Porsche Cayenne E-Hybrid can go up to 44 kilometres with a maximum speed of 135 kmph. This new hybrid SUV also features a range of driver assistance systems and includes a head-up display, massage seats and 22-inch light metal wheels.

With 542 bhp on offer, the biturbo motor is capable of propelling the 2018 Porsche Cayenne Turbo from 0-100 kmph in just 4.1 seconds, which is further reduced to 3.9 seconds with the Sports Chrono pack. The new generation 4.0-litre motor gets turbochargers that are arranged inside the cylinder V in the central turbo layout. The all-new Porsche Cayenne Turbo will be coming to India as a CBU and will be priced under INR 2 crore (ex-showroom).

The styling won't scream 'all-new', unless, of course, you look at it from the rear – which is probably how most of us would see it – but the old car's styling was very well-appreciated and is still very much with the times. The car's drive is promising and what I can confirm is that rocky mountain trails are a piece of cake, should you want to venture there with your Cayenne. Other than last year, where the Cayenne's limited availability meant the Macan took the lead, the flagship SUV is Porsche's largest selling model in India and, as things stand, it's safe to say the new third-generation model is likely to be at the top again.