Okinawa Dual B2B Electric Scooter Launched; At a price of Rs. 58.998
Okinawa Dual is designed to provide delivery services, including daily e-commerce deliveries.
Okinawa Autotech, two-wheeler electric vehicle maker, launched the Okinawa Dual Engine, at Rs 58,998. According to the company, Okinawa electric scooter is designed to transform the delivery sector, improve business efficiency, as well as provide last-mile logistics solutions. The B2B two-wheel electric wheel is described as having the highest loading capacity ever in a two-wheeled vehicle, with dual load capacity both at the front and rear of the vehicle. Okinawa electric scooter is also offered with dedicated add-on accessories like a delivery box, stackable boxes, cold medicine storage box, drum holder, lab on wheels, etc.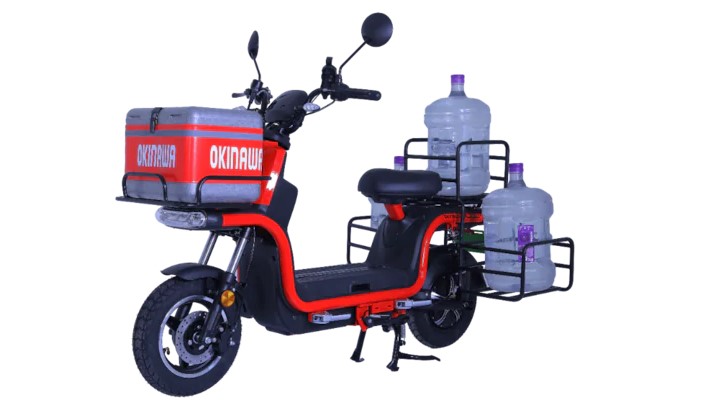 Okinawa electric scooter

Specifications of Okinawa Dual Electric Scooter

Okinawa Dual uses a built-in 250W motor with a detachable 48V 55Ah Li-ion battery, which can be charged up to 80% in 90 minutes and 100% in four to five hours. While the engine is guaranteed for three years or 30,000 km (whichever comes first), the battery comes with a three-year warranty.
The new Okinawa electric scooter is said to have an incredible loading capacity of 150 to 200 kg. The passenger can load items front and back. Okinawa claims a range of 130 km for the B2B Electric Scooter with one full charge and a top speed of 25 km/h.
Okinawa electric scooter comes with an interlocking front suspension and a double-tube, spring-type hydraulic shock absorber at the rear. There are 10-inch alloy wheels with tubeless tires. The braking functions are performed by a disc in the front and a cylinder in the rear.
Okinawa announced that Dual can also be purchased for personal use. In this case, the Okinawa electric scooter will be equipped with a 48V 28Ah battery, which will take around 45 minutes to achieve an 80 percent charge and two to three hours to fully charge. It will have a range of 60 km on one full charge.
The new Okinawa Dual is available in two color options: fire red and sunshine yellow.

In terms of dimensions, the new Okinawa electric scooter measures 1770mm in length, 800mm in width, and 1075mm in height. The seat is 730 mm high, while the seat is 150 mm off the ground. The electric scooter has a wheelbase of 1290mm in length.

Features of Okinawa Dual Electric Scooter

Okinawa claims its Dual has a 70% metallic body. The lighting package, which includes headlights, taillights, and front and rear tu
signals, are all-LED. The Okinawa electric scooter has features like an LCD instrument panel, side stand sensor, phone holder, charging port, and a water bottle holder. Customers can choose accessories like junction boxes, stacking boxes, cold boxes, and cylinder racks, with the new Okinawa electric scooter.
Price of Okinawa Dual Electric Scooter

The Okinawa electric scooter is priced at Rs 58,998 (ex-showroom).

Also Read: New electric cars in India 2021

Also Read: Introducing Vespa Elettrica: The Vespa electric scooter in India

Also Read: Ather 450 Electric Scooter I Check out Price, Mileage, Images, Specs